Discover more from The Storm Skiing Journal and Podcast
Everyone's searching for skiing's soul. I'm trying to find its brains.
Over 11,000 subscribers
Liftopia Has Not Paid Magic, Plattekill for March Lift Ticket Sales
The two independent Northeast ski areas are not part of the petition to force Liftopia into involuntary Chapter 11 bankruptcy
After a coalition of major ski companies filed an involuntary Chapter 11 bankruptcy petition against Liftopia earlier this month in United States Bankruptcy Court in the Northern District of California, two independent Northeast ski areas that are not involved in the filing have confirmed to The Storm Skiing Journal that the service has yet to pay them for any March lift ticket sales.
One of those is Vermont's Magic Mountain, which sells day tickets through Liftopia and uses Liftopia's Cloud Store platform to sell lift tickets on magicmtn.com.
"Those ticket sales are ours and should not have been used for any other purposes," said Magic Mountain President Geoff Hatheway.
The mountain sells season passes directly through its website, so proceeds from those sales – which hit a record for both units sold and revenue during the ski area's 2020-21 early-bird pass sale – have not been affected.
"[Liftopia's] platform and people have been very strong through the years, so their non-payment/cash flow issue is disappointing to say the least, especially for a small business like ourselves, given the financial hit we've all taken at the end of the season with Covid-19," said Hatheway, who added that he does not support the bankruptcy petition filed by the larger ski companies. "We've been patient, but I've also pushed [Liftopia CEO] Evan [Reece] to start with some type of small re-payment to give his customers confidence, as with each passing month, that important commodity gets eroded.
"We are certainly rooting for Liftopia to get financing to not only pay us back, but to see this company and its people make it through troubled times. They've pledged to fix their payment process to the ski areas and develop systems to handle the reservations for next season as we adjust our own operating models for Covid-19, but we will be looking at alternatives if Liftopia can't get their financial house in order."
Laszlo Vajtay, who owns Plattekill Mountain in New York's Catskills along with his wife, Danielle, also confirmed that Liftopia has not paid the ski area for any March sales. He estimates that the company owes them approximately $17,000.
"As a very small company, this March payment is truly hurting us," Vajtay said, adding that this loss of income compounds the financial pain from lower-than-average season pass sales and a season chopped short by New York State-mandated business closures in March to help stop the spread of Covid-19. Plattekill has switched from Liftopia's Cloud Store to selling passes via telephone until they can identify an alternate solution. Vajtay says that Plattekill was Liftopia's first customer.
"They have the best platform in the industry for advanced ticket sales with variable pricing based on supply and time purchased," Vajtay added. "I do hope they can figure this out."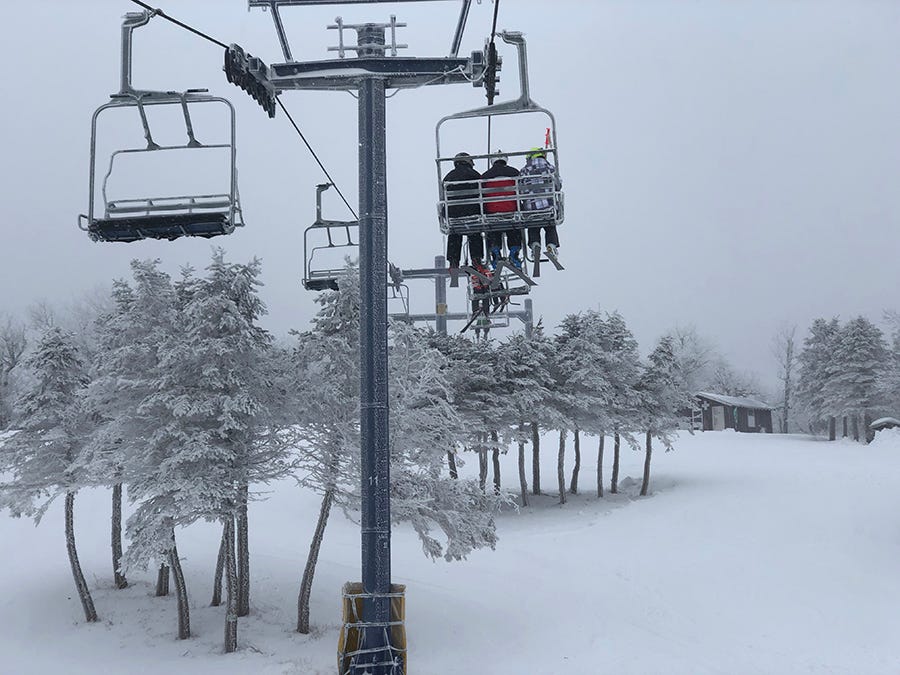 Ascending the Plattekill triple chair on a snowy February day.
When reached for comment, Reece, who cofounded Liftopia in 2005 and has been a guest on The Storm Skiing Podcast, said, "This meaningful distraction from the best path forward has certainly been disruptive, but we remain confident we'll be in a great position to support all of our partners. We're incredibly appreciative of the overwhelming support the vast majority of our partners have shown. We're very excited about our paths forward and how we will help the industry recover through these challenging times."
Liftopia has paid some mountains for March sales, including Mad River Glen.
"In our experience Liftopia has always been a great partner," said Mad River Glen GM Matt Lillard. "They have paid all money owed on time and without issue. Mad River was paid in full for the [2019-20] season in early April. I am saddened to hear of their current issues and hope it can be resolved fairly and quickly."
At least one additional independent Northeast ski area that asked not to be named confirmed that Liftopia had paid them in full for all lift tickets sold through the platform during the 2019-20 ski season.
A ski dispute erupts far from the slopes
Liftopia is not in bankruptcy. The four ski companies filed to force involuntary Chapter 11 bankruptcy on June 2 after Liftopia failed to pay them for lift tickets and other products sold on its platform. If the petition to force Liftopia into Chapter 11 bankruptcy is successful, the company would continue to operate, but the ski companies would gain access to its financial records and could propose a plan to the court for Liftopia to repay them, according to bankruptcy lawyers consulted by The Storm Skiing Journal for this article. This is less severe than a Chapter 7 bankruptcy, the lawyers said, as such an action would force Liftopia to dissolve the company and use the sale of assets to pay its creditors.
In documents accompanying the court filing, the four petitioners claimed they were collectively owed more than $3 million: Aspen Skiing Company, as managing member of the Mountain Collective pass, accounted for the majority of that, with a claim of $2,381,613.46. Boyne Resorts' Cypress Mountain claims $395,424.61, Arapahoe Basin claims $175,704.83, and Alterra, owner of 15 ski resorts and the Ikon Pass, claims they are owed $63,723.99.
Liftopia's total outstanding debts could be far larger. An anonymous source that did not want to be identified because of ongoing negotiations and legal proceedings estimated that Liftopia could owe a total of up to $10 million to its partners industrywide.
The parties filed the petition for involuntary bankruptcy after Liftopia offered them as little as 20 cents on the dollar for the amounts owed, according to a person with knowledge of the negotiations who asked to remain anonymous. "We all decided we had little downside and wanted to use the court process to get their books to understand what they have actually been doing," they said.
Last week, Liftopia filed a motion to dismiss the involuntary petition that disputed all the amounts claimed, stating that it believes the correct amounts to be $2,344,052.48 for Mountain Collective, $394,899.62 for Cypress, $172,119.93 for Arapahoe Basin, and $18,244.68 for Alterra.
"The Petitioning Creditors listed claim amounts in the Petition that are wrong collectively by over $86,000 because they failed (a) to calculate their share of actual pass and ticket revenue accurately, (b) to account for cancellations, chargebacks, advance purchase, no-show and loyalty program participation policies, and partial and full credits, and/or (c) to incorporate other adjustments to their share of revenue properly," read a document filed with the court, which is signed by Reece.
Liftopia argues that the difference between the amounts claimed in the involuntary petition and the amounts calculated by Liftopia should be sufficient to dismiss the lawsuit.
"For purposes of determining whether the Petitioning Creditors are eligible to seek relief under section 303(b)(1) of the Bankruptcy Code, the magnitude of the disputed amounts is irrelevant," Liftopia states in the memorandum filed with the court. "Instead, the Court must only determine whether a dispute as to any amount exists."
It also states: "The involuntary bankruptcy petition filed against alleged debtor Liftopia should be dismissed."
A lawyer familiar with federal bankruptcy court expressed skepticism that this tactic would result in the court dismissing the petition, describing it as a stalling tactic that the ski companies could easily circumvent by amending the claimed amounts owed in the petition.
A hearing is scheduled for July 30 in Northern District of California Bankruptcy Court to consider the motion to dismiss. The petitioners have until July 16 to file a response.
Reece had no comment on the legal proceedings at this time.
---
COVID-19 & Skiing Podcasts: Author and Industry Veteran Chris Diamond | Boyne Resorts CEO Stephen Kircher | Magic Mountain President Geoff Hatheway | NSAA CEO Kelly Pawlak | Berkshire East/Catamount Owner & Goggles for Docs founder Jon Schaefer | Shaggy's Copper Country Skis Cofounder Jeff Thompson | Doppelmayr USA President Katharina Schmitz | Mt. Baldy GM Robby Ellingson | Alterra CEO Rusty Gregory
The Storm Skiing Podcasts: Killington & Pico GM Mike Solimano | Plattekill owners Danielle and Laszlo Vajtay | New England Lost Ski Areas Project Founder Jeremy Davis | Magic Mountain President Geoff Hatheway | Lift Blog Founder Peter Landsman | Boyne Resorts CEO Stephen Kircher | Burke Mountain GM Kevin Mack | Liftopia CEO Evan Reece | Berkshire East & Catamount Owner & GM Jon Schaefer | Vermont Ski + Ride and Vermont Sports Co-Publisher & Editor Lisa Lynn | Sugarbush President & COO Win Smith | Loon President & GM Jay Scambio | Sunday River President & GM Dana Bullen | Big Snow & Mountain Creek VP of Sales & Marketing Hugh Reynolds | Mad River Glen GM Matt Lillard | Indy Pass Founder Doug Fish | National Brotherhood of Skiers President Henri Rivers