Discover more from The Storm Skiing Journal and Podcast
Everyone's searching for skiing's soul. I'm trying to find its brains.
Over 13,000 subscribers
Killington, Citing Ongoing Covid Uncertainties, Officially Ends the Northeast Ski Season
The unsurprising closure acknowledges that Vermont skiing is much bigger than Vermont
If you haven't already, check out The Storm Skiing Podcast interview with Alterra Mountain Company CEO Rusty Gregory.
The snow on Superstar looks 10 feet deep, maybe more, a glorious marvel shimmering in the springtime sun. At 7:20 a.m. on a May Tuesday, a van maneuvers among people, tiny like ants on my screen, who bustle around the cluster of construction trailers and the half-finished K-1 base lodge, giving perspective to the sheer height of the mountain rising above.
What's missing is skiers. While Killington would normally have shifted to Friday through Sunday operations by mid-May and Tuesday would be empty regardless, there won't be any weekend skiers coming on Friday. Or any skiers at all for the remainder of the season.
"We've decided to not re-open for skiing," Killington President and GM Mike Solimano said in a video message published on Facebook yesterday. "And obviously that's a really tough decision. I go by and look at that huge mound of snow on Superstar and can't believe that we're not going to have people skiing on that."
This is not really a surprise. Ski season in the Northeast has been over for months, since that amazing March Saturday when The Beast and nearly every other large ski area on the continent froze their lifts and told everyone to go home. Only the stubborn resilience of that amazing Superstar snowpack and the fact that fellow Powdr Corp mountain Mt. Bachelor fired the lifts back up for season passholders last weekend made me argue, twice, that Killington may have been angling to top off the 2019-20 campaign as a statement and a celebration.
But it wasn't to be. Vermont, as it turns out, is not Oregon, despite their similarities. Both are largely rural states with low Covid-19 infection and death totals. Oregon, with a population of just over 4 million, has recorded just 3,687 cases and 138 deaths. Vermont, the second-least populous state, behind only Wyoming, with 624,000 residents, has recorded just 940 cases and 94 deaths.
But Vermont, the fifth smallest U.S. state, tucked into the crown of populous New England, can never simply be Vermont. The six New England states, collectively smaller than Oregon, are home to nearly 15 million people, most of them day-trip distance to Killington. Covid-19 epicenter New York City and its environs are just five-ish hours away and are home to another 20 million people. Killington's halo of New England, New York, and New Jersey has collectively combined for 648,585 coronavirus cases and nearly 50,000 deaths, according to The New York Times.
Any social blending of these populations could have been combustible. In theory, this could be managed. Use a reservation system, shut down tailgating, enforce social distancing in the lift queue. In practice, this is all more difficult than it sounds. As the weather has improved in New York City, I've been taking long bike rides around Brooklyn, and it's become apparent to me that true social distancing in the city is an absurd notion, like that 1990s movie Speed in which Sandra Bullock can't let the bus drop below 50 miles per hour or it will explode. It isn't practical or sustainable. In the movie, our hero comes to a construction zone and simply leaps the bus Evil Knievel-style over a crevasse. In reality, the bus crashes into the opposing bridge span and everyone dies. The only way to keep people safe is to keep them off the bus to begin with.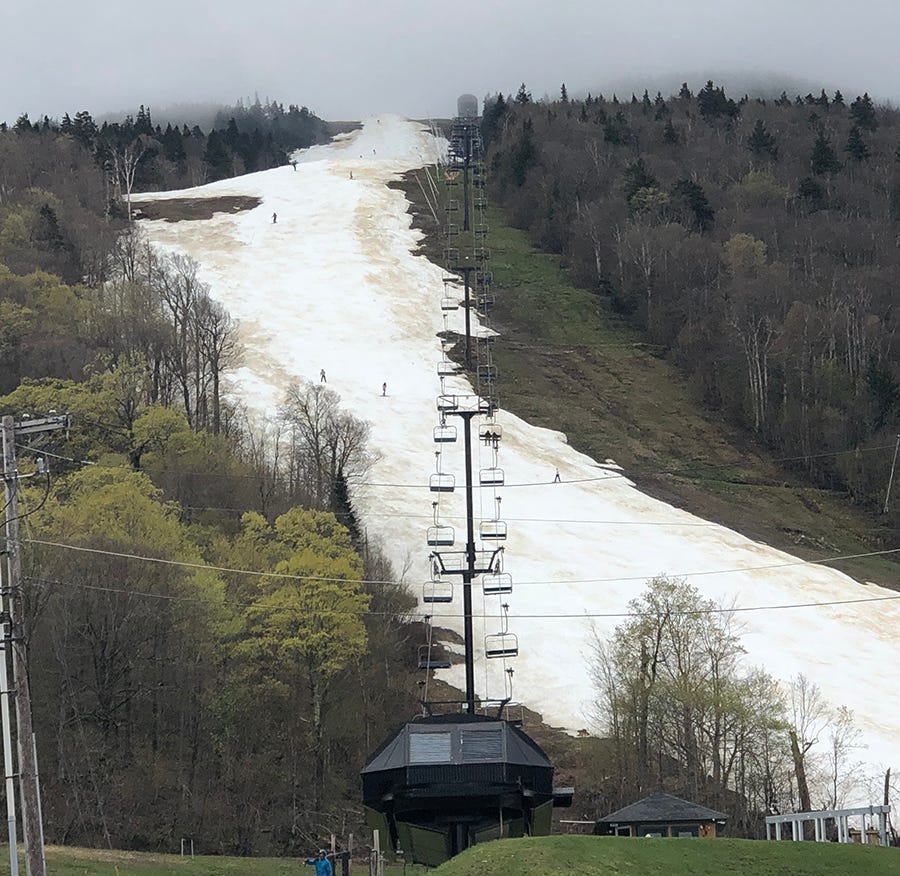 Superstar on May 24, 2019.
Solimano worries in the video that, as the only open ski area in the East, Killington would be flooded if they were to fire up the Superstar lift. I don't think that's a valid concern, as a combination of the reservation system already in place at Bachelor and the RFID gates Killington installed last year could easily restrict the number of skiers on the hill. It also isn't true, as he says, that the ski areas that have opened so far have been very rural – California's Mt. Baldy, which was the first to re-open in the U.S., is an hour from downtown Los Angeles. The true unsolvable puzzle, as Solimano said, ended up being tied to Vermont's still-active 14-day quarantine requirement for out-of-state visitors. There is simply no legally enforceable way in I've-got-my-rights America to filter out-of-state day-trippers from second homeowners from New York or Massachusetts or elsewhere who have been holed up in Vermont for months and are presumably as virus-free as any born-and-raised-here-Pal local.
So it's over. I think it was the right decision. Vermont's efforts to strangle Covid-19 have been remarkably effective. Killington, which has done so much to remake its image under Solimano, had a choice to make between hero status among the let's-ski young-and-gung-ho hardcore and possible superspreader undoing the work of two hard hunkered-down months. The mountain took the conservative route. As the most visible ski resort on the East Coast, any negative fallout would have been amplified considerably, and the best long-term play was to let the glacier melt.
That may take a while. With no skiers to slowly disassemble the snowpack, that sheet of glorious white may still be taunting us from north-facing Superstar on the Fourth of July. It would have been nice to take one last run at it. Not that I would have gone, coming from the midst of Covid Hell, but it would have been amazing to webcam-stalk the Killington hardcore pounding down in their ridiculous getups, smashing the upper bump fields like 70s hotdoggers and arcing around the fallen toward the bottom, capes flapping behind them. Killington is the id of Northeast skiing, the rawest translation of the region's energy and attitude onto a snowsport that is at once communal and individualistic, and it's a marvelous thing to behold in all seasons. The fact of its being open is always a source of collective regional pride, even for those who don't care for the place.
The numbers of such people are thinning. This video by Solimano shows why. Most mountains in the East either explicitly closed for the season in mid-March or suspended operations and let their aimed-for closing dates in late April or early May float away unnoticed like driftwood. Once the too-big-to-fail cool kid/bully that was coming for your lunch money and didn't really care what your opinion was about that fact, Killington, under Solimano, has done better. A lot better. They've done this by owning their flaws, actively working to fix them, and communicating that intent to their skiers. In this case, they knew we were waiting for an answer, programmed by their own mountain-moving efforts over the years to expect Killington to go until we were walking halfway down the run. In the East, we'll do that. And we think we'll be able to do that until Killington says we can't do that anymore. Yesterday, they told us we can't, and the fact that they were the only mountain among the half dozen usual May operators in the region that did so should not be overlooked.
Anyone who has ever skied Superstar when Killington is just-Superstar knows that skiing just-Superstar is not about skiing at all. It's about finishing something, about being present in a moment that distills the culture and the momentum and the complexity and the sprawl of an entire region and an entire season down to its essence. It's like when there's only two teams left out of a 30-team league at the end of a sports season. You know it's over and you want to be a part of it and this is the place to be a part of it. This year, we didn't get that, because we're all part of something larger still. So let's take care of that larger thing now, so we can all get back to Killington as soon as temps drop in the fall.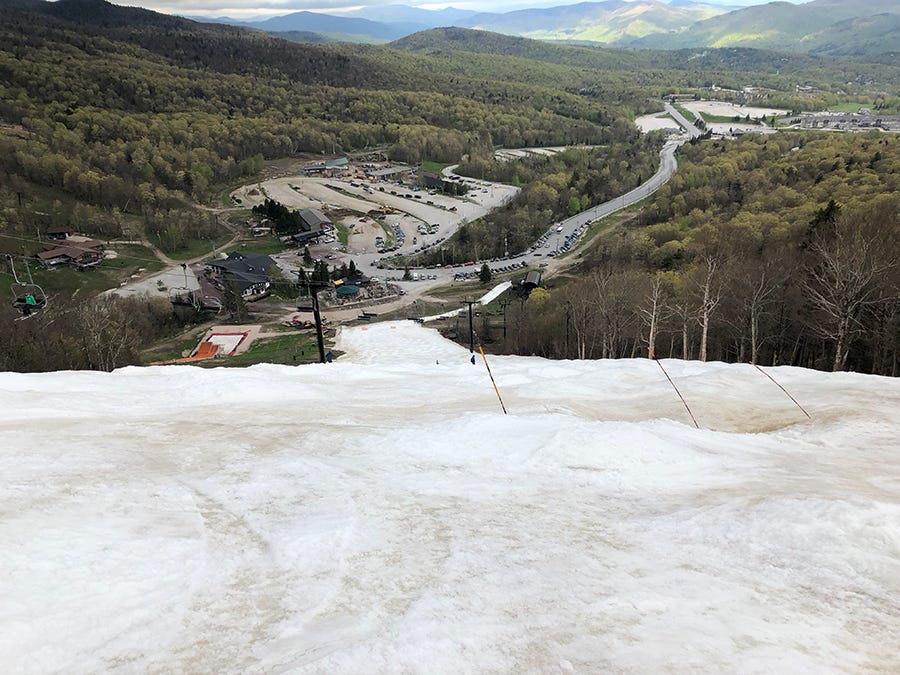 Looking down Superstar on May 24, 2019.
---
COVID-19 & Skiing Podcasts: Author and Industry Veteran Chris Diamond | Boyne Resorts CEO Stephen Kircher | Magic Mountain President Geoff Hatheway | NSAA CEO Kelly Pawlak| Berkshire East/Catamount Owner & Goggles for Docs founder Jon Schaefer | Shaggy's Copper Country Skis Cofounder Jeff Thompson | Doppelmayr USA President Katharina Schmitz | Mt. Baldy GM Robby Ellingson| Alterra CEO Rusty Gregory|
The Storm Skiing Podcasts: Killington & Pico GM Mike Solimano | Plattekill owners Danielle and Laszlo Vajtay | New England Lost Ski Areas Project Founder Jeremy Davis | Magic Mountain President Geoff Hatheway | Lift Blog Founder Peter Landsman | Boyne Resorts CEO Stephen Kircher | Burke Mountain GM Kevin Mack | Liftopia CEO Evan Reece | Berkshire East & Catamount Owner & GM Jon Schaefer| Vermont Ski + Ride and Vermont Sports Co-Publisher & Editor Lisa Lynn| Sugarbush President & COO Win Smith| Loon President & GM Jay Scambio| Sunday River President & GM Dana Bullen| Big Snow & Mountain Creek VP of Sales & Marketing Hugh Reynolds | Mad River Glen GM Matt Lillard