Discover more from The Storm Skiing Journal and Podcast
Everyone's searching for skiing's soul. I'm trying to find its brains.
Over 13,000 subscribers
Killington and Pico Provide Passholder Credit, Permit Refunds for 2020-21 Season Pass Products
Hints that the longest season in the East could rise again
Following season pass overhauls by Vail and Alterra, Powdr Corp's Vermont duo of Killington and Pico today announced changes to their 2020-21 season pass suite that provide a modest credit to returning 2019-20 Killington passholders, extends the early-bird price deadline to July 15, and offers no-questions-asked refunds on unused passes by Nov. 20. Both Killington and Pico offer payment plans, and if Covid-19 again shutters the mountains, the resort would freeze subscription fees for its do-everything-they-offer Beast 365 pass.
Here is a breakdown of Killington's updated pass offering:
The season pass credits are modest, and a bit below where Killington has always priced its end of season
After Alterra chopped $200 off the price of its $999 Ikon Pass (good for a season pass at Sugarbush and Stratton) for renewing skiers, and Vail offered a 20 percent-plus credit that dropped the cost of its full Epic Pass (which includes a season pass to Stowe, Okemo, and Mount Snow), to approximately $783 or less for renewers, Killington passholders may have been expecting a more substantial discount than the $150 credit that Killington provides adult unlimited passholders. As it happens, Killington has long assigned a dollar value to the end-of-season period lost to the shutdown: its spring pass retails for $229 and was valid this past season beginning on March 13. The mountain shut after the end of the ski day on March 14. With, as always, no way to gauge precisely when the season would have ended, simply applying the value of the spring pass to the amount of the voucher would have seemed the most straightforward move.
Nothing about this shutdown is straightforward, however. It's true that Killington skiers lost a good chunk of their season, and that the mountain heavily markets the 200-day season as a core part of its identity. But just as skiers lost 60 to 70 days of potential skiing, the mountain lost 60 to 70 days of revenue. This give-back seems to be an attempt to meet in the middle-ish, with skiers getting a bit more than Killington lost. Besides, the mountain would also likely argue that it was open daily beginning November 3, nearly a week earlier than anyone else in the region (Cataloochee is not "in the region"), providing a substantially longer season than anyone else, and plenty of time to have extracted sufficient value from a pass.
The credits scale down proportionally for lower-tiered Killington passes, with $100 offered to 29 and below and senior passholders, $75 for youth and midweek passes, and $50 for college and Vermont student passes. The mountain is also providing credits for certain classes of unused day ticket vouchers: $91 for Cyber Monday tickets, $79 for unused adult K-Tickets, and $69 for unused Midweek K-Tickets.
Pico passholders are eligible for a $60 credit for unlimited adult passes, $50 for senior passes, and $30 for youth. Unused tickets from My Pico three-packs are worth $46.33 for any-day tickets and $43 for non-peak tickets.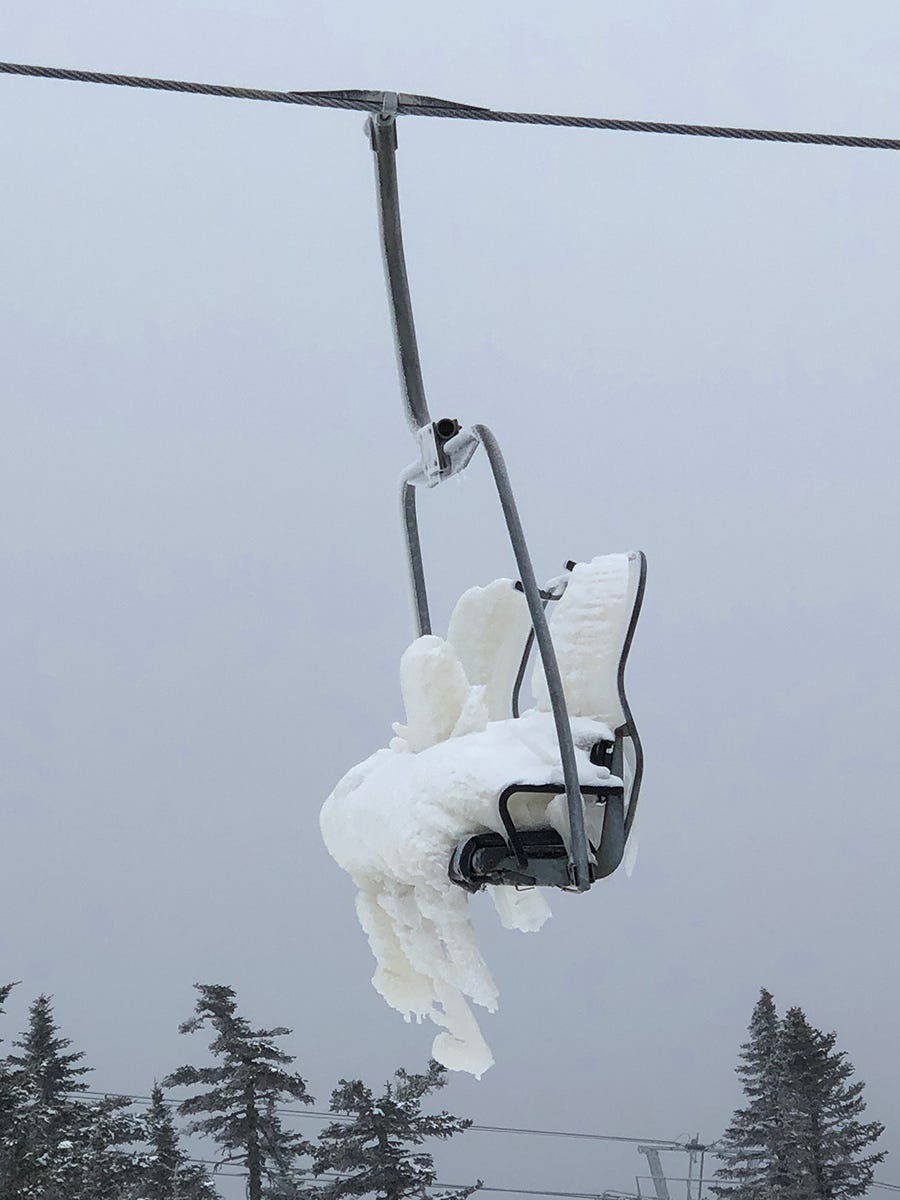 A chair on Killington's Canyon Quad encased in snowmaking ice in November 2019.
A new refund policy and subscription suspension backup plan acknowledge the uncertainty of the moment, within limits
Killington has long has a wow-this-may-have-been-written-by-humans refund policy that acknowledged the complexity of life and did not require a surprise-at-the-cash-register upcharge:
"If a passholder can no longer use their season pass due to an injury, becoming pregnant or the loss of a job, to name a few reasons, we will credit a proportional amount of the purchase price based on our Credit/Refund Policy. There is no longer a fee to buy into this policy—we are basically offering Refund Protection to all passholders for free."
The mountain adds another layer to that here, offering full refunds for any reason on unused passes by Nov. 20. This mirrors Alterra's straightforward policy, albeit with a substantially earlier deadline that the Dec. 10 Ikon Pass deadline.
Past that date, Killington is promising to suspend monthly charges on Beast 365 passes in the event of another Covid-19 shutdown. Nothing is offered explicitly to regular passholders, but skiers can probably assume that should another shutdown occur, Killington would offer passholder credits for 2021-22 passes, just as they've done this season.
This was an expected and necessary update
This was a widely expected move, as an increasing number of individual ski areas and larger resort groups have overhauled their pass offerings to accommodate skiers upset with the shortened 2019-20 season and shellshocked by widespread job losses. Fellow Powdr mountain Mt. Bachelor announced a similar plan before dropping the news on Tuesday that it had joined the Ikon Pass.
It was also a necessary move. At $999 for no-blackout access, Killington has the second-most-expensive pass remaining in the East, trailing only Boyne's New England Pass, which is $1,169. In 2016, before Vail tiptoed into the Northeast by buying Stowe and the Ikon Pass didn't exist, there were a half dozen single-mountain passes more expensive than that. In the era of sub-$1,000 Epic and Ikon Passes providing unlimited access to high-quality mountains throughout New England and the West, this is much harder to justify.
This new world order of Northeast skiing is probably behind the resort's decision to considerably amp up the value of the 2020-21 Beast 365 Pass by throwing in an Ikon Base Pass. For just $345 more than the ski-only pass, Beast 365 customers get access to everything Killington does, from bike parks to golf courses, plus the $699 Ikon Base, which provides blacked out season passes at Sugarbush and Stratton, plus five days each at Loon, Sugarloaf, and Sunday River, and basically unlimited access out west. That's a hell of a value-add.
But Killington can make the argument for a $999 ski-only pass all on its own. It is the only single mountain in the East that can do so (though its pass is also good at neighboring Pico). There are a couple of reasons for this, mostly because of its explicit efforts to ensure it has the longest season in the region and because of its sheer bewildering size. But there's something else. Killington is not the best mountain in the Northeast – that would be, by my assessment, Sugarloaf. It does not get the most snow – Jay Peak typically tops that category. It does not have a base village and its advertised 3,000-foot vertical drop is real but requires a long meander down uninteresting terrain to the bottom of the Skyeship Gondola to realize. But it is the most Northeast mountain in the Northeast, the place where city most spectacularly collides with country, where the most best skiers coexist with the most worst ones, where that matrix of attitude, entitlement, swagger, energy, and suck-it-up hardiness native to the region most hardens into a tangible thing that you can feel from the moment you step out of your car in the parking lot. And that's worth a premium.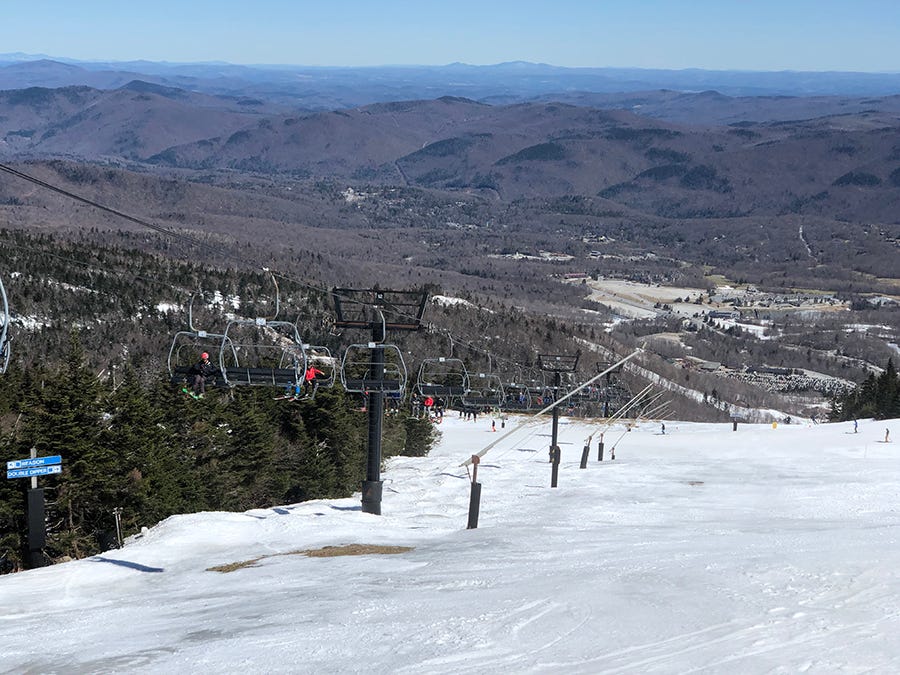 Killington's Canyon Quad in April 2019.
Could Killington be setting up for a valiant comeback this spring?
I've been part of the writing of enough press releases to know that more people are involved in drafting and approving them than were recruited to help build the Panama Canal. Every word is scrutinized. Which is why this sentence toward the bottom of the press release is so interesting:
"Following the March 20 indefinite extension of operation suspensions at Killington and season closure at Pico, Killington and Pico have taken a number of actions in support of staff, guests and the community, and to help ensure the safety of all."
In other words, Killington has not yet officially closed. And with the mountain sitting untouched for the past seven weeks, coverage still looks deep, with the glacier still humping off of Superstar and the panoramic Mountain View cam still showing wall-to-wall coverage. Could Killington be angling for a heroic end-of-season cavalry ride?
Anything is possible. There are several important questions to answer before any clarity emerges: Will Vermont lift its stay-at-home order on May 15, as currently planned? If it does, will the updated rules explicitly allow or disallow ski area operation? If Killington is permitted to operate, would it have enough snow to do so? Could the mountain justify the cost of re-opening in a period that it has previously admitted was unprofitable? Could some version of the social distancing protocol enacted at California's Mt. Baldy work at Killington? Is there a way to restrict access to locals or at least Vermont residents to stem concerns about skiers traveling in from areas with high coronavirus infection rates?
Until Killington says the season is over, it isn't over. And so far they haven't called it. There's a lot of snow left on that mountain. And despite the fact that a mid-May re-open may not be a financial blockbuster in what would likely be a reservations-based social-distancing scenario, Killington's brand is so closely tied to the long season and making the improbable possible that a we-beat-Covid slush-bump fest blasted over social media for two or three weeks may be the best marketing investment they could possibly make.
Click here for a complete list of 2020-21 season pass prices and policies across nine Northeast States.
---
COVID-19 & Skiing Podcasts: Author and Industry Veteran Chris Diamond | Boyne Resorts CEO Stephen Kircher | Magic Mountain President Geoff Hatheway | NSAA CEO Kelly Pawlak| Berkshire East/Catamount Owner & Goggles for Docs founder Jon Schaefer | Shaggy's Copper Country Skis Cofounder Jeff Thompson | Doppelmayr USA President Katharina Schmitz | Mt. Baldy GM Robby Ellingson|
The Storm Skiing Podcasts: Killington & Pico GM Mike Solimano | Plattekill owners Danielle and Laszlo Vajtay | New England Lost Ski Areas Project Founder Jeremy Davis | Magic Mountain President Geoff Hatheway | Lift Blog Founder Peter Landsman | Boyne Resorts CEO Stephen Kircher | Burke Mountain GM Kevin Mack | Liftopia CEO Evan Reece | Berkshire East & Catamount Owner & GM Jon Schaefer| Vermont Ski + Ride and Vermont Sports Co-Publisher & Editor Lisa Lynn| Sugarbush President & COO Win Smith| Loon President & GM Jay Scambio| Sunday River President & GM Dana Bullen| Big Snow & Mountain Creek VP of Sales & Marketing Hugh Reynolds |