Discover more from The Storm Skiing Journal and Podcast
Everyone's searching for skiing's soul. I'm trying to find its brains.
Over 13,000 subscribers
Jackson Hole and the Super Bowl of Skiing
Why large indies may thrive in the megapass era
I don't know why non-skiing media don't fact check stories about skiing more rigorously, but some of what comes out about the ski industry in business- or otherwise-oriented publications is so transparently wrong that I wonder if anyone's paying attention at all.
Take this Inc. story about Jackson Hole "fighting" against the megapasses by Vail and Alterra without mentioning that the mountain is a founding partner of Alterra's Ikon Pass. Its characterization of Jackson Hole as a scrappy indie finding its way in a ski world crumpled beneath Vail's dinosaur stomps comes off as more than a little disingenuous:
JHMR and Targhee demonstrate how smaller players carve out defensible positions against bigger competitors. They've cultivated their uniqueness as authentic western ski resorts in the midst of the ersatz Austrian villages some of the others present. And they've kept plowing money into everything from ski lifts to parking to stay competitive in the arms race on the mountain.
I don't know man. This is a little bit like characterizing Notre Dame football, with its $15 million-per-year NBC contract and ACC affiliation, as the scrappy independent of college football since it is not a direct member of any conference. Sure, Jackson Hole is independent, but it is also the top ski resort in North America on Z Rankings and Snowpak, and had more than 700,000 skier visits last season.
When the Ikon Pass dropped its partner list in early 2018, Jackson Hole was the "Holy f-ing crapballs are you serious?" headliner destination. With its brawling terrain, immense snowfall and vertical drop, and rugged Western image, it is at the tippy-top of everyone's must-ski list.
I don't really disagree with the author's major thesis here that independent mountains are finding a way to thrive in the megapass world by aggressively promoting their uniqueness. But Jackson Hole is one of the few mountains that could say "Screw all this noise," drop off the Ikon Pass tomorrow, and probably be just fine. Unaffiliated Targhee makes more sense as a case study here, but with 500 inches of annual snowfall, you don't need a hell of a lot of help. A better case for survival in the Time of the Bargain Pass could have been made by focusing on the multitude of rad regional mountains who have been left out of both passes and are thriving even when they are surrounded by conglomerate-owned or otherwise-subsidized mountains (Magic, Plattekill), or by building a regional resort network (Berkshire East/Catamount; the Fairbank Group's Jiminy Peak, Bromley, and Cranmore), or by investing in and expanding the mountain (Waterville Valley).
Rather than challenging Jackson Hole's viability, the existence of these megapasses may have actually positioned it for indefinite independence by guaranteeing an ancillary revenue stream. While the current per-skier-day payout from Alterra is likely modest in comparison to the mountain's $165+ day ticket walk-up price, this is just the beginning. As the mountain's Ikon contract approaches expiration, JHMR will be in a supremely advantageous position to negotiate a more favorable redemption rate… or join Epic instead. Don't think it couldn't happen. A-Basin ditched Epic for Ikon last year. These affiliations are not forever.
Vail, for its part, courted indies Telluride and Sun Valley/Snowbasin as Epic Pass partners, and it would likely be very happy to add Jackson Hole to its current lineup.
Think about how the NFL began playing the networks off of one another to bid up the cost of airing the Super Bowl – everyone wants that game because of the guaranteed audience and attendant massive advertising revenue haul. Something similar is happening in skiing – there are a small number of highly desirable independent mountains (Alta, Taos, Telluride, Sun Valley) that every skier wants to visit. Jackson Hole is the king of these indies, a prize that directly translates to pass sales, and it is worth a fistfight over.
They may get one. With local animosity toward the Ikon Pass high (it's unclear to me if the inclusion of an Ikon Base Pass with this year's Jackson Hole season pass has tempered that), JHMR may be a better fit for the Epic-Telluride model, which shuts out Epic Local passholders and includes seven days of access only to buyers of the full-priced pass. Were Jackson Hole to trade Ikon revenue for that more exclusive access tier, they could probably name their price to Vail.
Whatever happens, Jackson Hole and other indies are unlikely to abandon megapass partnerships altogether. While the web of partnerships and ownership groups that dictate pass access today are likely to be very different five or 10 years from now than they are today, the large and iconic indies that remains are likely in a better position to thrive under this model than they are to wither.
Getting all techno-futuristic at Saddleback
In what may be the worst-quality video I have ever seen, Saddleback announced its first marquee project under new ownership: a high-speed detachable quad to replace the antique Rangeley Double, cutting the 10-minute ride time to four-and-a-half minutes. That's a nice upgrade for a mountain perched on the northern edge of frozen Maine.
What is still unclear to me is why the mountain was ever closed at all. In this Maine Biz article tracing the story of the sale to Arctaris, both the former owners and their lawyers dismiss critics as speaking out of "ignorance." But that ignorance may be justified – I cannot find any public record explaining why closing the mountain was better than keeping it open, even if parts of it – like the aforementioned double – made it feel a little rickety. That the family claims to have spent $4 million to maintain the resort while it was closed suggests that it would have cost more to operate it and presumably take a loss exceeding that figure.
The Berrys did a lot right in their tenure of Saddleback, dramatically amping up the trailmap and investing tens of millions in a new lodge and other infrastructure upgrades. That they've found a new buyer that is already making moves should be encouraging to any Saddleback skier. But leaving the mountain shuttered for five winters without a clear explanation to the community is going to beg criticism, and they could have done a better job explaining the why. If they'd like to talk about it, I have a platform available.
The least surprising good news of the week
In a move that couldn't have come as a surprise to anyone who was paying attention, Sugarloaf followed sister resorts Loon and Sunday River in announcing its 2030 plan last week.
There are, as can be expected from Boyne, constant snowmaking and lift upgrades, as well as facilities improvements, but what I get most amped up about is terrain expansions, and one of the largest mountains in the East will grow substantially with the West Mountain expansion:
In what will be the most transformative project at Sugarloaf since the installation of the SuperQuad, more than 450 acres on West Mountain will be developed with a new high speed lift, new trails with snowmaking, a tubing park, lift-serviced mountain bike trail network, and residential real estate.

The new lift will transport skiers and riders from West Mountain Road up to Bullwinkle's, and will be accompanied by significant new trail development and snowmaking infrastructure. This development will expand Sugarloaf's beginner and intermediate terrain, and will greatly alleviate traffic congestion at the SuperQuad by shifting significant numbers of riders to this new area. Several options are being considered for size and type of lift for this location, with lift construction expected to begin in the summer of 2021.
Sugarloaf is already the best advanced/expert mountain in the East when all the glades are firing and the snowfields are open. This expansion will bring its intermediate and novice terrain up a notch. While it's too soon to say whether that terrain will be best-in-class, it will unquestionably make the mountain more appealing to the families that can withstand transporting their children over long distances.
Lift Blog sums up the planned lift upgrades:
Lifts across the mountain will be replaced over the next decade. Timberline, a Borvig quad serving the summit will be replaced with another new lift supporting varied year round experiences. A third near term priority is the Double Runner double-double, which is approaching 50 years of age.  A new quad would better serve ski school programs and increase out-of-base capacity. Carrabassett Valley Academy also plans to partner with Sugarloaf on a new alpine training surface lift servicing race trails above Double Runner.

Further out, Boyne plans to replace two more aging quads. A new King Pine would run in a modified alignment with better wind resistance and improved reliability. A future SuperQuad replacement is more about increasing capacity with state-of-the-art equipment.
The GMs of both Loon and Sunday River joined me on The Storm Skiing Podcast to discuss their 2030 plans at length, and a conversation with Sugarloaf is scheduled for next month.
Pass prices drop
Ikon and Epic pass sales stopped in early December, but the two-days-at-47-mountains Indy Pass never went off sale. Now, it's just $139. Similarly, the very-very-very off-the-radar Champlain Valley Ski Card – which gives you one day at 12 mountains, including Gore, Magic, Burke, Mad River Glen, Smuggs, and Whiteface – just cut its price to $82.99.
It may seem late in the season to be buying passes, but it actually makes a hell of a lot of sense. March is the best month to ski – crowds disintegrate and most mountains are 100 percent open. Ski two or three days on this, and it's worthwhile. Magic, for example, charges $74 for a one-day lift ticket. The Indy Pass includes two days at Magic, cutting that to under $70.
That alone is probably not incentive enough to buy, but when you consider that the pass also comes with two days each at Berkshire East, Catamount, Bolton Valley, Black Mountain New Hampshire, Mt. Abram, Pats Peak, and a bunch of others in the East, and it's not hard to put together an end-of-season plan that could cut the per-day cost below $20. The last day to buy the Indy Pass is Feb. 29.
The Champlain Valley card is only a couple bucks more than that $74 Magic day ticket price. And the pass is, amazingly, less than the walk-up peak ticket price at Whiteface ($104), Mad River Glen ($92), or Gore ($94) – so if you're skiing even one day at any of those mountains, it's not only cheaper to just pick up the Champlain Valley Card, but it also comes with 11 more days of skiing – use all 12 and you're on the slopes for $6.92 per day. There is no better deal in skiing.
And on the opposite end of bargains is this
So I was in Steamboat this weekend and at the end of the day I went into the ticket office to buy mountain coaster tickets. This happens to be where they also sell lift tickets and this is what it costs to ski at Steamboat: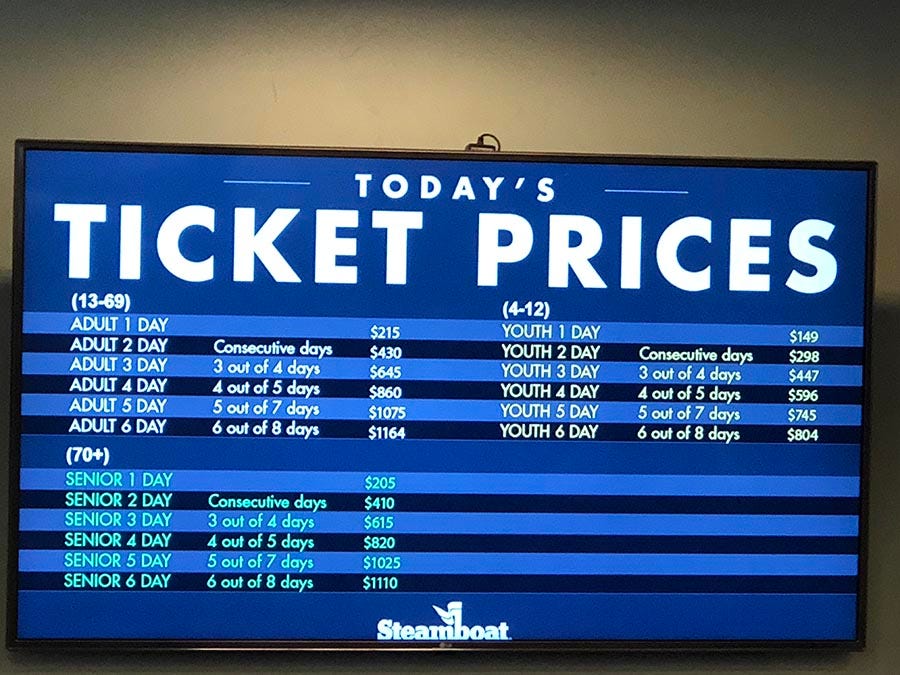 Vail gets all the headlines because everyone loves bashing the big bad Wall Street megamonster, but frankly every big Western mountain in the country will cost you an amount so grossly inflated that it makes the $25 glass of wine at a Broadway show look like a Prime Day blowout.
I know we're all used to this by now, but I can't help breaking down the differential here between this slice-your-pockets open pricing and the price of an Ikon Pass. The walk-up price of a five-day adult lift ticket is $1,075. A full Ikon Pass went for $949 in April ($919 if you were renewing), and that included not only a full no-blackout season pass to Steamboat, but season passes to Copper Mountain, Winter Park, and Eldora, and seven days each at the Aspen mountains and Arapahoe Basin. That's just in Colorado. Hell, the Ikon Base Pass, which includes five days at Steamboat, was only $649 ($619 for renewers), and that also included the season passes to the Colorado mountains and five days each at Aspen and A-Basin. So it's $125 more to roll up last minute and ski for five days than it is to get a pass that basically gets you unlimited skiing at like a million mountains or whatever.
The price that really surprised me, however, was the $149 youth day ticket. I picked up my daughter's Ikon Base Pass for $159 last April. She's skied seven days on it so far. So each of her two days at Steamboat set me back all of $22.71. That will go down as the season goes on. I've got 13 days on my $619 pass so far, putting me at $47.62 per day – that, too, will drop before the season's done.
For years as I have sailed through the EZ Pass lanes on the George Washington Bridge I have side-eyed the long lines of cars backed up at the cash booths and wondered why anyone would do that to themselves, especially since just sticking the pass to your windshield gets you a more-than 25 percent off-peak discount. And while many of these cars are likely out-of-staters navigating up I-95 as an occasional thing, the lion's share of the plates appear to be New York and New Jersey, and you can't drive around the corner in New York without needing an EZ Pass.
The point here is that there is and will likely always remain a stubborn subset of the population who prefer an in-person point-of-sale transaction to any sort of premeditated discount. And so large ski resorts will likely continue to ratchet these prices up until some sort of economic calamity comes along and makes them stop.
Elsewhere
New York Ski Blog visits Middlebury Snow Bowl and does a nice post about watching your kids reach ski milestones. Ski says it's OK to miss a powder day. Powder on the power of skiing to help heal heartbreak.
A terrific tribute to Mammoth Mountain founder Dave McCoy, who recently passed away at 104:
This week in skiing – a midseason western adventure
Copper Mountain – Thursday, Feb. 20
When I was 18 and still figuring out this snowskiing thing, I made my first Western ski roadtrip to Copper Mountain, and the place has been important to me ever since, symbolic of western adventure and independence and freedom. I never returned until Thursday, when my daughter and I landed at Denver International Airport, rented a car, and drove up for a half day of skiing.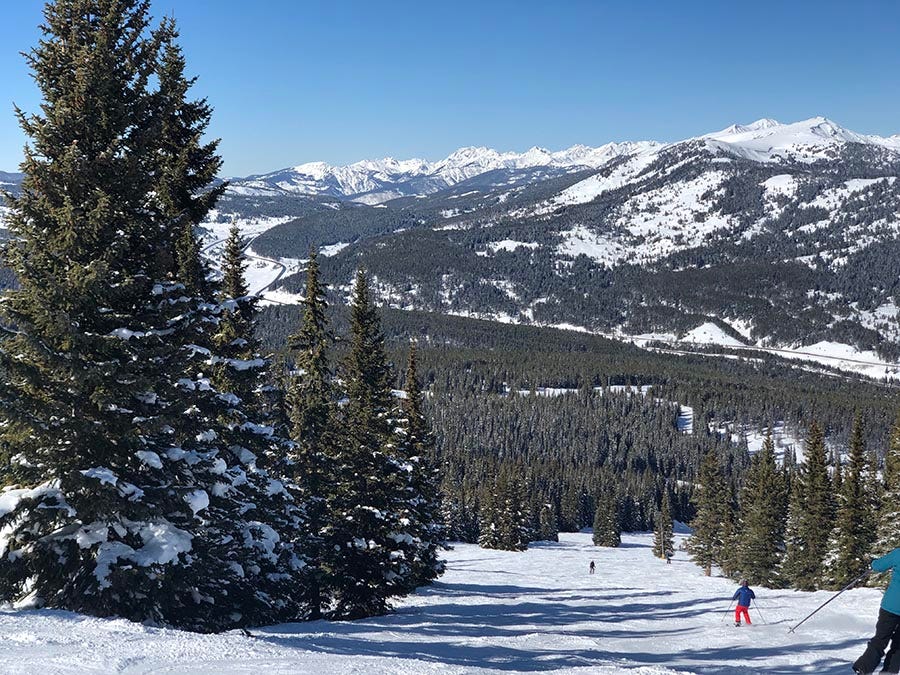 What was my first Western mountain would be hers too. We lapped the American Flyer lift and sailed down long rolling greens as wide it felt as the airport runways we'd landed on a few hours earlier. The snow was squeaky and powder-piled from three inches of overnight snow and the mountains thrust dramatically up across the vastness, avalanche paths etched down the face from millions of years of slides. The place was unbelievably built up, super six-packs everywhere, high-speed lifts everywhere, the Woodward parks etched artworks like the kind of surreal carved-from-nature masterpieces you see in sand castle-building contests. It was a sunny day and a half day and when you fly from sea level and set up at 9,000 feet that's quite enough to get going.
Steamboat – Friday and Saturday, Feb. 21 and 22
Steamboat too I've visited and I have exhilarating memories of days spent in the deep and endless glades and angling through the towering walls of bumps streaming off of it seemed every lift. In those two previous visits I don't know if I ever skied a groomer top to bottom or for any reason other than to traverse to someplace more interesting, but here I skied along with my daughter down the sunny groomers that stretched over the horizon. I had not been here since two months before she was born, when she was a figment and an impossible thing, and here she was swooping across the hill with the flat-bottomed neatly squared valley pancaked far below. On the soft snow she gained confidence and skied blacks from Storm to Sunshine Peaks.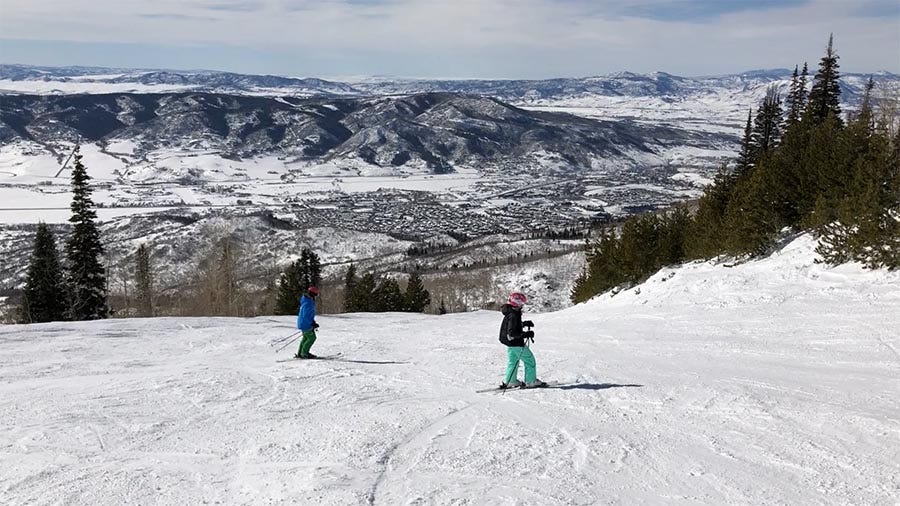 Sometimes she would ski with my brother-in-law and his son and the rest of our group and I would sneak off into the woods and there at lower elevations I found mostly rotten snow refrozen after the previous weekend's storms. Finally after busts on Sunshine Peak and off the Pony Express I rode the rickety Bar UE double chair to the Storm Peak summit and found crisp fast glades and bound through them in two glorious laps that were among my best runs of the trip.
Beaver Creek and Keystone – Sunday, Feb. 23
On Sunday my daughter flew back to New York with my brother in law and a storm rolled in and you can imagine my coiled anticipation as I sat there in Colorado with both an Epic and an Ikon Pass and with all the state's vast ski acreage available before me. I chose Beaver Creek because everyone always overlooks Beaver Creek because it is right next to Vail and Vail is Vail but I am telling you this is one of the best mountains in the West, pure fall line from top to bottom and streaked with rowdy terrain ignored by the Escalade set that comes for the grooming and frou-frou. I started the way I always do after leaving the base area, which was with laps on the Birds of Prey lift, smashing through each of the three double diamond runs, moguls rounded and enormous etched like stillborn waves beneath a half foot of fresh. I floated around and between these and it was dreamlike in its surreal splendor to do so, my skis bottoming out on the hard-frozen bumps and popping back up and floating back down and the whole thing a relentless top-to-bottom dance.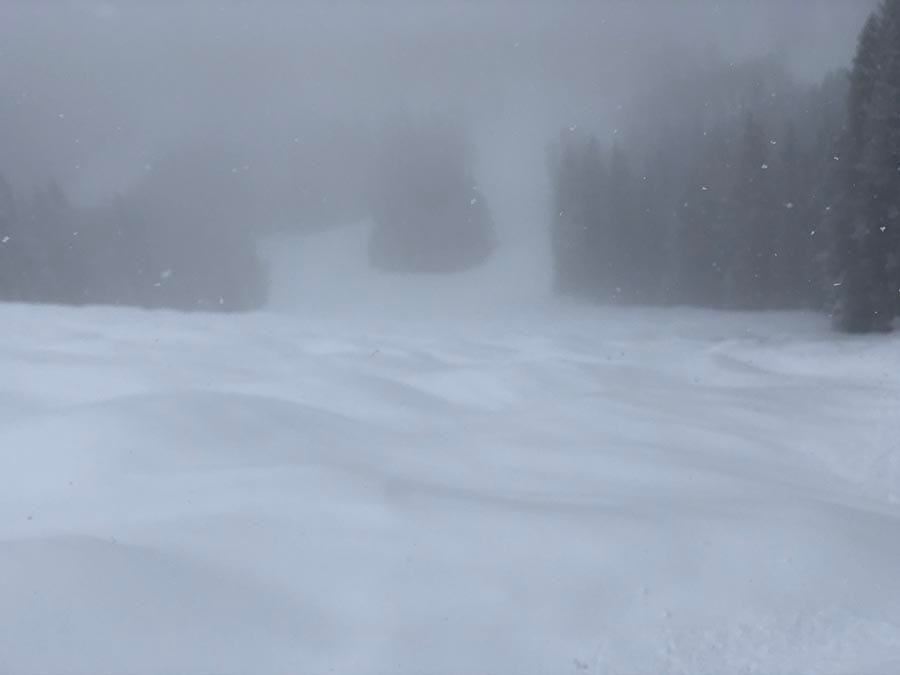 And then I switched to Grouse Mountain and I skied this the rest of the day. This is one of the best black diamond pods in all the west and it was empty, utterly abandoned, not a liftline all day, not even a shared chair ride. Here it was a powder day and a weekend day and a midwinter day and it was like a private ski area within one of the headliners of the Vail empire. I skied every bump run on the front face and then switched to Royal Elk Glades. On the trail map this is one run but it is set along a face that is probably the size of Hunter Mountain, a glorious untracked labyrinth of steep faces and well-spaced trees and side hits and chutes and surprise hillocks that leads cleanly back to the Grouse Mountain Express. I hit a new line each time and on most runs I did not see one other skier and I would pause in the Rocky Mountain stillness and take pictures and marvel at the whole damn thing and thank whatever that most skiers either couldn't or wouldn't venture back here.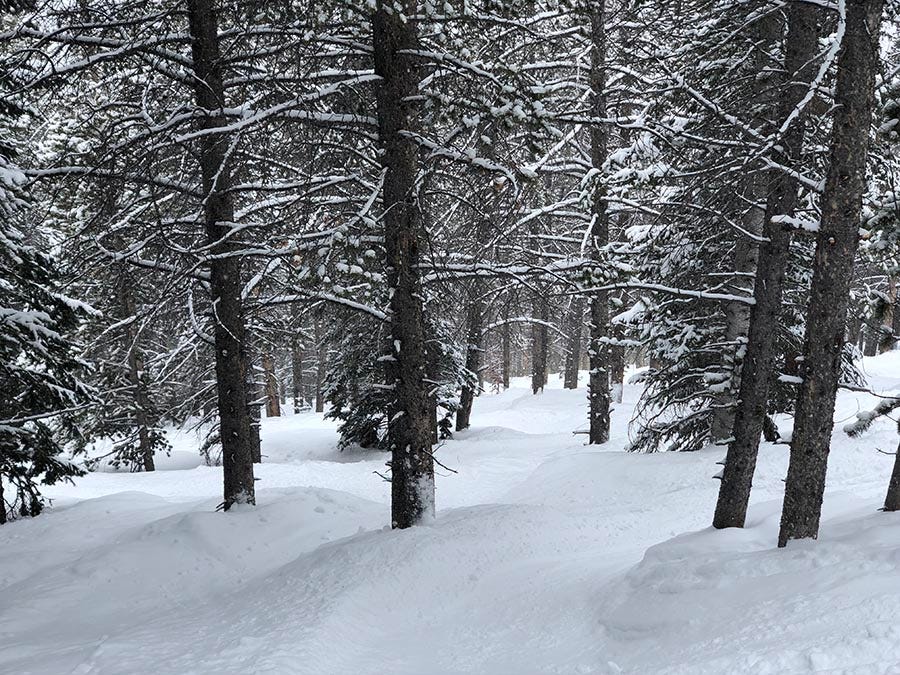 I'd skied until close and racked up over 33,000 vertical feet of technical terrain, but the snow was good and my energy was high and my condo that night was slopeside at Keystone and they spin the lifts until 8 p.m., and so when I got there I geared up and headed out into the snowy night for some fast and easy laps on the frontside greens and blues. It was fast and cold and everyone on the gondola was young and drinking and it was like a big arctic party on every lap. There is always something surreal about night skiing, but night skiing in the Rockies is especially so as it is so high and remote and wild and improbable that it feels less like skiing than watching an experience about skiing on some other planet, a huge and far off thing that is difficult to reach or understand.
Keystone – Monday, Feb. 24
Keystone is another ski area that I know relatively well and I had a plan for my half day of skiing and that plan involved beelining to the Outback and reliving a bumpy adventure from an earlier time, days spent lapping the towering bumps and trees that rings that summit's quad.
But the Outback was closed on a wind hold. A wild storm was blowing through and snow settled in long sheets over the incline. As at Beaver Creek the previous day the fresh snow and plunging temperatures had fossilized vast bump fields, but unlike the previous day I was exhausted and had trouble finding a rhythm in the wind-whipped thick powder adhering to the concrete moguls below. On the next run I ducked into the Cat South Glades and here I found some kind of powdery Utopia, like I was playing Super Mario Brothers and ducked down an unassuming tube and found a room blitzed with thousands of free coins and extra lives. This is not a secret run but it had been completely ignored by the hordes dumping off the summit and I had this snowy wood to myself.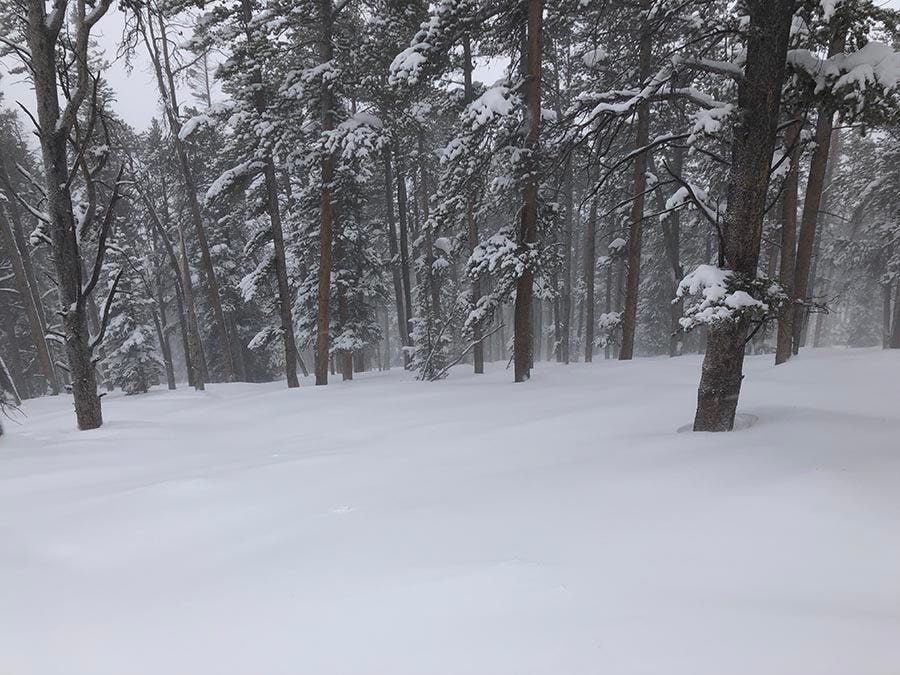 The trees sat widely spaced and the snow was deep and not hard beneath and the pitch just enough to keep speed without losing control and I fired gleefully down this to the long runout at the bottom. This was one of the best runs of the trip and one of my best runs ever in Colorado, and after a few more forgettable amblings off the other side of North Peak I skied back to my condo and packed up and drove down to the airport and flew home.
---
To receive new posts as soon as they are published, sign up for The Storm Skiing Journal Newsletter at skiing.substack.com. Follow The Storm Skiing Journal on Facebook and Twitter.
Check out previous podcasts: Killington & Pico GM Mike Solimano | Plattekill owners Danielle and Laszlo Vajtay | New England Lost Ski Areas Project Founder Jeremy Davis | Magic Mountain President Geoff Hatheway | Lift Blog Founder Peter Landsman | Boyne Resorts CEO Stephen Kircher | Burke Mountain GM Kevin Mack | Liftopia CEO Evan Reece | Berkshire East & Catamount Owner & GM Jon Schaefer| Vermont Ski + Ride and Vermont Sports Co-Publisher & Editor Lisa Lynn| Sugarbush President & COO Win Smith| Loon President & GM Jay Scambio| Sunday River President & GM Dana Bullen|