Discover more from The Storm Skiing Journal and Podcast
Everyone's searching for skiing's soul. I'm trying to find its brains.
Over 11,000 subscribers
I've Identified the People Who Pay $5 for a Box of Junior Mints at the Movie Theater
And are outraged by it
Still nothing in the East: One of the most useful things that low-rent aggregator Unofficial Networks does is compile early- and late-season lists of operating mountains across the country. 
Colorado, and Summit County in particular, is as usual winning this fight, with Loveland joining Keystone and this season's first-to-open-winner A-Basin. Under-the-radar Mt. Rose beats the Tahoe monsters to open, but that isn't unusual. And up in Alberta, Nakiska got lifts spinning.
Wolf Creek Twittered that it will open on Halloween, and Eldora will follow on Friday and it's just generally snowing like hell all over large parts of the West.
Meanwhile, back east, we wait. The problem with skiing in October in Vermont is that after you do it once or twice you start to feel as though you're entitled to it as an annual occurrence, like the Fourth of July. But apparently snow doesn't work the same way as federal holidays dedicated to historical happenings that occurred on specific dates.
But I really wish they would stop doing this: But then Unofficial Networks reminds me that it's Unofficial Networks and dusts off this post from last January, ostensibly to induce outrage at the mountain-industrial complex's appalling day-ticket prices: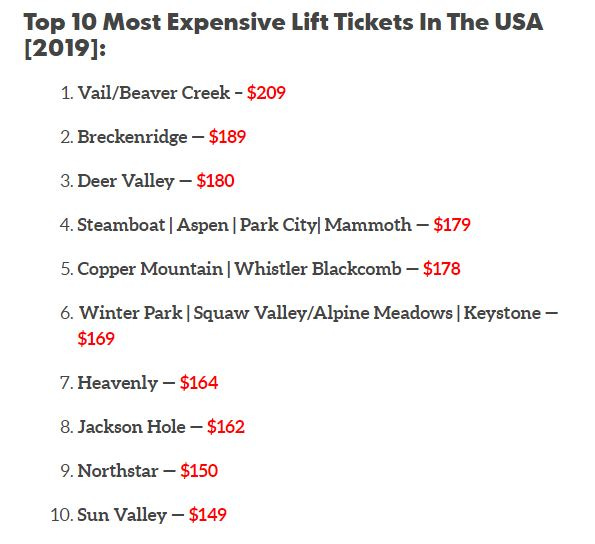 The mobs bit, declaring these top prices "disgusting" and "ridiculous." While the prices are astronomical, this whole habit of being continually outraged by it is exhausting and frankly completely stupid. The people complaining about this are the same people who gripe about the price of movie theater concessions, and they demonstrate the same lack of foresight or ability to adapt their approach in both circumstances.
PERSON 1: Five dollars for a box of Milk Duds! This is outrageous!
PERSON 2 [points to CVS across the street]: You could have just bought them there for 75 cents five minutes ago.
PERSON 1: This is outrageous!
Acknowledging that a $700 ski pass is not the same thing as a box of Junior Mints, I think we need to collectively agree that we've lost this fight and keep moving. It's not 1985 anymore, and there are ways around it.
Outrageous as these prices are, strolling up to the ticket window at Beaver Creek is a mistake you should only make once, like taking a pedicab in Manhattan*. You need a little foresight, but there are deals out there, especially right now.
I'm not going to bother doing a big pass overview because there are plenty of those out there and it's not that hard to figure out which mountains are on which pass. Epic. Ikon. Indy. Freedom. But I do want to point out a few bootstrapped local passes that could get you a number of days at quality mountains for 1985 prices.
Like this one: If you miss 1990s websites and 1990s prices, check out the My Champlain Valley Ski Card. $164.99 gets you one day each at 12 mountains, including Gore, Whiteface, Magic, Burke, Mad River Glen and Smuggler's Notch. That's $13.75 per day if you use them all, which is more like 1970s prices.
It's a bummer that former partner Cannon is absent this year, and there are blackout dates (and I don't completely trust that the blackout dates listed on the site are entirely correct, as it for some reason identifies the week after President's Week as a blackout period for all mountains; maybe this is due to local school holidays or something that I'm unaware of).
Either way, this is a hell of a deal at some seriously outstanding mountains. The full-day peak walk-up adult lift ticket price will be $104 at Whiteface, $92 at MRG, $88 at Gore and Smuggs, $75 at Burke, and $74 at Magic, so this will more or less pay for itself in two visits regardless of where you ride.
The other six resorts on the card are family meccas Bretton Woods and West Mountain, we-need-more-of-these Vermont town tow Northeast Slopes, overlooked Oak and Titus mountains in the Adirondacks, and lost-in-the-mix-of-Vermont-monsters Middlebury Snow Bowl.
Or this one: At $139, the WNEP Ski Card, offers one day each at 10 mountains. While it is mostly lacking the headliner names of the Champlain Valley card, it is perfect for a different sort of skier.
With its mix of Poconos bumps (Jack Frost Big Boulder, Shawnee, Montage, Big Bear), Mountain Creek, and upstate New York (Greek Peak and the flagship, Whiteface), as well as three mountains a bit further west (Sawmill, Swain, Tussey), this may be the best deal going for New York City metro skiers who want to get out a half dozen days with their kids and snag a weekend upstate.
While these mountains are mostly on the smaller side, this acts as a pretty good sampler pack for what you can reasonably expect to ski within a few hours of Manhattan. If you do pick this one up, plan to arrive very early if you're hitting any of these on the weekend, as their proximity to the city makes most of them landing zones for hordes of not-very-good weekenders. Luckily, that's the same crew that has trouble organizing themselves through the rental shed and onto the hill before 11 a.m., so you can crank out 10,000 vertical feet before they've figured out how to attach the wicket to their jacket.
From a value point of view, Epic is winning this pass war in the Northeast: After Vail nuked the Northeast out of its boating-and-picnics summertime ski amnesia with its July 22 announcement that it was buying all of Peak Resorts, instantly beefing its Northeast portfolio from three to 13 mountains, I expected a retaliatory strike by Alterra to defend its East Coast market share.
Three months later, I'm still waiting.
Prior to the Peak acquisition, the Ikon Pass was the clear better value for almost anyone in the Northeast, with six mountains to Epic's three. Four of those six – Sugarbush, Killington, Sunday River, Sugarloaf – would likely make anyone's Eastern top 10, while only Stowe ranked in that league on the Vail side. And while all of these four mountains maxed out at seven days on Ikon and Stowe was unlimited on the full Epic Pass and blacked out on big holidays on the Local, that's still 28 days at four very good mountains, and that's more than most people ski anyway.
That all changed in an instant on July 22. Adding Wildcat and Attitash upped the radness factor of an Eastern Epic Pass significantly, while stapling Mt. Snow on made it a sort of no-brainer for anyone within striking distance of southern Vermont, since skiers now had the option of either that or Okemo on any given day. And the additions of Hunter and Jack Frost Big Boulder gave Vail something that I thought Alterra would come up with an answer to: mountains within reasonable day-trip distance of New York City and its metropolitan population of approximately 20 million. And, perhaps most important, all of these mountains except for Stowe would now be unlimited and with no blackouts even on an Epic Local Pass.
Alterra's response to this checkmate was to pretend it never happened. They've added no new mountains in the region, their sole offseason U.S. add being a throwaway addition of A-Basin, a good mountain but not one that people travel out west specifically to ski in general, as it sits in crowded and resorts-with-amenities-rich Summit County.
With what I'm assuming are the final prices before the passes go off sale in early December-ish, the value of an Epic Pass over an Ikon Pass for an Eastern-based skier is stark. The $739 Epic Local Pass is not only $60 cheaper than the Ikon Base pass, but it gives you far more local access. Compare unlimited Mt. Snow and unlimited Okemo to five days at southern Vermont neighbor Stratton. To step up to unlimited Stratton, you're looking at $1,099 for a full Ikon pass.
For a family – and that is the primary demographic for all three of these over-groomed monsters – that difference is huge. If you're a drive-up-for-the-weekends person with a place in southern Vermont, it's hard to see how you pick Ikon in this circumstance, since those three mountains are for the most part interchangeable unless you're a park guy (Snow) or like glades (Stratton without question of those three).
In northern Vermont, you're looking at holiday blackouts at otherwise-unlimited Stowe versus five Sugarbush days on the Epic Local versus Ikon Base, respectively. Stowe versus Sugarbush being more or less a fair fight in about any imaginable category, there is no comparing that value. Then you have four unlimited Epic mountains in New Hampshire versus five days at tame Loon Mountain. You can balance this out a bit with the two Maine giants in the Ikon category, but again, the days are limited, which they are not at any of Vail's New Hampshire mountains.
And the possibility of easy day trips from Washington, D.C., Baltimore and Philadelphia (to Whitetail, Roundtop and Liberty) or New York (Jack Frost Big Boulder, Hunter), to supplement adventures further north or out west is an enormous point in Vail's column that Alterra and Ikon simply have no answer for.
Finally, there is almost no accounting for the fact that a full Ikon Pass ($1,099) is more than $100 more than the $989 full Epic Pass, on which nearly every mountain except for a few partners is unlimited.
I have no visibility into Alterra's pass sales numbers, and I don't know if they've taken any sort of dent in the Northeast due to Vail buying Peak and substantially increasing the value of the Epic Pass. Vail did report a year-over-year jump of 14 percent in the number of passes sold in their end-of-year earnings report in September, but they did not elaborate specifically on how much of that could be credited to East Coast markets. But I will tell you that Vail got my $699 approximately five minutes after that press release crossed the wire. While neither the Peak Pass nor the Epic Pass ever made a lot of sense on their own for me, suddenly combining all of their mountains into one product that was far cheaper than the no-blackout Peak Pass ever sold for was too compelling to pass on. I'd already purchased an Ikon Base pass for the substantial early-bird discount in April (my daughter's pass was only $159!), and I will likely continue to do so, but most people are not going to be buying both.
So what should Alterra do? They own only one mountain in the east (Stratton; two if you count far-far-away-from-most-places Tremblant), so their options are somewhat constrained. I think they need to start by making Stratton unlimited on the base pass. Beyond that, they need to expand their partner network substantially.
Ikon Pass antecedent Max Pass offers a framework for how they could do this. It included several mountains close to large metro areas that could serve as stand-ins for someone waffling on Epic versus Ikon – Mountain Creek, Windham, Wachusett, Belleayre. It should not be hard to rekindle partnerships with any of these mountains, who would likely love the exposure and hungry day-trippers such a deal would bring. Any deal with Belleayre would likely come with access to also-owned-by-New-York-State Gore and Whiteface, adding the state's two best and largest mountains to the offerings.
And Camelback, a tame but large-ish Poconos mountain with the benefit of an indoor water park/resort hotel sitting slopeside, is already owned by KSL Resorts, part of KSL Capital Partners, which is a majority investor in Alterra. Adding Ikon days to Camelback should be as simple as deciding to do it.
Adding these day-drivers and amping up Stratton access would be a good start, but don't be surprised long term to see Alterra get very aggressive to compete with Vail in the East. Copper Mountain is unlimited on the Ikon Pass even though Alterra does not own it because it sits in ferociously competitive Colorado, where offering unlimited access for more than $650 per year is something that only Vail, Beaver Creek, Aspen, Steamboat and Telluride can pull off. It's important to note that Alterra does not own Copper. Powdr Corp does. Powdr also owns Killington. Don't think there's no world in which unlimited Ikon Pass Killington doesn't exist if the season pass wars heat up out here like they have out west.
For now, Alterra appears to be holding firm to its original marketing pitch that it has only bundled together IKONIK resorts. This is of course nonsense, as about half of its own portfolio are themselves feeders, including Blue Mountain Ontario, Big Bear and June Mountain in California, and Snowshoe. Eldora in Colorado is clearly only on there because Copper is and Alterra needed Copper to be on it. Many other non-destination mountains are presumably here for similar portfolio-based reasons (You have to assume Big Sky, Sugarloaf and Sunday River collectively give Boyne a ton of leverage to include its whole inventory of smaller mountains). Yes, many of the best mountains in North America are on the Ikon Pass, but maybe a dozen of them are in the Big Sky-Jackson Hole-Snowbird-Squaw Valley I'm-dropping-everything-to-drive-across-country-and-hit-these league.
I think it's fairly certain that Ikon will make some moves over the next couple of years, but it's looking too late to do anything consequential before this season hits.
---
*Don't ever do this. These pedicabs are not some must-do checklist item that is ingrained into New York City culture. These gangs of thieves started gathering en mass on the Central Park loop road around 2005, and will charge you exorbitant rates of up to $7 per minute. I have never taken one, but I have a friend who did, and his shame was deep.
---
The Storm Skiing Podcast is on iTunes. The Storm Skiing Journal publishes podcasts and other editorial content throughout the ski season. To receive new posts as soon as they are published, sign up for The Storm Skiing Journal Newsletter at skiing.substack.com. Follow The Storm Skiing Journal on Facebook and Twitter.