Discover more from The Storm Skiing Journal and Podcast
Everyone's searching for skiing's soul. I'm trying to find its brains.
Over 13,000 subscribers
Indy Pass Signs Vermont's Jay Peak
Already surging Indy Pass instantly boosts cache with signing of Vermont's top ski area
Indy Pass, the upstart second-year multipass that delivers two days at each partner mountain for $199, today announced that Vermont's Jay Peak would become its 57th partner ski area. The addition of one of the Northeast's top ski resorts instantly changes the complexion and cache of the Indy Pass, adding a flagship mountain that has remained a top draw for glades-and-pow skiers even as most of its regional peers have joined the Epic or Ikon Passes.
"We're happy to be joining this collection of independent resorts who have created an important product in this day where season pass options seem to have an unremarkable sameness about them," said Jay Peak GM Steve Wright. "None of the Independent Pass resorts treat the sports of skiing and snowboarding like commodities; that's important to us. We're looking forward to a long, safe season and to welcoming Indy Pass Holders to what we think is the most special corner in New England." Wright joined The Storm Skiing Podcast this morning for a conversation that will hit your inbox later this afternoon.
Jay, which averages more annual snowfall than any ski area in the Eastern United States, becomes the Indy Pass' fourth mountain in Vermont, joining Magic, Suicide Six, and Bolton Valley. With those four mountains and Cannon, Black, and Pats Peak, New Hampshire; Berkshire East and Catamount, Massachusetts; Mohawk, Connecticut; and Greek Peak and Swain, New York, the pass now delivers 24 days at 12 Northeast ski areas with no blackout dates. Shawnee and Blue Knob, both in Pennsylvania, are also Indy Pass members.
The likely catalyst for Jay's signing is the indefinite closure of the Canadian border, which has strangled off up to half of the mountain's expected 2020-21 ski business and left it as one of the few ski areas in the country trying to figure out how to add skiers, as most mountains of similar size turn their resorts upside down to slim capacity and meet social distancing mandates. Last week, the mountain announced that it would refund all Canadian passes, leaving a maple leaf-shaped hole in its powdery incline. From Jay's website:
As we rely on traffic from our Canadian brothers and sisters at an index of 50%, and the reality that many counties within our US markets will have quarantine restrictions and limitations, means you should expect room to roam here. Following that, we will not expect Jay Peak Season Passholders to make a reservation, we will not force day trippers to buy tickets in advance (although you'll get the best rate when you do), and we'll be happy, euphoric even, to sell you a walk-up, window rate ticket if you're chasing a storm or the spirit simply moves you.
Here's what the signing means for Jay Peak and for Indy Pass:
If you build it, and then get through the first season and eventually add Jay Peak, they will come
If the Northeast were a biker bar and Jay Peak walked in alone and Stowe and Sugarloaf and Killington and Mad River Glen were all huddled around a handle of Old Grand-Dad sharpening their switchblades and one of them said, "hey Punk we're gonna kick your ass," Jay would be like, "no you're not," and they'd all be like, "yeah maybe actually we don't want to," and Jay would go line up 10 shots of rat poison and down them one after the next while carving "NEK 4 Lyfe" in its forearm with a boxcutter.
It is hard to overstate just how good Jay is, and how anomalous its existence is in a Northeast famous for groomed concrete. It is dripping with glades. The terrain is unquestionably great, with long fall line skiing and an expansive trail network. It has a tram. It is socked with snow, averaging 359 inches per year and logging 300-plus inches in seven of the past 10 seasons (excluding 2019-20), and scoring 400-plus twice. That's not just tops in the Northeast – it's greater than the averages at all but four Colorado ski areas and every ski area in Montana outside of Big Sky. Z Rankings disputes some of these estimates, putting Jay's average at 322 inches and slotting it 113th in overall snow quality among North American ski areas. Regardless, it is indisputably the Northeast's top ski area for snow.
Yes, I've repeatedly crowned Sugarloaf as the alpha dog of Northeast skiing. The wild meandering expanse of Brackett Basin and Burnt Mountain stands alone as the greatest pocket of natural lift-served terrain east of Summit County (with the possible exception of Michigan's Mount Bohemia, and yes I'm serious). But comparing Sugarloaf and Jay is like arguing over MJ versus Kobe. They're both great. And if you want to fight me over it, I'll probably just say "cool, let's go skiing."   
As far as the Northeast goes, Jay is as good as anything on Epic and it's as good as anything on Ikon and it's better than anything already on the Indy by quite a bit. It was the strongest remaining unaffiliated-with-a-megapass mountain in New England and one of the best such ski areas in the country. Northeast skiers know this, and the addition of Jay Peak to the Indy Pass instantly makes it a must-buy for anyone not already stapled to their home mountain or unwilling to voyage into the freezing hinterlands from points south. Lift tickets at Jay are not particularly expensive, but offering two anytime tickets alongside days at more than a dozen other mountains in the region is a bargain that's hard to overlook.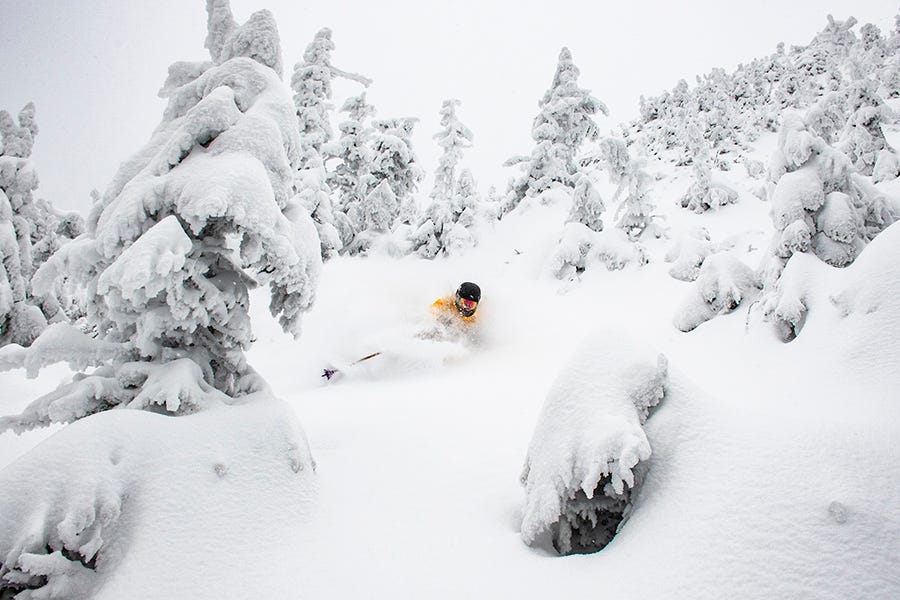 This is not an accident - this is Jay Peak. Photo courtesy of Indy Pass.
Adding bruising Cannon to the pass in May had already acted as an accelerant for Indy's reputation in the Northeast, amping up a roster of very good but lesser-known-to-the-masses mountains like Berkshire East and Magic. Year-over-year sales boomed by more than 600 percent in the pass' first month on sale, though it is unclear how many of those were Northeast-specific (Indy cited the Midwest as a source of strength). But Indy's price remains rooted at just $199 while all the other multipasses have rocketed up to four digits, and for anyone looking to guarantee access in what will be a limited-access year, the pass is a low-risk, high-reward option that will surely deliver some kick-ass skiing.
Jay Peak just pulled up to school in its new Camaro, only the Camaro is an Indy Pass and the other cool kids might want a ride
Going first at anything in skiing is risky. Just look at Alterra's disastrous spring decision to stick to a no-refunds Ikon Pass policy after Covid trained its phaser on the tail-end of last ski season. Going 57th is less risky, but Jay is really just the second of the Northeast's big independent mountains, after Cannon, to step onto the pass, and the agreement signals to the region's other large mountains that, hey dudes, this Indy Pass guy is cool.
They already sort of new that. Mad River Glen GM Matt Lillard told me on The Storm Skiing Podcast in May that the mountain liked the idea of the Indy Pass and would consider joining after the Covid cloud dissipated. He can't be the only one, and many of the region's largest and best-known ski areas are or have been part of a multipass: Whiteface, Gore, and Belleayre were MAX Pass members; Waterville Valley, Bretton Woods, and Cranmore sit on the White Mountain Superpass with Cannon; Smugglers' Notch has long been part of the little-known (and likely unavailable this season), Champlain Valley Ski Card; Wachusett was on the MAX Pass. New York's Plattekill, though lesser known outside of hardcore skier circles, would fit the Indy template perfectly and is a past member of the Freedom Pass alliance. The remaining Northeast crown jewel, Saddleback, sat out the multipass explosion of the past half decade but could have been carved into life at the Indy Pass Ironworks & Stamping Company as the pass' prototypical badass mountain and should at least consider joining after pushing through this first weird year.
None of them, I'm guessing, will be joining this season, as managing capacity in this unusual and uncertain climate of viral fear and social distancing is already challenging enough for Northeast ski areas that have never had a problem with too few skiers (at least on weekends and holidays). The only feasible late addition I see is Burke, which is similarly reliant on Canadian business and shares a pass, former ownership, and many back-end systems and personnel with Jay Peak. This underrated and under-utilized mountain, with its deep glade network and easy access off I-91, would be a strong add.
Even if no one else jumps on for the 2020-21 ski season, the Indy Pass, with Jay Peak and Cannon as headliners, is set up to evolve into something very different in the coming years.
Jay passholders now get Western access for a nominal add-on
One of my most consistent overarching complaints about the Northeast season pass landscape is that many mountains are sticking to single-mountain passes that cost as much as (or more than) an Epic or Ikon Pass, but don't offer any of the Western access that those passes do. This is an important consideration, because so many skiers travel from the region out west, where day tickets can run over $200.
Jay's pass is a good example. It's $1,029 and is only good at Jay (with two days at Saddleback, a nice bonus; an upgrade that includes Burke is $1,289). That's not outrageous for the quality of mountain, but it's more than an Epic Pass ($999), which is a full season pass at seven mountains in Vermont (including Stowe, which gets nearly as much snow as Jay), and New Hampshire, plus all of Vail's mountains in Colorado, Utah, California, and elsewhere (Whistler!), with seven days each at Telluride, Sun Valley, and Snowbasin. A Jay skier eyeballing five days at Vail has to summon another grand out of the sky (far more if you're talking about a family). For a Stowe skier, that skiing expense is already included.
The Indy Pass partnership does not entirely solve this problem, but it presents an attractive counterproposal: a Jay season pass holder can now add an Indy Pass on for just $129. Presto: Western access. No, you won't be skiing Vail or Park City or Heavenly or Whistler, but the West is socked with gargantuan ski areas that could tuck Jay into their shirt pocket and go for a sled dog ride through their 300 inches of annual snowfall. Many of these, particularly in the Upper Rockies and Pacific Northwest, are Indy Pass partners: White Pass, 49 Degrees North, Mission Ridge, Silver Mountain, Brundage, Red Lodge. There are many more, and you can read my region-by-region breakdown of Indy Pass' offerings in this post.
Sometimes a donkey needs a carrot just to get to the food trough
That probably isn't true and I'm going to go ahead and stop making farm metaphors since they make it obvious that I've spent less than 15 minutes of my life on a farm, but my point is that Jay is far. Driving north, as most Jay skiers will be this year, you must pass every other ski area in Vermont to get there. There are a lot of them and a lot of good ones. So how do you incentivize them to pass Sugarbush and Stowe and Smuggs and Mad River Glen and drive the extra one to two hours to Jay? Give them free ski days.
The days are not free, of course, but already possessing a pass makes them feel as though they are, and not having to produce $160 (or whatever) upon arrival for two days of skiing is a good incentive to make the extra drive.
And if they do check the mountain out, they are going to come back. In a Northeast throttled with very good ski areas, Jay is special. This will be a weird year, and the strange emptiness we may encounter at a Jay Peak cut off from Montreal, just two hours north, will be a once-in-a-lifetime interlude to savor. But the terrain, the snow, the remote and wild feel of the place will persist, and those are all things skiers will return for over and over.
Jay's relationship status remains "it's complicated"
Jay Peak is for sale, and has been for years. This is because of an EB-5 visa scandal that makes me feel as though I've placed my brain in a woodchipper anytime I try to write about it, so I'll send you to Vermont Digger for an overview instead. Court-appointed receiver Michael Goldberg had the foresight to keep the ski area running, and it has been well-managed under GM Steve Wright. Eventually, however, the mountain will have a new owner, and the long-term fate of the Indy-Jay partnership will be subject to that individual or group's vision for the place. Even this deal, as Wright told me in the podcast, is for one year and will be reassessed for future seasons.
But for now, you have Indy Pass access to Jay Peak. Use it.
But wait, there's more
Jay Peak General Manager Steve Wright appeared on The Storm Skiing podcast this morning, and that interview will drop within the next couple of hours.
And here's some additional Storm Skiing Journal Indy Pass coverage from the past five months or so:
---
Follow The Storm Skiing Journal on Facebook and Twitter.
COVID-19 & Skiing Podcasts: Author and Industry Veteran Chris Diamond | Boyne Resorts CEO Stephen Kircher | Magic Mountain President Geoff Hatheway | NSAA CEO Kelly Pawlak | Berkshire East/Catamount Owner & Goggles for Docs founder Jon Schaefer | Shaggy's Copper Country Skis Cofounder Jeff Thompson | Doppelmayr USA President Katharina Schmitz | Mt. Baldy GM Robby Ellingson | Alterra CEO Rusty Gregory | NSAA Director of Risk & Regulatory Affairs Dave Byrd
The Storm Skiing Podcasts: Killington & Pico GM Mike Solimano | Plattekill owners Danielle and Laszlo Vajtay | New England Lost Ski Areas Project Founder Jeremy Davis | Magic Mountain President Geoff Hatheway | Lift Blog Founder Peter Landsman | Boyne Resorts CEO Stephen Kircher | Burke Mountain GM Kevin Mack | Liftopia CEO Evan Reece | Berkshire East & Catamount Owner & GM Jon Schaefer | Vermont Ski + Ride and Vermont Sports Co-Publisher & Editor Lisa Lynn | Sugarbush President & COO Win Smith | Loon President & GM Jay Scambio | Sunday River President & GM Dana Bullen | Big Snow & Mountain Creek VP of Sales & Marketing Hugh Reynolds | Mad River Glen GM Matt Lillard | Indy Pass Founder Doug Fish | National Brotherhood of Skiers President Henri Rivers | Winter 4 Kids & National Winter Activity Center President & CEO Schone Malliet | Vail Veterans Program President & Founder Cheryl Jensen | Mountain Gazette Owner & Editor Mike Rogge | Squaw Valley Alpine Meadows President & CMO Ron Cohen | Aspiring Olympian Benjamin Alexander | Sugarloaf GM Karl Strand – Parts One & Two | Cannon GM John DeVivo |