Discover more from The Storm Skiing Journal and Podcast
Everyone's searching for skiing's soul. I'm trying to find its brains.
Over 13,000 subscribers
Indy Pass Erupts Into Second Year With 630 Percent Sales Boom, Picks Up 12th New Mountain
Plus Jay Peak deals with border closure, Vail sharpens its axe, and terrible people cancel snow days
Indy Pass, focused on great overlooked ski areas, surges
United States ski areas break roughly into three categories: destinations, day ski areas, and community hills. Destinations are ski areas your non-skiing friends have probably heard of, expansive and well-appointed and indisputably great. Day ski areas are the locals alternatives to these, close by and with similar terrain and snowfall but usually measuring a little smaller, with fewer 18-passenger helicopter lifts, almost no crowds, and, often, a richer atmosphere. Community ski areas are the rope-tow or antique-lift operations that are the learning slopes and wintertime community centers of mountain towns lucky enough to have them. In Vermont, think Stowe, Magic, Cochran's. In New Hampshire, Bretton Woods, Black, Abenaki. In Maine, Sunday River, Shawnee, Titcomb. All three types exist in all regions of the U.S. and there is overlap between them.
It is this middle group of day ski areas upon which Indy Pass has built its novel empire. Towering out in the hinterlands, overlooked by the skiers stuffed into buses on their way to Hunter and Okemo and bypassed by big-game hunting Vail and Alterra, sit ski areas like Berkshire East and Catamount and Magic, with interesting trail networks and deep legacies and die-hard constituencies. They deliver a satisfying day of skiing, especially on weekends, when any Ikon or Epik resort is managing liftlines out to the parking lot.
Skiers are catching on. A month after going on sale, Indy Pass yesterday reported a 630 percent year-over-year sales increase. Whether this jump is driven by increased general awareness, the spring addition of well-loved regional destinations like Cannon and Lutsen Mountains, or a desire to escape the crowds in our bizarre socially distant 2020 is impossible to tell, though it's probably some combination of all of these things.
"It's encouraging to see the strong interest from skiers and riders who are seeking an affordable way to explore ski resorts in their drive-to region," said Indy Pass founder Doug Fish. "Our independent ski areas are just the ticket for individuals and families looking for less-crowded slopes and short lift lines this season."
The pass is $199 ($99 for kids), and includes two days at 56 ski areas concentrated in the Northeast, the Upper Midwest, and the Pacific Northwest, with scattered partners outside of those regions. If you live in one of those three areas and can squeeze at least four days out of it, there's almost no reason not to buy the pass, even if you have an Epik or an Ikon Pass. Do you really want to ski Stratton or Mount Snow on a Saturday? If your answer is yes then you have only ever skied those places and have only skied them on Saturdays. No, you want to be at Magic on those days. Really: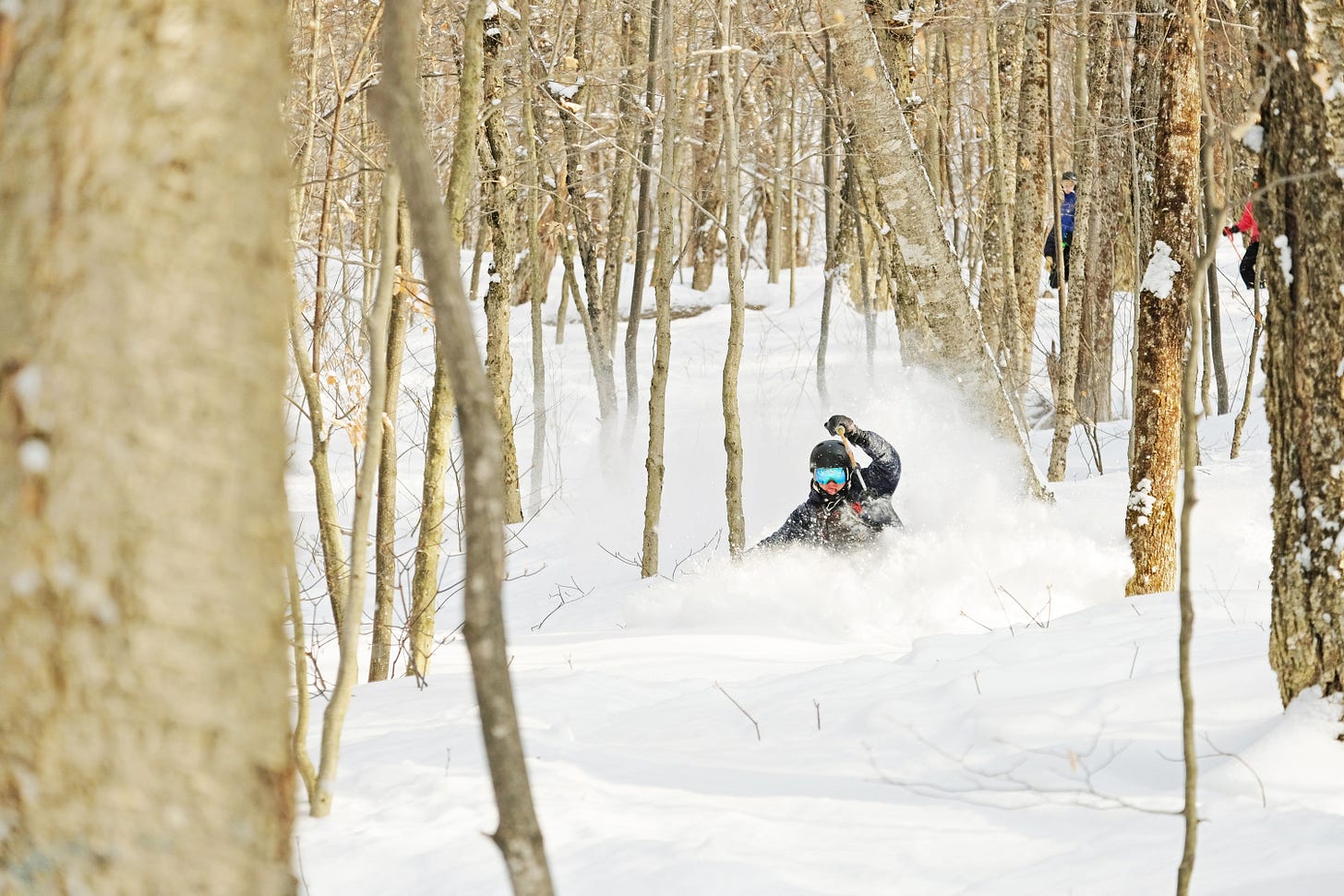 Magic on a powder day. Photo courtesy of Indy Pass.
Sales are especially strong in the Midwest, Fish tells me, which is unsurprising given the additions of some of the region's strongest ski areas: Granite Peak, Wisconsin; Lutsen Mountains, Minnesota; and Crystal Mountain, Michigan. These additions built upon what was already the strongest multi-pass offering in the Midwest. But in this region mostly overlooked by Vail and Alterra, the pass functions as a destination product, a ticket to an outsized number of the region's largest ski areas, whose smaller vertical drops mask to outsiders both the regional stature of the mountains themselves and the passion of the skiers who ride them.
Here in the Northeast, Indy picked up its 12th new mountain of the season in Western New York's Swain, a ski area that I have not been to but seems to fit the day-driver template: a 650-vertical-foot bump that could eat a day of skiing.
That Indy keeps adding ski areas leading up to a season in which crowd management is operators' top concern is a testament to its business model, which delivers a per-visit payday back to the mountain. If this seems obvious, it hasn't in the past to independent operators, many of whom have banded together to hand out reciprocal comp tickets to one another's passholders in an effort to fight back against megapasses. While this creates obvious value for skiers, it's a drain on the mountains. Magic and Bolton Value have abandoned the reciprocal Freedom Pass coalition in favor of the Indy Pass, a trend that seems likely to accelerate as awareness among skiers and operators grows.
You can learn a lot more about the Indy Pass in this Storm Skiing Podcast episode with founder Doug Fish, in which I mostly pester him about the mountains that aren't on the pass and why he hasn't added them yet.
Sorry, Canada is closed
Killington has banished boot bags to the parking lot. Vail will require reservations for all skiing. Alterra will not sell walk-up lift tickets. While most Northeast ski area operators are puzzling out how to make their crowd control less Running of The Bulls chaos and more choose-your-number-at-the-deli-counter orderliness, Jay Peak has the opposite problem: Canada, source of roughly 50 percent of the mountain's business, remains closed. Well, the border with the United States does, and it will through at least Oct. 21. If the closure persists into ski season, those Jay powder lines may last longer than normal. From the resort's website:
As we rely on traffic from our Canadian brothers and sisters at an index of 50%, and the reality that many counties within our US markets will have quarantine restrictions and limitations, means you should expect room to roam here. Following that, we will not expect Jay Peak Season Passholders to make a reservation, we will not force day trippers to buy tickets in advance (although you'll get the best rate when you do), and we'll be happy, euphoric even, to sell you a walk-up, window rate ticket if you're chasing a storm or the spirit simply moves you.
Jay Peak is one of the best ski areas in the Northeast and is mired in one of the worst sets of circumstances of any ski area on the continent. It's bozo former owner lost the mountain in an EB-5 fraud, and it's now a ward of the state, under the watch of a court-appointed receiver, eternally for sale and disputing its assessment with the town of Jay. For the border to close on top of all this and lop half its business makes Jay the ski industry equivalent of 2020 itself, in which improbable circumstances compound atop one another until you just stare out your window each night with your bags packed, certain the aliens will arrive any moment.
What the mountain has going for it is everything else: killer terrain, buckets of snow, and excellent management led by General Manager Steve Wright (who is scheduled to be on the podcast later this month). They have handled these cascading disasters deftly: they were the first large mountain in the country to shut down to help stop the spread of Covid and one of the first to offer a pass guarantee. They've protected passes against border shutdowns. And anyone unaware of the whole EB-5 fiasco would not have noticed any change at all to the operations of the resort over the past several seasons, as the tram kept running and the snow kept falling and the mountain continued to be the Jay Peak that we all need it to be.
But if I may humbly suggest one possible solution to the anticipated low skier density: Jay would make a marquee Indy Pass destination, and the pass would undoubtedly draw some folks north who may not have otherwise considered it. Indy's two-day allotment is no threat to season pass sales, and once people contrast Jay to most points south, they're going to come back.
The most powerful ski company in history will have the number five for lunch
I've always found it a little odd that The Largest Ski Company On Planet Earth chose to set up its HQ not at the foot of Vail mountain or in Park City but in a curlicue road-laced suburb just down the lane from a Super Walmart and a Benihana. So as much as you want to think that Vail is masterminding this Epic Pass rocketship takeover of skiing between laps on Whistler's Peak Express, they're probably doing it over Macho Combo Burritos at Del Taco.
Bizarre as this image may be, I find it even odder that the company would surgically remove 60-some marketing jobs from its continent-wide empire and consolidate the department into its concrete island in the Denver suburbs after the building sat vacant for six months while a dispersed workforce carried on with what was surely the most challenging offseason of their collective careers. Proving, in effect, that offices were useless.
Among the reckonings that Covid has wrought is revealing how much of what we did before was completely senseless. Among them is waking up and putting on special clothes and transporting oneself at great expense and hassle through the stampeding throngs of fellow commuters to sit in front of a computer that we have now proven does not need to be in this special place to perform these work-related functions. The office is a relic. (And if I hear one more person talk about "spontaneous hallway interactions" as the engine of creative capitalism I am going to lock them in a storage closet for 45 consecutive hours with someone else's cellphone playing Achy Breaky Heart every time someone likes their skateboarding cat meme on Instagram. Because that's what the modern office environment is: listening to everyone else's endless beeps and bings while attempting to work.)
Anyway Vail is saying "Yeah we find this archaic way of working terrific" and is creating 22 new marketing jobs in Broomfield to replace the regionally based folks, according to SAM. The company will then create "more than 40 new in-resort marketing and communications roles – all full-time seasonal or full-time extended seasonal (10 months)," SAM reports. The laid-off employees, who worked across Vail's North American portfolio, can apply for these jobs.
Among the new jobs will be, "content specialists that will work with [Vail's] Mountain Operations teams as part of snow-reporting duties," Vail Resorts Senior Communications Manager Jamie Storrs told Vermont Ski + Ride.
So it appears that Vail is not abandoning the idea of local expertise so much as it is rethinking who sits where and how much they work. Which, given the amount of change Vail has undergone in the past two years – adding Crested Butte, Okemo, Mount Sunapee, and 17 Peak Resorts – is unsurprising. What is surprising is a consolidation into a bland shared space far outside of actual skiing after anyone in the white-collar world has spent seven months staring into a Zoom grid. This seems especially weird in the ski business, when so much of understanding a mountain is simply spending time at it. Boyne, for example, has no corporate office at all, and its workforce has been dispersed across the continent for decades.
The layoffs followed similar actions by Aspen earlier in September.
Waterville Valley would like a word with you, Sir
So after I ragged on Waterville Valley about their high pass prices in my last season pass update, their communications manager wrote me a very nice note explaining that those $998 adult passes include a free kids pass, which I admit is a terrific perk (Pico also offers this). She also pointed out that the White Mountain Super Pass now inherits the pass protection plan of whichever mountain you purchased it through (so maybe, um, don't buy it through Bretton Woods, which remains the last large ski area in the Northeast where passes are non-refundable).
She also pointed out, in response to my complaint about the mountain's lack of glades, that the trailmap did not accurately reflect the expansiveness of the resort's tree-skiing network, and that plenty more were planned for the Green Peak expansion. I'm sort of a single-issue voter when it comes to expansiveness of glade network in my judgement of large ski areas, so I was glad to hear this.
Congratulations to one of the Northeast's great ski area operators
Among the eight inductees in the U.S. Ski and Snowboard Hall of Fame Class of 2020 is Brian Fairbank, founder of the Fairbank Group that owns Jiminy Peak and Cranmore and operates Bromley.
While I've been critical of that trio's high pass prices over these past several months, that in no way shapes my opinion of how well the resorts are managed. Which is to say, very well. Fairbank has also been a leader in sustainable energy and snowmaking innovation, and "the driving force and chief architect" of the Mountains of Distinction coalition, according to the NSAA, which honored Fairbank with its Lifetime Achievement Award in 2017.
Fairbank joins just 440 other members of the hall, a microscopic percentage of the number of people involved in making skiing happen, which should underscore just how impactful he has been.
Whatever it is that's good about the world, there is always someone out there trying to figure out how to ruin it
So one of the fallouts of that beautiful dissolution of the corporate office that I celebrated above is the amplified realization that there is no place in the solar system that is shielded from the ability to Be Productive. And so the people who dislike fun and life in general are very diligently figuring out ways to deploy this technology in ways that will eliminate the possibility of it ever happening.
One of these is the cancellation, by my own cursed city, of any snow days this coming school year. Students will, instead, simply continue with or switch back to remote learning. This is apparently a national trend. And a bad one.
Kids need school, but they also need variety and novelty and adventure and periodic extractions from the Matrix. Snow days are all of these things. Schools already pile homework on every night and weekend and vacation, including summer vacation. I find this insane. I didn't have homework until sixth grade, and never on vacations. Why is this necessary? The kids have 40-year careers attached to a computer screen ahead of them, at least half of which will probably occur after the point that employers figure out how to implant an iPhone directly into their brains so they can command them back to Broomfield for a spontaneous hallway interaction at a moment's notice. Let them have their Goddamn snow days.
Elsewhere
New York Ski Blog with an excellent report on the progress of Gore's new High Peaks chair. Saddleback is looking to add on-mountain solar power and a mid-mountain lodge. Whiteface gondola cabins are up for auction. Plattekill's annual glade-clearing day is set for Oct. 17. Ikon Pass added all four Aspen mountains to the list of ski areas that passholders will need a reservation to ski at this winter. Wintry Mix Podcast digs into Colorado's Bluebird Backcountry with co-founder Erik Lambert. Out of Bounds Podcast gives a Northeast ski season preview with Vail Resort's Jamie Storrs. Then both pods unite for a very unique take on the coming season. Low Pressure Podcast is back with a new Tanner Hall interview. SAM with a couple round-ups of resort operations plans.
This week in not skiing
So it finally happened, I've reached Peak Dad, a realization I had at around 10 a.m. last Saturday when I found myself standing in my yard detailing my garbage cans. Not my outdoor garbage cans. The kitchen cans that I had dragged outside so that I could knock the accumulated dried food scraps that had fallen around the liner off with a hose. So six and a half months after Covid shut the world down, here we are. I have rebuilt our home office and excised the children's obsolete toys and organized every closet and cupboard to within an inch of its life. I have nothing left to do. I need to ski. And next month, I finally will.
Probably.
---