Discover more from The Storm Skiing Journal and Podcast
Everyone's searching for skiing's soul. I'm trying to find its brains.
Over 13,000 subscribers
Indy Pass Adds Cannon and Six Other Resorts, Kids Pass, Season Pass Add-On, Simple Pass Assurance Program
Additions mean Indy Passholders will have two days each at 52 ski areas with no increase in the $199 price
The Indy Pass will return for its second season on Sept. 1, with seven new ski areas and pass tiers that will better accommodate families and other groups. The base pass will remain at $199 and include two days each at 52 mountains in the U.S. and Canada, while the new kids pass will be just $99 for the same access. Passholders at any Indy Pass mountain will be able to tack an Indy Pass onto their season pass for just $129 ($69 for kids).
The new mountains add some beefy regional destinations to the lineup. Cannon Mountain, New Hampshire, tops off a strong New England roster. In the Midwest, state headliners Lutsen Mountains, Minnesota; Granite Peak, Wisconsin; and Crystal Mountain, Michigan considerably strengthen the pass' appeal in all three markets. In the West, giant Tamarack bolsters an already-strong Idaho offering, while Sasquatch Mountain in British Columbia and China Peak in California complement existing offerings in those markets (though the California mountains are nowhere near one another).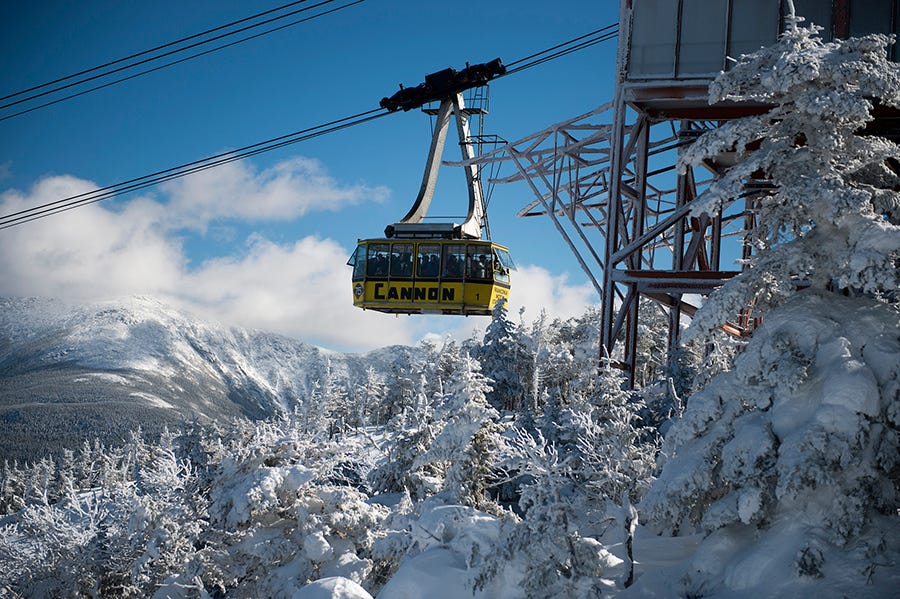 Indy also introduced what is probably the most straightforward pass protection plan yet, as it is not tied to government shutdowns or Covid-19 or alligator attacks or anything other than how many days a skier scans the pass. Use it zero days, get an 80 percent credit toward at 2021-22 pass, and the credit scales down from there: one day gets a 60 percent credit, two days is 40 percent, three days is 20.
Here are some highlights of the updated Indy Pass offering:
Hey, could you discount your discount pass, because it's just not cheap enough for me yet
This is the everyman's pass. If you want to ski a lot and you're not set up to break off $700-ish for a base model Epic or Ikon Pass, then the $199 Indy Pass might be your thing. Ski four days on it and you probably break even. Get adventurous, and you can ski this thing down to single digits per day. You can ski a season for less than the cost of a peak-day lift ticket at Vail.
Indy launched with this basic affordability premise last year, and the fact that all but two partners renewed suggests that it worked out well for skiers and ski areas alike. But there were some gaps: no kids pass, only limited opportunities to add the Indy Pass onto a mountain's full season pass at a discount, and confusing blackout restrictions – some mountains, for example, would not accept the pass on weekends.
The 2020-21 pass offerings fix most of these holes. The kids pass was a must, and the $99 offering here is more affordable than season passes at almost any mountain. The $129 season pass add-on, first promoted as part of Magic Mountain, Vermont's aggressive retooling of its pass suite last month,  will be consistent across all 52 partners.
A $299 ($149 for kids) Indy+ Pass takes care of the blackout issue. The first thing to note here is that most mountains do not currently plan to have blackout days. Those that do – Beaver Mountain, Mission Ridge, and Silver Mountain – will adhere to a consistent set of dates, though these include not only traditional Christmas, MLK, and Presidents' Day holidays, but many weekend days in January and February. That adds up to 21 days, which can be a serious consideration if any of those are in your vicinity. If you're purchasing an Indy+ Pass as a season pass add-on, it's $199 for adults and $99 for kids.
But this is a deal any way you look at it. If the Indy Pass gets any cheaper, they'll be stuffing them in Cracker Jack boxes. Clipping one onto your season pass considerably enhances its value for almost negligible cost. And even if you already have an Epic or Ikon Pass, the price of an Indy is less in most cases than the stretch between the base and full tier of those passes. With no blackouts at most of its mountains, an Indy Pass could be a nice fill-in for holiday trips at these generally less-busy ski areas in lieu of a buy-up to a full Epic or Ikon.
Yeah Brah, but how many days at Whistler do I get on it?
Zero, Scatterbrained Ski Bro. You get zero days at Whistler on the Indy Pass.
"Brah that's a bummer Brah, but how many days do I get at Aspen Hole?"
That's not a thing, Scatterbrained Ski Bro. Why don't you just read the list of mountains on the website.
"Brah my phone's not working too good Brah ever since I shoved it in that cronut and chucked it at that ski patroller."
Why'd you do that, Scatterbrained Ski Bro?
"Because, Brah, he was all yelling at me, all like, 'Hey Brah, you can't ride your snowmobile in the terrain park,' and some other dumb shit like that."
OK, well, here's the list of mountains:
WEST – 18 ski areas
MIDWEST – 17 ski areas
EAST – 18 ski areas
"Brah I never heard of these mountains. I don't even think they have skiing in these places. Skiing's only in, like, states like Colorado and Tahoe and Vail."
Oh, Scatterbrained Ski Bro. We love you, Brah, but you need a knowledge-drop.
Yes, Vail and Alterra have already vacuumed up the majority of the big-name, big-infrastructure, high-dollar resorts on the continent, either as owners or partners. But even then, the Epic and Ikon passes collectively grant you access to only around 100 of the nearly 800 ski areas in the U.S. and Canada. That leaves plenty of good stuff, much of it overlooked. The Indy Pass specializes in these places that you think you're too good for but are actually awesome. In the Indy universe, these are broken up into three regions, as noted above: East, West, and Midwest.
East
In the East, these your-not-skiing-them-because-you're-going-to-Killington mountains include sitting-in-the-shadow-of-Stratton-and-Mount-Snow Magic Mountain, Vermont, a 1,500-vertical-foot throwback stacked with glades. Bolton Valley, sitting north along the Vermont snow-bullseye known as The Spine, gets lost between Sugarbush, Mad River Glen, and Stowe, but is a fun and varied area with a great backcountry scene. And you can be a long-time, die-hard East Coast skier and remain unaware that Berkshire East, Massachusetts is a rad little mountain bursting with bumps and glades and steeps, with few if any crowds. Indy Pass includes other fun but lost-in-the-noise (though not necessarily as rad as those listed above) ski areas, including: Black Mountain and Pats Peak, New Hampshire; Mt. Abram, Maine; Mohawk Mountain, Connecticut; Greek Peak, New York; Suicide Six, Vermont; and Berkshire East sister mountain Catamount, which straddles the New York-Massachusetts border.
Cannon puts an exclamation point on this portfolio with one of the best pure skier's mountains in New England. With a solid 2,000-foot-plus vertical drop and nearly 100 trails spread across what was once two distinct ski areas, state-owned Cannon is a whopper that shares baddest-in-the-state honors with Vail-owned Wildcat to its north. If you approach from the south, which you most likely will, it will be through the wildlands of the Franconia Notch along I-93, the only multi-mile section of the U.S. interstate system where the road collapses to one lane in either direction. And you'll exit into this: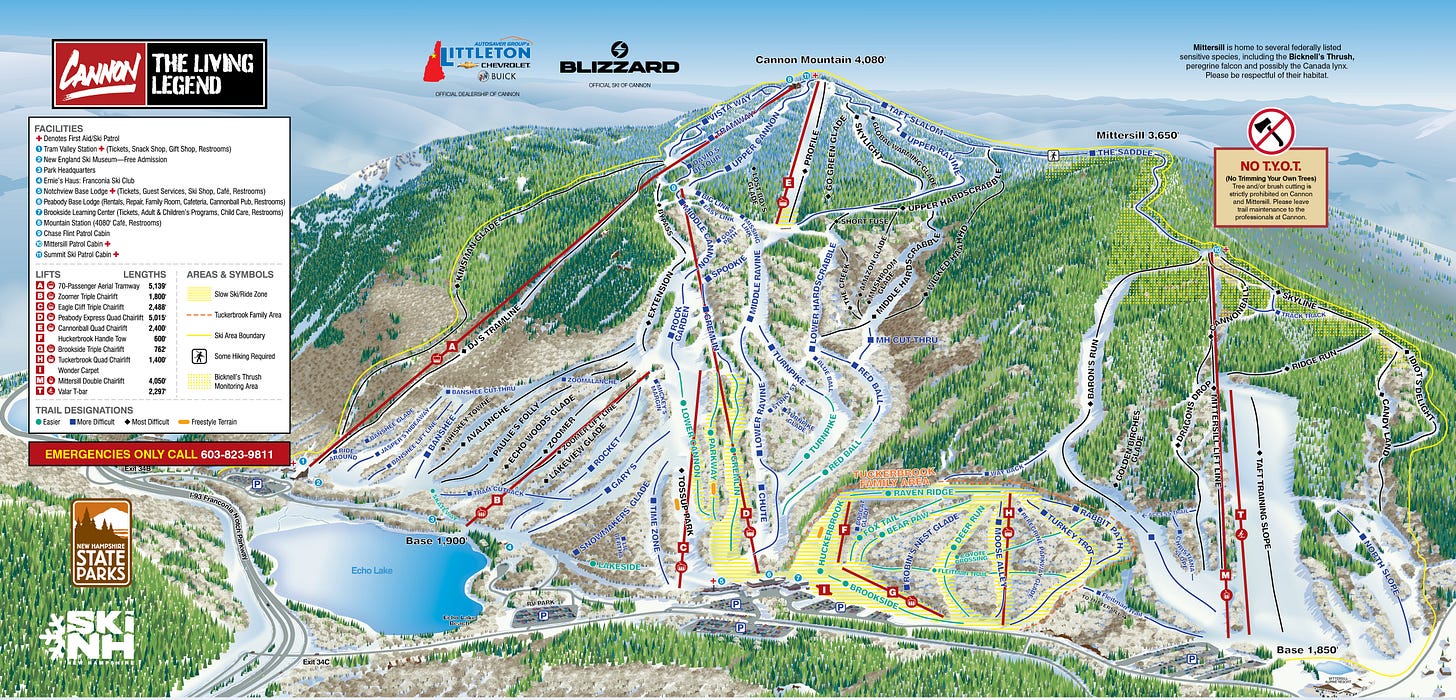 This mountain is overloaded with every kind of terrain a skier could want. And a day ticket there last season cost $82. Hit this one for a weekend, and your Indy Pass is almost paid for.
You can trust that other New Hampshire ski areas are watching this closely. Cannon shares the White Mountain Super Pass with Waterville Valley, Bretton Woods, and Cranmore, all of them tamer, family-style mountains, but all quite large. With Vail now growing roots in the state via its $599 Northeast Epic Pass, which grants unlimited access to four New Hampshire mountains, and Loon entering its third season as an Ikon Pass partner, these other large mountains are going to be looking for new buddies to pal around with. The Indy Pass might suit them just fine.
Indy has also renewed partnerships with several ski areas that it slots in the East category, but are more often considered Southeastern skiing: Cataloochee Ski Area, North Carolina; Blue Knob Resort and Shawnee Mountain, Pennsylvania (actually probably more Northeast for this one); Ober Gatlinburg, Tennessee; Bryce and Massanutten, Virginia; and Canaan Valley, West Virginia.This is a region overlooked by those who don't live in it, but there are some 1,000-foot-plus vertical drops in here, and a lot of well-maintained mountains that know how to squeeze winter out of the margins.
West
The Indy Pass lineup is strongest here in the Pacific Northwest and the upper Rockies, with 12 of the region's 18 partners concentrated in Washington, Oregon, Montana, Idaho, and southern British Columbia.
The already strong offerings in Idaho just went nuclear with the addition of Tamarack, a new-ish resort that seems to be stabilizing after a rough 2004 debut. The place has a 2,800-foot vertical drop and 1,100 acres of terrain. It joins Brundage, a well-known regional destination, and Silver Mountain, which skibum.org calls, "easily the best kept ski secret in Idaho and possibly the entire western hemisphere." Whenever anyone outside of Idaho thinks about skiing in Idaho, they think about Sun Valley, but here are six days across three ripping not-Sun Valley mountains that you could easily assemble into a Western getaway on the cheap.
Just across the border, in Montana, Lost Trail Powder Mountain will return to the Indy Pass, as will Red Lodge, which is similar in size and scope to the Idaho ski areas. In the Pacific Northwest, the pass retains its arrangement with Hoodoo, Oregon, as well as with its four partners in Washington: 49 Degrees North, Hurricane Ridge, Mission Ridge, White Pass.
Just north of the Canada-U.S. border and close enough to be a consideration along with the Pacific Northwest and Upper Rockies areas is new partner Sasquatch Mountain, which gets socked with nearly 400 inches of annual snowfall and joins Apex Mountain as Indy Pass partners in British Columbia. Well east is Castle Mountain, Alberta.
Scattered about the West from there is Sunrise Park, Arizona; Beaver Mountain, Utah; and a pair of ski areas in California: Mt. Shasta Ski Park and new partner China Peak. Far off to the north, so remote that it can't be reached by road without first taking a long ferry ride, is Eaglecrest Ski Area, a municipal area owned by Juneau, the capital of Alaska.
Midwest
The secondary-mountains-you're-probably-overlooking template doesn't really apply in the Midwest, where the Indy Pass has managed to lock down some of the top ski areas in the region.
New to the pass is Granite Peak, which is easily the best ski area in Wisconsin. At 700 vertical feet, it qualifies as a Midwest monster, and it's more or less the Killington of Wisconsin. With 75 trails stacked along a ridgeline, the place is rippling with glades and hidden pockets and interesting terrain, served by a trio of high-speed lifts, including a six-pack. The Granite Peak addition complements four smaller Wisconsin ski areas that had already partnered with Indy Pass and return this season: Little Switzerland, Nordic Mountain, Trollhaugen, and Tyrol Basin.
Also new to Indy is Lutsen Mountains in Minnesota, which would be king of the Midwest if Mount Bohemia weren't hanging off Michigan's Upper Peninsula across Lake Superior. A monster trail network sprawls across four mountains rising 825 vertical feet, and the place has, of all the novelties in the mostly steamrolled-flat Midwest, a gondola. It joins existing Minnesota partners Spirit Mountain (another good-sized ski area), Powder Ridge Winter Recreation, and Detroit Mountain. Giants Ridge did not renew its Indy Pass partnership.
In Michigan, Indy Pass adds Crystal Mountain, which is one of a half dozen large, built-up ski areas in the state's Lower Peninsula. Two of the others – Caberfae Peaks and Shanty Creek – were inaugural Indy Pass partners and return this year, as does smaller Swiss Valley. A pair of Upper Peninsula ski areas, Big Powderhorn and Pine Mountain will again be on Indy Pass. The UP, however, as its colloquially known, is a lot easier to reach for Wisconsin skiers than the vast majority of Michiganders, who mostly live below the Mackinaw Bridge. Cannonsburg, in the Lower Peninsula, will leave the pass.
Elsewhere, on the far toward-the-Rockies edge of the Midwest, Indy Pass will again partner with Terry Peak Ski Area, whose 1,100-foot vertical drop is the largest in the region. Though to understand the Midwest is to realize that this ski area, hanging out within skinning distance of the Wyoming border, is a half-day's drive or more from the Midwest's population centers (it is, for example, 22 hours from Cleveland and 14 from Chicago), and is probably more Rockies foothills than anything. I grew up in the Michigan, and no one there even considered anything west of Iowa to be part of the Midwest at all.
So what's missing?
Indy Pass' strongest concentration of mountains is in the Pacific Northwest/Northern Rockies, the ski-crazy Upper Midwest (combine this thing with Bohemia's $99 season pass and you're set for the season), and the Northeast, meaning metro New York City north through New England. That covers some hardcore ski regions with dense concentrations of mountains and skiers, and anyone based in any of them is going to want to strongly consider this pass.
The big holes as of now are also the two top ski markets: Colorado and California. While these are mature markets dominated by Alterra and Vail and some of the largest ski areas on the continent, there are plenty of strong, mid-sized indies to consider as future partners, from recently-on-the-national-radar Mt. Baldy outside of LA to the more built up and brawling Sierra-at-Tahoe in California to Wolf Creek and Loveland, Colorado. There is also potential to add on in Utah outside of the pass-saturated Cottonwood Canyons/Park City area. Sprawling Powder Mountain, for instance, would instantly become an Indy Pass Crown Jewel.
In the East, there is room to grow in New York, and the addition of the state-owned Whiteface, Gore, and Belleayre would instantly make this pass an automatic buy for every skier in the state, including the flush NYC metro market, whose passion for day-tripping has recently been acknowledged by Vail and Alterra's purchase or partnership with Catskills ski resorts. Tiny, independent Plattekill, an off-the-radar but incredible Catskills ski area, is custom-sculpted for this pass and will hopefully join, giving it basically free exposure to the regional population centers as an alternative to madhouses Hunter and Windham. Vermont still has some iconic unclaimed indies, including Jay Peak, Mad River Glen, and Smugglers' Notch. Ragged Mountain, New Hampshire is just hanging out, waiting for a wider affiliation, as is Shawnee and Black Mountain of Maine. With a thick concentration of ski areas adjacent to the densest population corridor in the country, this is a region with monstrous potential. 
Yeah, Brah, but what happens if I totally tweak my knee in a freak potato cannon incident?
Well, luckily Indy Pass has come up with a pass credit system so simple that even Scatterbrained Ski Bro can understand it. It is based, simply, on the number of days that you ski, as outlined above and restated here for reference: zero days skied = an 80 percent credit toward a 2021-22 Indy Pass. One day = 60 percent; two days = 40 percent; three days = 20 percent. That's it. No worries about whether the mountains shut down or whether the government shut those mountains down or whether lack of snow did. The scale is similar to Vail's credits for last year's Epic Pass holders, but it is proactive and not tied to the asterisk of *only doing this because of that whole global pandemic thing. So whether you lose your moustache in a mountain lion brawl or you can't get time off work or we go to war with Mars or you forgot you bought the pass Brah, you'll get the credit based upon the number of days you ski.
Filling the Max Pass-sized hole in our winters
When the Ikon Pass came along and incinerated the Max Pass in 2018, it was crushing for a certain type of East Coast skier. While Ikon is an incredible product that cracked open formerly unreachable destinations like Squaw Valley and Jackson Hole, it was more expensive than the Max Pass and, crucially, dropped all of the East Coast day-drivers that are popular with cityfolk who don't always have the time/energy/resources to break for Vermont. Mountain Creek, Belleayre, Windham, and Wachussett were all easy NYC or Boston daytrips, and all were dropped (Windham, though, was recently added to Ikon).
Indy Pass is speaking to those skiers. While it is missing the Steamboat/Big Sky/Killington-level anchors that drove Max Pass, it is also less than half the price.
It is also still evolving. There are plenty of unaffiliated large indies out there, and nailing down one or two marquee names – Jay Peak, Sierra-at-Tahoe, Wolf Creek, Powder Mountain – could considerably amp up the draw. There may also be opportunities to introduce a Max Pass-style tier with five days at each mountain for more money.
The pass is also actively still courting mountains, and is looking to hit 60 by opening day of the 2020-21 season. That leaves eight free agent slots. If your mountain is available, lobby them hard to sign on to this pass, which is one of the best bargains skiers have going.
---
Let me know what you think of the newsletter. What would you like to see and how could it be better? Just reply to this email to reach me. If you're reading this online, sign up for the email list using the link above and reply to the next newsletter. If you like it, please tell your friends.
COVID-19 & Skiing Podcasts: Author and Industry Veteran Chris Diamond | Boyne Resorts CEO Stephen Kircher | Magic Mountain President Geoff Hatheway | NSAA CEO Kelly Pawlak| Berkshire East/Catamount Owner & Goggles for Docs founder Jon Schaefer | Shaggy's Copper Country Skis Cofounder Jeff Thompson | Doppelmayr USA President Katharina Schmitz | Mt. Baldy GM Robby Ellingson| Alterra CEO Rusty Gregory|
The Storm Skiing Podcasts: Killington & Pico GM Mike Solimano | Plattekill owners Danielle and Laszlo Vajtay | New England Lost Ski Areas Project Founder Jeremy Davis | Magic Mountain President Geoff Hatheway | Lift Blog Founder Peter Landsman | Boyne Resorts CEO Stephen Kircher | Burke Mountain GM Kevin Mack | Liftopia CEO Evan Reece | Berkshire East & Catamount Owner & GM Jon Schaefer| Vermont Ski + Ride and Vermont Sports Co-Publisher & Editor Lisa Lynn| Sugarbush President & COO Win Smith| Loon President & GM Jay Scambio| Sunday River President & GM Dana Bullen| Big Snow & Mountain Creek VP of Sales & Marketing Hugh Reynolds | Mad River Glen GM Matt Lillard