Discover more from The Storm Skiing Journal and Podcast
Everyone's searching for skiing's soul. I'm trying to find its brains.
Over 11,000 subscribers
I'm Trading My Crystal Ball for a Snowglobe, Because at Least Then I'll Know What Will Happen When I Shake It
Magic, Cannon, Wachusett offer glimpse of the coming socially distant ski season
Sure we've been promised a vaccine but we were also promised hoverboards and here we're all still walking around on our feet like cavemen
Ever-forward-looking Magic Mountain last week unsurprisingly became the first ski area in the Northeast to outline some kind of plan for operating in a Covid-restricted 2020-21 winter season. Expect capacity restrictions, mandatory reservations for lift tickets (with season passholders getting first dibs), restricted access to the lodge, and sharp limits on discounted tickets (though prices will not increase). Skiers should plan on "perhaps changing into boots in the parking lot, and eating outside on weekends…" where Magic will be expanding seating space and investing in outdoor heating systems.
None of which is particularly surprising to anyone who's been paying attention, but it's a smart plan and a good start. Ambushed by the virus in March, the industry had little choice other than to mothball the whole operation and be happy Covid hadn't hit in December. With five months to study infection patterns and learn from theme parks and other summer tourist operations, North American skiing seems poised to emerge from its bunker with a better understanding of the enemy and a plan to coexist with it.
They better be ready to deal with it for a while. Magic's update was couched in hopes of a February vaccine. I'm less hopeful. My current outlook on the world is to plan for the worst because everything will be terrible forever. Yes, everyone is working on a vaccine. Yes, the timelines-to-market for those vaccines are aggressive. But as my mom would never forget to tell me when as a child I mentally tallied the G.I. Joe hauls of Christmases future, "don't count your chickens before they hatch."
No, we did not live on a farm, but it turned out to be good advice. I still remember watching Back to the Future Part II in the movie theater in 1989, and thinking about how badass it was going to be when the '90s rolled around and I'd get my very own hoverboard (the future part of the movie is set in the no-longer-futuristic-sounding 2015). And here we are 20 years past the '90s and I'm still waiting. Sometimes we think science can do things and then they can't do them and we're all just like well that sucks but at least someone came up with the iPhone which Back to the Future never saw coming.
Maybe we get a vaccine. Maybe not. But even if it arrives, there are enormous questions around how quickly it can be manufactured and distributed, and to what extent Americans will trust it.
While we wait, Covid could have plenty more surprises for us. Since my last post analyzing how terribly the Southern Hemisphere ski season was going, it's gotten worse, with the Australian government shuttering the remainder of Victoria state's ski areas. Even New Zealand, which is a version of advanced civilization in which there's no such thing as Fox News, had to close ski resorts last week after a Covid case Jack-in-the-boxed out of nowhere after 102 days without a single coronavirus case.
It's true that the United States has demonstrated a higher tolerance for these things. Twenty-two people have died of Covid-19 in New Zealand and they're zipping the country shut like a submerged submarine when one case pops up. The U.S., meanwhile, is still shoving patients in front of the Covid freight train like soldiers stepping off Higgins boats at Normandy, with the official death toll cresting rapidly toward 200,000 and 40,000 new cases emerging each day. So skiing will likely go on, even if, as Wintry Mix podcast points out in this excellent analysis of possible outcomes for the 2020-21 ski season, Americans will be endlessly creative in finding ways to fuck this recovery up.
And in the end, there is only so much the ski areas can control. The outbreak is mostly stable in the region, but Northeast states are small and densely populated and variably regulated. What happens if an outbreak hits and Vermont closes the curtain but New Hampshire shrugs and all those city skiers who are foregoing trips out West pile into the Live Free or Die state, as they did in March? What happens if, say, a lift op on a workhorse alpha lift like Killington's K1 gondola tests positive for Covid after a busy weekend loading cabins with families from points south? Do you shut the lift or shut the mountain or just send a note to anyone who may have been skiing there over the weekend and carry on?
Ski areas are planning for all of these possibilities and more. Covid will not surprise them again. But it could overwhelm them. If every ski area in the Northeast makes it through the season without at least scattered Covid shutdowns among some of them, I would be surprised.
Beyond that, I won't predict anything. Maybe we'll have a vaccine by Presidents' Day and maybe we'll still be waiting when Pangea re-forms 250 million years from now. I'll leave it to the geniuses to figure that out, but I left the hoverboards to them too and so far I'm nothing but disappointed.
Cannon, Wachusett also outline Covid plans
Cannon, which was one of the last mountains in the Northeast to close in March, became one of the first to articulate a loose outline of its plans for the coming season, suggesting in an email to season passholders that it is working to avoid restrictions on pass usage but will possibly move to an online-only system for day tickets. The mountain will likely limit lodging capacity and skiers should "plan to spend a lot more time outside than you may have in past years."
Wachusett, which sits just outside of Boston and runs basically non-stop all winter long, discussed tentative plans with Metro West Daily News, outlining a vision to chop the ski day into four separate shifts and move to an online reservation system that gives preference to season passholders. While the ski area is waiting on government guidelines before it determines capacity restrictions, management is already expanding its heated outdoor eating and drinking facilities and is exploring the idea of moving its rental operations outdoors.
And "skiers would have to put their ski boots on outdoors." I'll admit that this is the part of the coming season that I'm least looking forward to, though I came to terms with the likelihood months ago. Teenage me only booted up in the parking lot. Sometime around my mid-twenties, I figured out that this was a bullshit way to live and began booting up indoors like any rational person born since the invention of buildings would have done. I'll deal with it. Anyway, I really like the splitting-the-day-into-four-shifts idea. Any ski area with night skiing ought to consider something similar.
Yeah Man, but what if we just get rid of all the, you know, people?
So the obvious solution to capacity restrictions and reservation systems and finely crafted plans to guide bathroom breaks is to just run a ski area that's profitable without all the skiers.
The revived Hermitage Club hopes to do exactly that, with GM Bill Benneyan estimating that the club could have as many as 250 members by ski season, each of whom pay $15,000 in annual dues on top of their $50,000 initiation fee. It's unclear to me whether former members were grandfathered in or had to re-up the initial fee, but the momentum behind the private ski area's resurgence seems to be the logical end to several Covid-driven trends: a flight from cities by those with the means to do so, pre-emptive decisions to forego Western travel this winter for closer destinations, and a desire to be away from all those meddlesome commoners with their Covid germs whirling about the baselodge. The Northeast certainly has no shortage of people with the means to buy into such an arrangement, and this is the winter it may make sense to do so.
Benneyan, who was hired as the mountain's general manager by the group of investors who purchased the resort in a March bankruptcy auction, itemized for The Bennington Banner the steps that the resort was taking to make a more sustainable business, including selling off golf courses and hotels.
"We really felt it was important to focus on the ski area, lifts and snowmaking and the lodge to support that. And that's it," he told the paper, while emphasizing that the club would be open to working with private developers to see the state-approved master plan through.
It's not quite Mad River Glen with a six-pack, but it does sound like a refocused business plan with a low density of skiers being the primary amenity. It's not a tough sell in Covid World.
Farewell and well done, Win Smith
The old-school guy-who-owns-a-ski-resort-like-most-of-us-own-a-television is an increasingly outmoded model, especially for large mountains. This is mostly because they cost as much as a mediocre sports team to buy and are as complicated as a large factory to run. But also it's because there are only so many of them and it is virtually impossible to cut new ones in the United States.
As a guy-who-owned-a-giant-ski-resort, Win Smith was one of the last of his kind, and his two decades of ownership demonstrated the potential for someone of passion, means, and humility to act as a competent steward of a beloved mountain, even if he landed there after a high-powered finance career in gilded Manhattan. It turns out that some skills are transferable, and Smith's deftness as a manager who put smart people in charge of things worked as well to drive Sugarbush into the 21st Century as it did to balance the abacus or whatever it was that he did at Merrill Lynch.
When Smith announced last week that he would be stepping down at the end of the month, passing the president and COO titles off to Sugarbush long-timer John Hammond, he left a sizeable legacy in the Mad River Valley. After pulling the ski area's two mountains off the American Skiing Company life raft just as Sept. 11 turned our nation upside-down, he led the mountain's transformation into one of the finest ski areas in the Northeast, installing five new chairlifts and transforming the Lincoln Peak base area. If it wasn't for snowy Jay Peak to the north and Sugarloaf dangling off the top of Maine with its Western-style expanse of freeride terrain, I'd probably slot it at the tip-top of the East's ski area power rankings. While Sugarbush has the natural advantages of incredible fall line skiing and a position on Vermont's snow bullseye known as The Spine, there is nothing inevitable about it ranking ahead of Killington or Stowe or Cannon or Sunday River or Whiteface or any number of other Northeast ski areas. But it does. At least to me. And that is a testament to Smith's focus on building up the ski area and the community that surrounds it for nearly 20 years.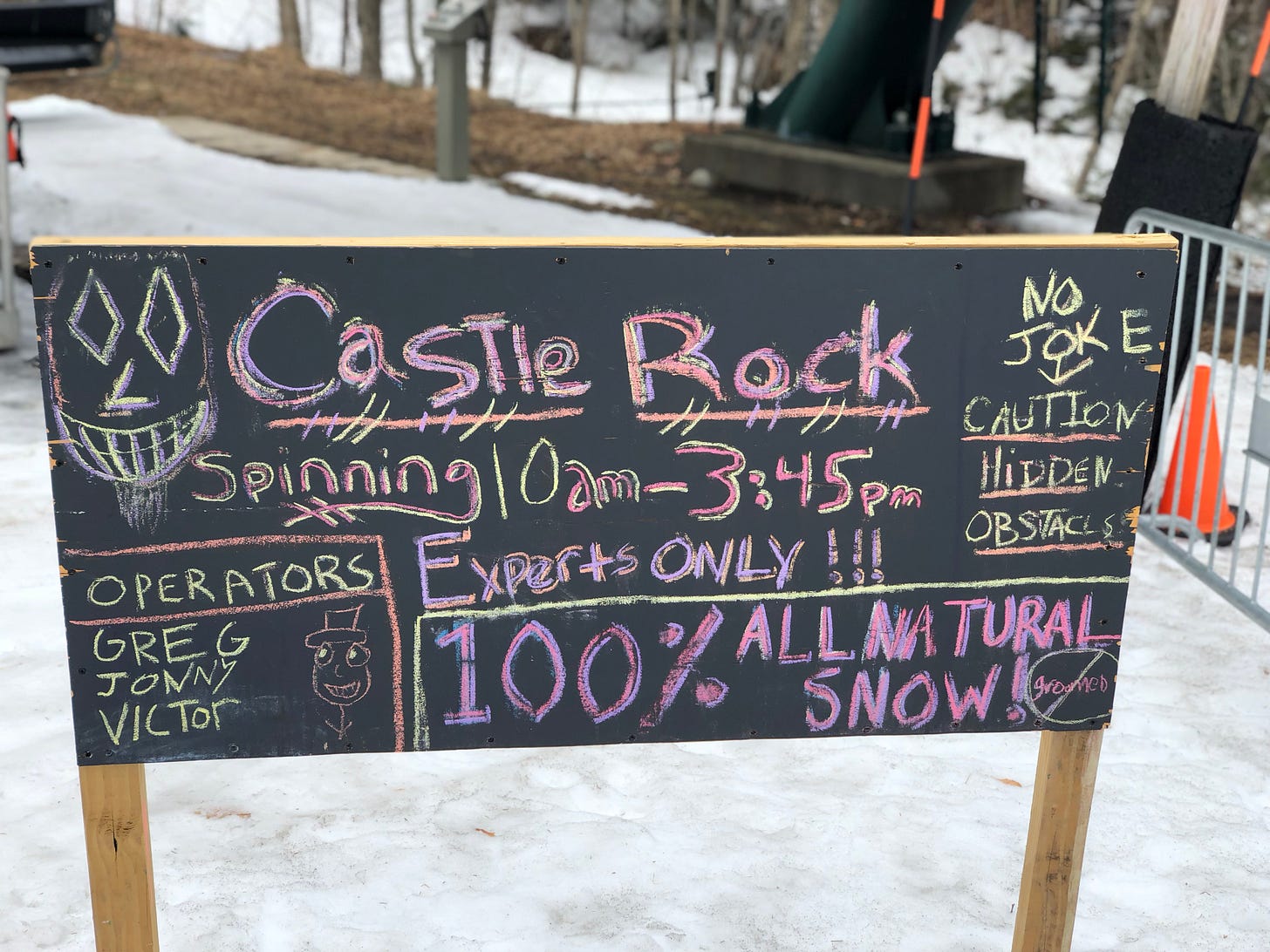 No groomers allowed: one of Smith's best moves was keeping large parts of Sugarbush ungroomed and challenging, making it one of the most well-balanced mountains in the Northeast.
I will miss Thee, Wickets
Sugarloaf and Sunday River were the largest ski areas left in the Northeast using sticky-wicket lift tickets, but the promised installation of RFID gates appears to be on schedule, a just-in-time upgrade for a ski season in which distancing from others in every conceivable scenario will be advisable.
Still. I love wicket tickets. The digital world has given us plenty, like instantaneous free global communication and the end of content gatekeepers and the ability to instantly investigate whether Kowloon Walled City was a real thing. But it has taken away plenty as well, including the peace of a pre-social media world in which idiotic flat-earther anti-vaxxer opinions remained on the margins rather than becoming fact for millions of gullible dimwits and a somewhat slower pace of life and, most relevant here, the analogue artifacts of that life, which could be retained and mulled over in a way that the shuttled-into-the-ether digital access tools inherently never can be.
Elsewhere:
Powder interviews Saddleback Marketing Director Doc Tulin, who is confident the mountain will be open for skiing by mid-December. The magazine also discovers that it snows in Vermont.
Former Jay Peak and Burke owner Ariel Quiros pleaded guilty to conspiracy to commit wire fraud, money laundering, and concealing material information in the EB-5 scandal that landed both mountains under the control of a court-appointed receiver. In an unrelated scandal, a woman is accused of embezzling more than $125,000 from Jay over a five-year period. Hey, when can we go back to Jay just being a shit-stomping good time with the best tree skiing in the East and stop worrying about a-holes stealing money from the place?
Jackson Hole will run its tram this winter. The fate of the Northeast's two trams – at Cannon and Jay – have yet to be determined, though the Roosevelt Island Tram in New York City has continued to run at reduced capacity for the past several months.
County-owned Gunstock is considering new trails and a summertime toll road to the mountain top.
In an era where everyone I know changes jobs every two years, I think it's remarkable that a woman named Nancy Illemann Rock is retiring after 44 years at Smugglers' Notch. Granite Gorge owner Fred Baybutt passed away earlier this month.
I can't tell you how much I enjoyed zoning out to the latest Wintry Mix podcast, which the host recorded in March, just before the shutdown – I am beginning to get nostalgic for pre-Covid life, and this reminded me of how great it was.
Ski with a roundup of this year's ski movie trailers. Powder on the radness of antique double chairs.
This week in not skiing
Last week my family did something I thought we wouldn't do this summer which is go on vacation. Instead of something far flung or airplane-based which is what we usually do in the warmer months we drove south to the end of the Garden State Parkway, which is an absolutely flawless road and one of the most spectacular highways I've ever seen. It is also unfortunately filled from top to bottom with morons who are apparently unaware of the magical button in your car that allows you to maintain a constant speed and so they pass you at 95 and slow down to 50 on the uphill slope and this passing yo-yo game goes on for hours while my cars speedometer is stuck on 73 the entire time because of my magic supersecret cruise control superpower.
Anyway we spent the week on the beach or by the pool and really did nothing else other than walk the Wildwood boardwalk and go out to eat in Cape May a few times which is the first time we've done such a thing since March, seated at large tables positioned on lawns outside of restaurants and well-spaced from others. The pool area had a foot-and-a-half deep kiddie pool and my formerly water-averse 3-year-old spent all day in this for several days running, walking on his hands with his feet trailing out behind him and plastic toys floating all around him. On days when we weren't by the pool we were by the ocean and the oceanfront in summer is pure joy, an amazing place where people gather en masse even though there is nothing to do but sit there and go in the water once in a while or read a book or mess around in the sand. I'll never love sand like I love snow and after about three days I began to hate it but just getting out of the Goddamn house for a few days as a family was about the greatest thing the four of us could have done together, and I'm glad we figured out a way to do it.
COVID-19 & Skiing Podcasts: Author and Industry Veteran Chris Diamond | Boyne Resorts CEO Stephen Kircher | Magic Mountain President Geoff Hatheway | NSAA CEO Kelly Pawlak| Berkshire East/Catamount Owner & Goggles for Docs founder Jon Schaefer | Shaggy's Copper Country Skis Cofounder Jeff Thompson | Doppelmayr USA President Katharina Schmitz | Mt. Baldy GM Robby Ellingson| Alterra CEO Rusty Gregory | NSAA Director of Risk & Regulatory Affairs Dave Byrd
The Storm Skiing Podcasts: Killington & Pico GM Mike Solimano | Plattekill owners Danielle and Laszlo Vajtay | New England Lost Ski Areas Project Founder Jeremy Davis | Magic Mountain President Geoff Hatheway | Lift Blog Founder Peter Landsman | Boyne Resorts CEO Stephen Kircher | Burke Mountain GM Kevin Mack | Liftopia CEO Evan Reece | Berkshire East & Catamount Owner & GM Jon Schaefer| Vermont Ski + Ride and Vermont Sports Co-Publisher & Editor Lisa Lynn| Sugarbush President & COO Win Smith| Loon President & GM Jay Scambio| Sunday River President & GM Dana Bullen| Big Snow & Mountain Creek VP of Sales & Marketing Hugh Reynolds | Mad River Glen GM Matt Lillard| Indy Pass Founder Doug Fish | National Brotherhood of Skiers President Henri Rivers | Winter 4 Kids & National Winter Activity Center President & CEO Schone Malliet | Vail Veterans Program Founder & President Cheryl Jensen | Mountain Gazette Owner & Editor Mike Rogge