Discover more from The Storm Skiing Journal and Podcast
Everyone's searching for skiing's soul. I'm trying to find its brains.
Over 11,000 subscribers
Ikon Pass Holders Will Need Reservations at Windham, Loon, Many Western Mountains this Winter
Alterra eliminates walk-up window sales, sharply limits day tickets sales
Alterra Mountain Company today announced a limited reservations system that will apply to select Ikon Pass destinations for the 2020-21 ski season. Most mountains – including the majority of the pass' Northeast ski areas and all of Alterra's owned resorts – will not require reservations. Alterra and its partners will limit or eliminate day ticket sales in order to manage capacity in what is likely to be a season defined by social distancing and local government restrictions on the size of public gatherings.
Neither of Alterra's owned Northeast resorts – Sugarbush and Stratton – will require reservations, nor will Tremblant, situated across the Canadian border in Quebec. Windham, the newest Ikon Pass partner in the region, will require reservations, as will Boyne-owned Loon in New Hampshire. Boyne's other two, far-larger Maine mountains – Sugarloaf and Sunday River – will not require reservations. Killington and Pico announced a parking reservation system last week, and that requirement will extend to Ikon Pass visits. Several Western partner mountains will also require reservations.
Alterra's announcement follows an astonishingly thorough operations plan from Vail last month that included a mandatory reservation system for all 34 of its North American resorts. Aside from Vail and Killington, Waterville Valley has indicated that it will set up a reservation system. Vermont's Magic Mountain became the first ski area in the region to suggest the possibility of a reservation system in early August, and Wachusett is considering splitting its ski day into four reservations-required shifts.
Here are the basics of Alterra's plan, and what it means for skiers:
Buy an Ikon Pass if you want to ski Alterra's mountains
Vail and Alterra have already done everything they could to make purchasing walk-up lift tickets as much fun as driving through an active minefield. The result of the exercise, if not the intent, is to make you feel stupid. $215 to ski for one day? Great. Please point me to the incinerator so I can get rid of the rest of my unnecessary money.
Covid-19 and its fun-cancelling agenda have solved that problem for all of us, making it clear that the easiest way to control the number of people on the mountain is to cut out the ticket booth, which was a social-distancing hassle anyway. This season, Alterra will completely eliminate these sales. Vail won't sell day tickets at all until Dec. 8, and will limit them on a mountain-by-mountain basis afterward – it is likely that there will be many days in which no day tickets are sold.
While Alterra will still sell some day tickets in advance, such sales will be "tightly regulated." Many of its partner mountains will "temporarily regulate or eliminate a number of day ticket products." So this season will not be a case of yeah-I'm-dumb-I-kept-putting-off-the-Ikon-Pass-deadline-and-now-I-have-to-sell-my-dad's-'68-Camaro-to-pay-for-a-week-of-skiing-at-Mammoth. If you don't have the pass, you in many cases won't be skiing at all.
Not skiing is bad. Buy the pass.
We reserve the right to yank the magic carpet from underneath you
There is an awful lot of "yeah but we might change our minds later on" buried in the wording of Alterra's gloriously brief press release. The mountains "do not require reservations at this time," and "these unprecedented times and rapidly evolving circumstances may cause plans to change without notice."
This feels like a marketing play to continue the legend of itself as the anti-Vail that Alterra has successfully built since its 2018 launch. "Vail will make you make reservations and we mostly won't and so buy our scrappy anti-corporate product instead," is the unspoken message coming from the company with some of the best corporate ski marketing that I've ever seen. Which is, like, fine. Whatever limits the number of skiers on the mountains in this time when I don't want to be around a lot of people in any setting is fine with me, and if you need to put duct tape on an Armani suit to accomplish that, be my guest.
While it's notable that not a single Alterra mountain is among those that will currently require reservations, multiple people who are aware of the company's inner workings have assured me that a comprehensive reservations system does exist somewhere deep within Alterra's Colorado bunker. Like America's nuclear arsenal, they will not turn it on unless they have to, but if they do have to, oh Man…
Wait so how many boot heaters are allowed in my jacket pocket?
After Vail dropped a Restoration Hardware catalog-sized 2020-21 ops plan into our inboxes a few weeks ago, you may have been expecting something similar from Alterra. Filled with enough if-this-then-that tangents to confuse a 1980s videogame dungeon, the endless FAQs outlined not only the company's reservations system, but details on everything from ski schools to lift ops to bars (there won't be any) to daycare (there won't be any of those either). Vail does not fuck around (though I would suggest that killing both bars and daycare is probably eliminating everything good about life on vacation for parents with young children).
Alterra is taking a more deliberate approach here, mirroring the company's slow-burn on its Ikon Pass updates, which it released in four or five parts over the course of the spring. Which is fine. Its earliest-planned U.S. opening for an owned resort is Mammoth on Nov. 14. Killington plans to open the same day. There is plenty of time to figure all of this out, and none of it will be anything unexpected for anyone who's been paying attention. Expect reduced lift capacities and social distancing and enhanced sanitation and capacity restrictions on every building. We will all become used to it very quickly and I'm already bored writing about it.
Limited details on the reservation system are available. Alterra says it will add the links to this page as they become available, and that skiers can begin making reservations via the Ikon Pass app on Nov. 9. Passholders can reserve as many days as they have available at each mountain for each pass on their account. The friends and family tickets loaded onto each pass will not require a reservation. Ikon will not allow refunds if your desired dates at your desired mountains are unavailable, though skiers have until April 11 to roll their unused pass over to the 2021-22 season.
Since Alterra does not currently plan to require reservations at its owned mountains, don't even expect the where-when-and-why of each mountain's plan to appear on Alterra's website – this is likely to be set and run through the individual partner mountains, and will likely be outlined on and managed through their websites.
Yeah so which mountains do you need a reservation at?
The Western mountains that will require reservations are mostly unsurprising: early-opening-late-closing A-Basin, sick-of-the-Ikon-Pass-two-years-ago Jackson Hole, and close-to-big-cities Brighton and Summit at Snoqualmie. I'm more surprised to see a reservation system in place at Taos, and baffled to see it activated at remote and empty Big Sky.
Copper Mountain and Eldora, are, like fellow Powdr Corp mountains Killington and Pico, requiring parking reservations. Snowbird, owned by the same group, is currently not, though that may be the mountain where it makes the most sense, given the parking constrictions in Little Cottonwood Canyon.
The Western mountains that are not requiring reservations are more puzzling. Alterra-owned Deer Valley, which is one of the few resorts in the country that has limited day ticket sales for years, is not partaking. Neither is Crystal, which was overrun to the point of meltdown for large chunks of last season. That Brighton is activating the system but down-canyon Solitude is not seems like a recipe for Big Cottonwood combustion if one is full and the other is wide open. Ever busy Squaw Valley Alpine Meadows and Mammoth seem like prime candidates for a mid-season shift to reservations, especially if they get snow. Interestingly, Squaw and Alpine have been split into two lines on the reservation page, suggesting that the two may be handled differently as the season progresses.
The decision about whether to require reservations is listed as "pending" at several Western mountains, including Alta and Aspen's four mountains. I would guess that all of them are good candidates to activate the system at some point, especially Aspen, which yanked itself off the Ikon Base Pass this season.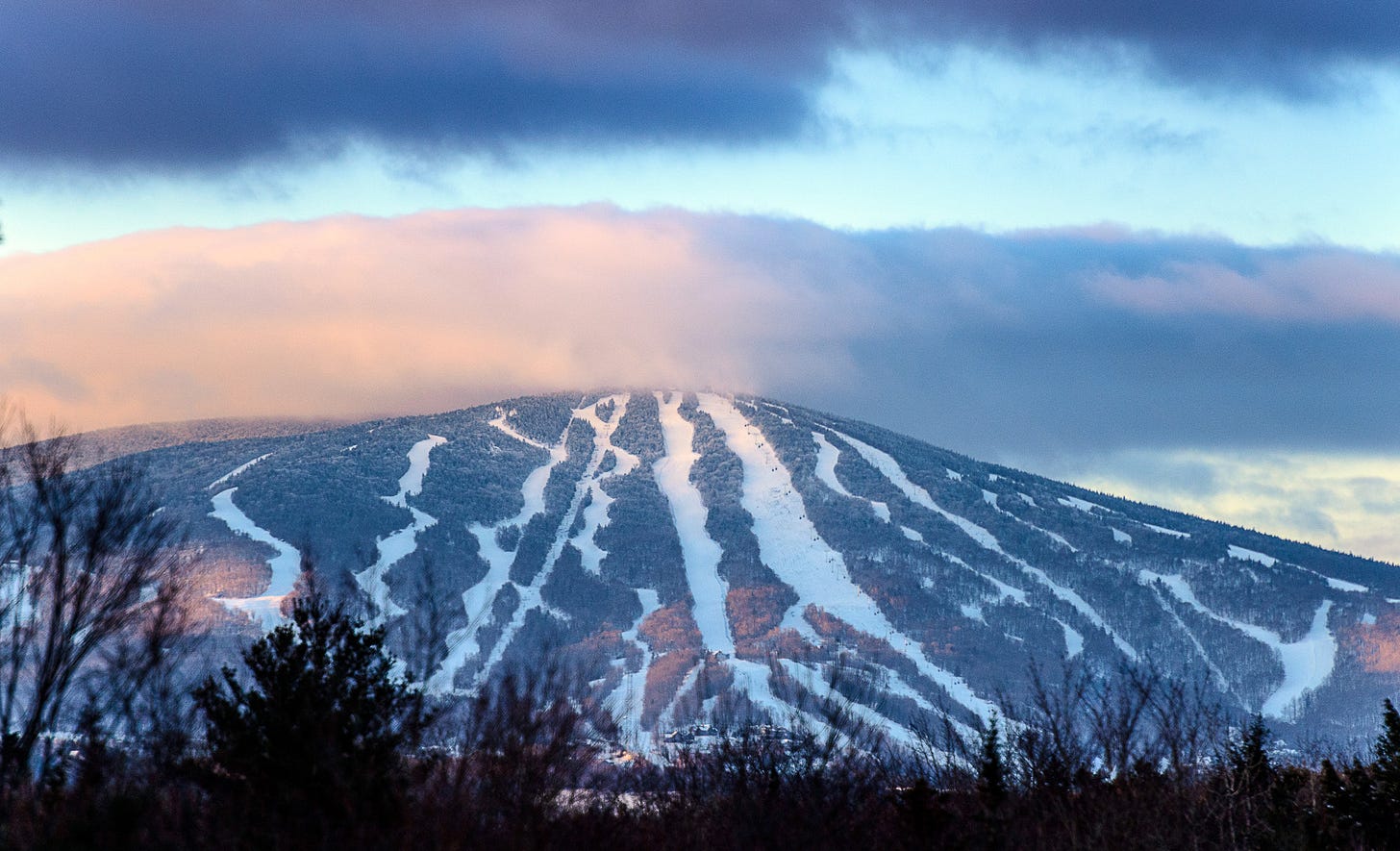 Vermont's Stratton Mountain will not require a reservation this winter.
In the Northeast, Windham and Loon could have used capacity limits years ago, and dropping the reservation system onto those two mountains is a smart move. Killington's reservation system was probably the most necessary of any mountain in the country (Pico probably also needs it if Killington has it, since all Killy passes are good at Pico and it's easy to imagine frustrated turned-away skiers rolling the few miles over to the smaller mountain).
Why the remainder of the Northeast mountains are not requiring reservations makes no sense to me. Stratton and Sugarbush on weekends can feel like those nature videos where you see jillions of army ants moving across a rainforest and jackhammering everything in their path. How you work those without knowing how many carloads of metro New Yorkers are about to pile into the parking lot I have no idea. Add to that the likelihood that many wealthy East Coasters who typically fly west for the winter will likely trade those plans for a New England vacation, and it seems likely that enough additional traffic will materialize to send Alterra into its basement and pull the big ACTIVATE RESERVATIONS SYSTEM lever beside the control panel where they jack day ticket prices up past the level of a used Bronco.
Sugarloaf and Sunday River make more sense to exist sans reservations, as those are very large mountains and are fairly remote from population centers. However, the fact that the system is set up at Loon means it could be very easily activated at Boyne's larger Eastern mountains.
---
The Storm Skiing Podcast is on iTunes, Google Podcasts, Stitcher, TuneIn, and Pocket Casts. The Storm Skiing Journal publishes podcasts and other editorial content throughout the ski season. To receive new posts as soon as they are published, sign up for The Storm Skiing Journal Newsletter at skiing.substack.com. Follow The Storm Skiing Journal on Facebook and Twitter.
COVID-19 & Skiing Podcasts: Author and Industry Veteran Chris Diamond | Boyne Resorts CEO Stephen Kircher | Magic Mountain President Geoff Hatheway | NSAA CEO Kelly Pawlak| Berkshire East/Catamount Owner & Goggles for Docs founder Jon Schaefer | Shaggy's Copper Country Skis Cofounder Jeff Thompson | Doppelmayr USA President Katharina Schmitz | Mt. Baldy GM Robby Ellingson| Alterra CEO Rusty Gregory | NSAA Director of Risk & Regulatory Affairs Dave Byrd
The Storm Skiing Podcasts: Killington & Pico GM Mike Solimano | Plattekill owners Danielle and Laszlo Vajtay | New England Lost Ski Areas Project Founder Jeremy Davis | Magic Mountain President Geoff Hatheway | Lift Blog Founder Peter Landsman | Boyne Resorts CEO Stephen Kircher | Burke Mountain GM Kevin Mack | Liftopia CEO Evan Reece | Berkshire East & Catamount Owner & GM Jon Schaefer | Vermont Ski + Ride and Vermont Sports Co-Publisher & Editor Lisa Lynn | Sugarbush President & COO Win Smith | Loon President & GM Jay Scambio | Sunday River President & GM Dana Bullen | Big Snow & Mountain Creek VP of Sales & Marketing Hugh Reynolds | Mad River Glen GM Matt Lillard| Indy Pass Founder Doug Fish | National Brotherhood of Skiers President Henri Rivers | Winter 4 Kids & National Winter Activity Center President & CEO Schone Malliet | Vail Veterans Program Founder & President Cheryl Jensen | Mountain Gazette Owner and Editor Mike Rogge | Squaw Valley Alpine Meadows President & COO Ron Cohen| Aspiring Olympian Benjamin Alexander