Discover more from The Storm Skiing Journal and Podcast
Everyone's searching for skiing's soul. I'm trying to find its brains.
Over 13,000 subscribers
Getting Saddleback Back
Why ownership matters
After four winters of snow piling up and chairs swinging uselessly in the wind, Saddleback is close to having a new owner, as the Arctaris Impact Fund finally ends the Berry family's four-year hissyfit over chairlift financing by purchasing the mountain from them.
So Saddleback will be back. Next year. Maybe.
That a mountain that was fully operational at the end of the 2015-16 season now needs more than a year to ramp back up is an infuriating case study in how much ski area ownership matters and how much power they have over the fate of the communities in which they sit.
In 2003, the Berrys purchased the resort and quickly expanded it, pumping $40 million into the operation and plastering new trails and lifts all over the mountain. Just compare the 2002 to trailmap (top) to the 2014 edition (bottom):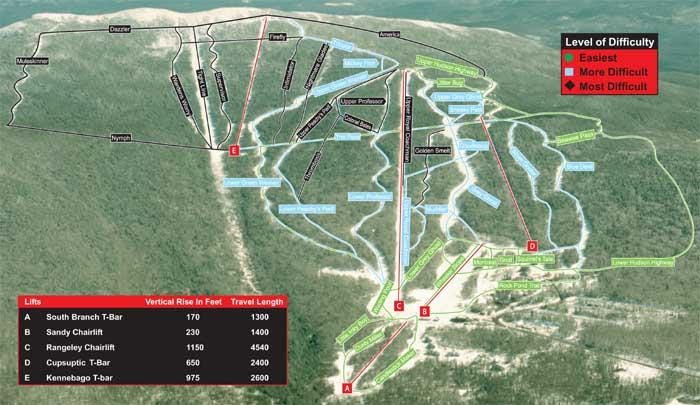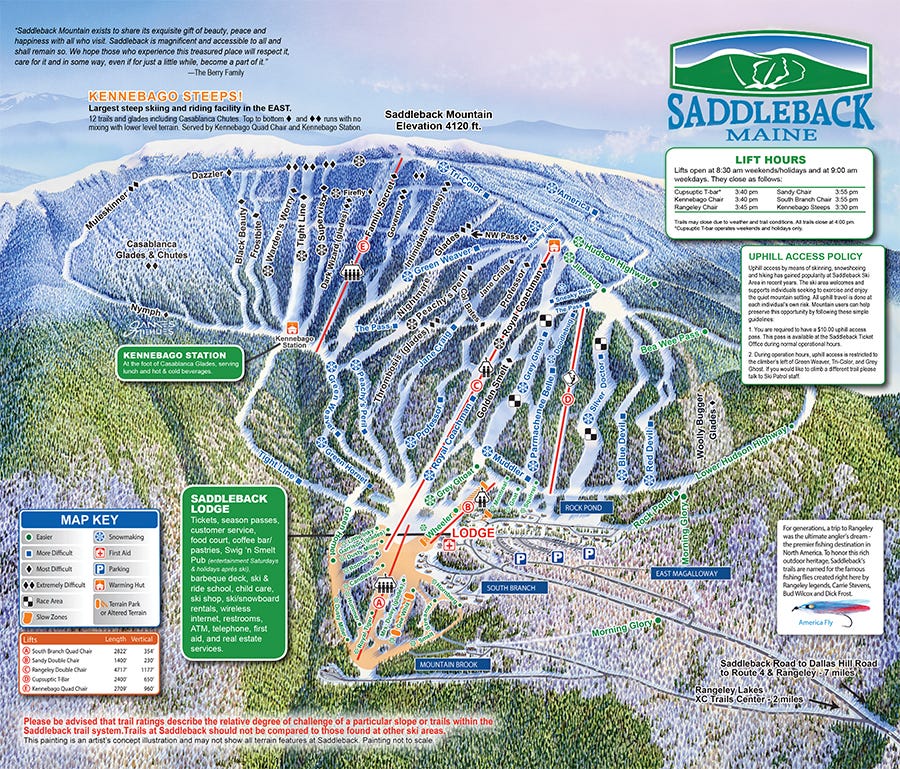 That is an awesome, dramatic transformation, and previous year's trailmaps, showing hypothetical new lifts opening up vast new swaths of terrain, suggested dedicated owners in forever-expansion mode.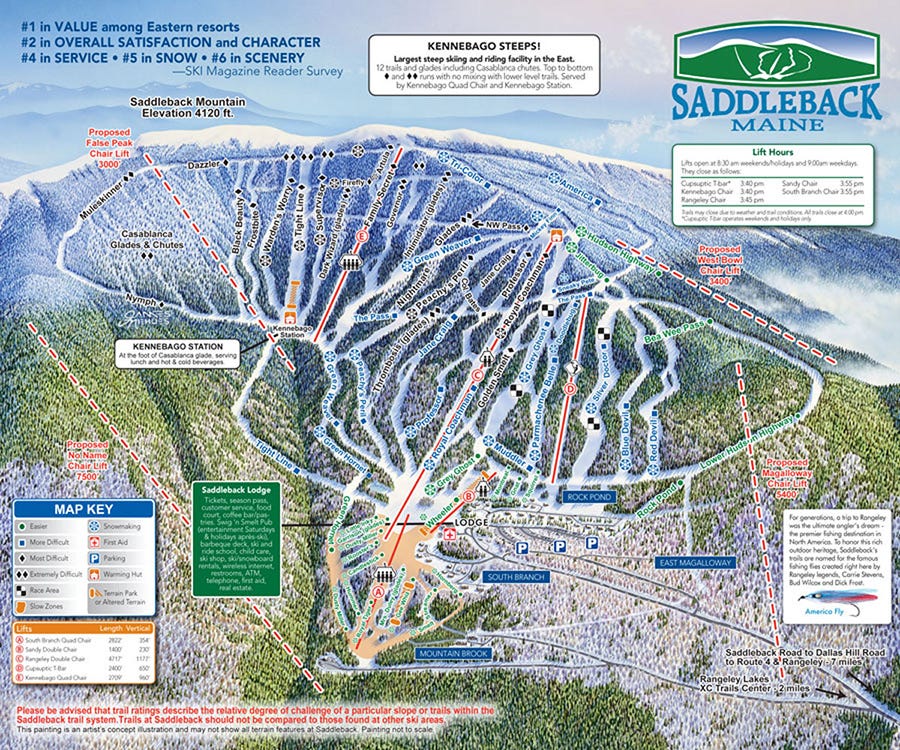 The improvements were clearly working. The Berrys joint press release with Arctaris bragged that annual skier visits had exploded more than 600 percent, from 15,000 to 110,000 over their tenure. They had also increased their staff from fewer than 70 people to more than 200. As they ramped up operations, the place slowly blipped onto the national ski radar.
"More steak than sizzle, more substance than flash, beautiful, remote Saddleback woos skiers with old-style New England trails, take-no-prisoners glades, stunning views, and an unpretentious Yankee disposition that embraces locals and visitors alike," Ski's Hilary Nagle wrote in 2012.
And then, in late summer of 2015, the Berrys made the abrupt and shocking announcement that, unless they could secure financing for a quad to replace the antiquated Rangeley double chair, the mountain would not open for the 2015-16 season. They didn't and it didn't, and it's been shuttered ever since.
There was nothing wrong with that double chair. It was safe and operational. Yes, it was rickety and slow. But so what? If the baseline for operating a ski area were a lightspeed lift fleet set to pump skiers onto the mountain at a rate of 50,000 per hour, then we'd have like six operating mountains in the country. There are plenty of examples of mountains thriving beneath their ancient lift network. You won't find more beloved bumps than Smugglers' Notch, which runs almost exclusively on antique double chairs, or Mad River Glen, with its workhorse single and collection of doubles and shorter lifts. To close a mountain that is otherwise fine because you have long lift lines on peak days is absurd.
As the saga dragged on and the mountain failed to open that first winter and then the owners cancelled the season altogether, they continued to pretend to care about the place and the people who loved it. "Saddleback is more than a mountain - it is a community of people," they, or someone representing the mountain, said. "We are asking for your support as we seek to ensure the long-term viability of this community."
But the family has continued to hold its breath and stomp its feet for four years, a callous act of stubbornness that cost jobs, tourism dollars, memories, and things to do in a rural region that desperately needs them.
To close that mountain was borderline criminal. The family stole an irreplaceable resource while dribbling boilerplate about how special the mountain and community were. They were never held to account for this, and in a capitalist economy there's no way they can be. People can buy whatever they can afford and no one can stop them from ruining it for everyone else if they feel like it.
But this is why ownership matters. This is why you either need people who love skiing like they love breathing to buy your mountain or you need a big ski conglomerate to buy it. The Vajtays at Plattekill or the Schaefers at Berkshire East/Catamount or Win Smith at Sugarbush. They are opening their mountains if we all have to ski on grass.
Stare hard enough at the ghostly etchings of Saddleback's empty trails rising over the countryside and you can glimpse a WTF alternative universe in which Jay Peak and Burke sit idle while everyone shuffles papers and figures out what to do. Court-appointed receiver Michael Goldberg could have shut both mountains down after their owner got caught up in a web of scandals, but he understood how devastating such an abrupt closure would have been both on local communities and to the regional ski industry. So they both sit heroically open, despite the challenges of operating in this strange and unpredictable vacuum.
As much as we all value and need independent mountains, Saddleback, Jay Peak, and Burke are all reminders of the risk in having no higher standard for buying a ski area than being able to afford it. The reason I'm rooting for Alterra or one of the other big boys to buy Jay Peak is that I know they will understand what it is and why it is necessary and why they have an enormous responsibility to take good care of it.
The Berrys seemed to understand that responsibility at first, quickly building out the mountain and igniting the economic multipliers for the community that came with increased skier visits. That they abruptly quit, and for such a stupid reason, without acknowledging that running a flawed mountain was infinitely better than running no mountain, revealed a stunning disregard for the people who counted on Saddleback as a significant anchor to their life and routine.
There are definitely facts I'm not privy to here. Maybe the owners were losing money and could not afford to continue doing so. Maybe they invested those tens of millions too quickly, in vast disproportion to the mountain's ability to ever hope to recup them. The Vajtays warned of this trap in my podcast interview with them a few weeks back. Sure, they could have speckled the slopes of Plattekill with new snowguns and bought a fleet of Cats and ran new lifts up the mountain when they bought it in 1993, but they would have gone broke in their first bad snow year. They've lasted 26 seasons by being patient and deliberate and conservative. That model, they said, would work anywhere.
But anyway the Berrys didn't say they wouldn't open Saddleback because they were losing money on it. They said they wouldn't open it because their chairlift sucked, and so that's what we have to work with when analyzing this situation.
In my podcast interview with Killington GM Mike Solimano, he said that skiers ultimately viewed Killington as theirs. They view Powder Corp., the mountain's owner, as its stewards. While that is an argument built more on passion than reason, owners who do not understand this fundamental dynamic should not be entrusted to run these places that have such an enormously important role in the functioning of local economies and lives.
Hopefully Arctaris understands this. I'm optimistic that this important and spectacular mountain could be prepping for open by this time next year.
Don't read anything into this. Alterra CEO Rusty Gregory was in New York last week, presumably talking to various bankers. He popped into Bloomberg and Yahoo Finance while he was in town, and pointedly said the company had no intention to go public anytime soon. He also wouldn't speculate on future expansion. It's hard to see what else Alterra buys at this point outside of Jay Peak, unless they start gobbling up feeder mountains a la Vail. I think they'll have no choice but to do this eventually, and there are no shortage of options near cold-in-the-winter metro areas across the country. It's easy to forget that Alterra antecedent Intrawest briefly owned (and made enormous investments in), New York City-adjacent Mountain Creek, which would be a logical addition to their portfolio.
This week in skiing - bursting at the seams. Here's my weekly update of where I've been riding since my last news update and any notes of interest.
I could have burned a vacation day on Wednesday and trucked up to Killington, but with snow overnight Thursday, I decided to put it off until Friday. I burned out of NYC at 4:30 and rolled up to a packed gondola line around 9:30 and was skiing off the top of North Ridge a bit after 10. The adjacent Canyon Quad, parked in the lines of The Beast's relentless snowgun artillery, looked like this: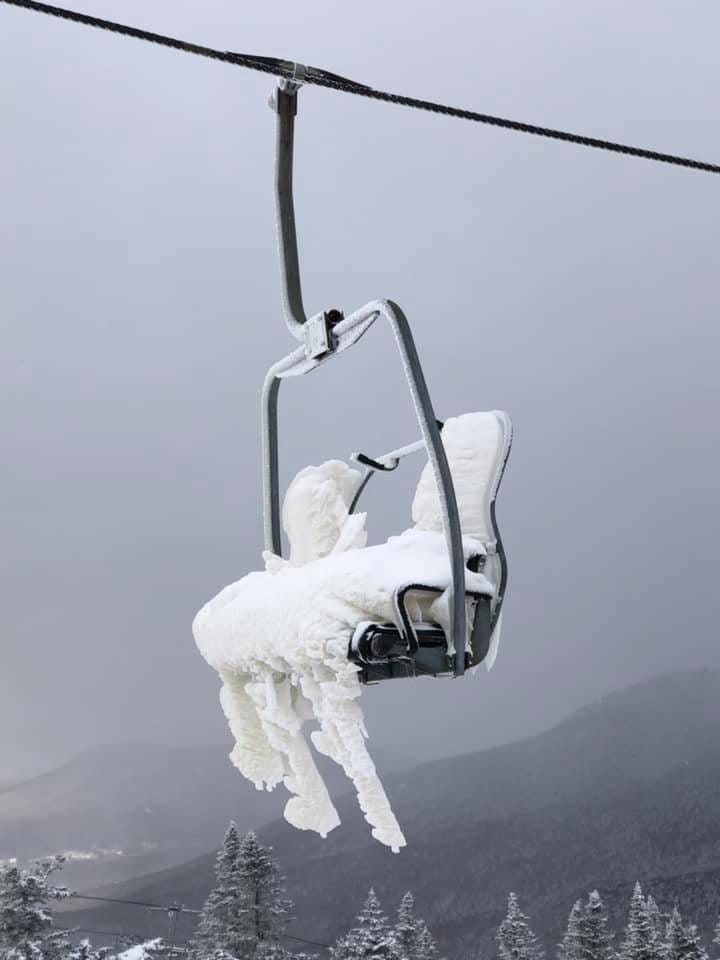 The North Ridge quad was the only lift (other than the K1 gondola) spinning in the Northeast, and with six inches of fresh, everyone who could come out did. The lift staggered along in stop-start mode for much of the day, and lift lines jammed up into midseason Saturday wait times. Rime looked like the Running of the Bulls, especially early. It got a bit better as the crowds thinned out later and patrol dropped the ropes on an ungroomed but joyously bouncy Double Dipper.
Killington does a hell of a job getting that place open, but they need reinforcements badly. Sunday River chipped in on Saturday, but that's a titanic drive for most people. It's too bad that Northern Vermont doesn't have one bold player among their many excellent mountains that's willing to gun for an early-season open. On years like this, when the cold and the snow start dropping early and people are amped to just get out there, we could use another mountain or three to absorb our rabid energy and spread us out a bit more.
Usually when I go to Killington it's for the bigness and the adventure and the huge bomber terrain and the variety and the feeling of getting lost, but man I love that first day of the season, when you're sequestered way up top on North Ridge and away from the world and it's nothing but people who flat love sliding and there's all these out-of-their-zone park kids who just smash tricks off the mogul line beneath the lift all day and everyone's just shredding. There are some newer skiers there of course, but "Hey you want to try skiing all you have to do is rent gear and take a gondy up the mountain and then walk down 200 steps in ski boots then ski through mobs of shredders?" is not a question any sane person asks their buddies who want to get out and try the sport, so it's mostly the pent-up hardcore just bombing and man I freaking love that.
Yeah, it's only 500 vertical feet or whatever, but I came up skiing the Midwest, and so it feels like a homecoming, like a Michigan ski area airlifted to the Green Mountains and dropped improbably into the beginning of November. I like that it's a little bumpy and a little icy and a little wild-ski-through-snowguns bonanza and a little parky and a little out of control. It's part of what makes Killington Killington, and hitting The Beast on a walkway-only early season day has become an essential rite of passage for anyone who wants to go bell-to-bell in the Northeast.
---
The Storm Skiing Podcast is on iTunes, Google Podcasts, Stitcher, TuneIn, and Pocket Casts. The Storm Skiing Journal publishes podcasts and other editorial content throughout the ski season. To receive new posts as soon as they   are published, sign up for The Storm Skiing Journal Newsletter at skiing.substack.com. Follow The Storm Skiing Journal on Facebook and Twitter.
Check out previous podcasts: Killington GM Mike Solimano | Plattekill owners Danielle and Laszlo Vajtay| New England Lost Ski Areas Project Founder Jeremy Davis | Magic Mountain President Geoff Hatheway