Discover more from The Storm Skiing Journal and Podcast
Everyone's searching for skiing's soul. I'm trying to find its brains.
Over 11,000 subscribers
Four Months After Covid-19 Shut Down the Northeast Ski Industry, Its Season Pass Landscape Is Transformed  
Every large mountain other than Bretton Woods has guaranteed refunds or deferrals on 2020-21 season passes
A brief history of the massive, rapid change in the Northeast season pass market
After rolling out season pass updates weekly from mid-April to late June, I've downshifted to a more spaced-out cadence. The last one was June 21. The next one will likely be in mid- to late-August. The reason for slowing these pass-specific newsletters down is that I'm assuming that pretty much any large ski area that is going to adjust its pass policy to accommodate Covid-19's f-bombing of our organized civilization has done so by now.
But a moment of reflection is in order. The rate at which the Northeast season pass landscape has evolved to meet the reality of life in a Covid-19 world is stunning. When the virus materialized in March, the industry, traumatized and broken, had to contend with the twin realities of massive shutdown-related economic fallout among consumers and a stubborn disease that looked likely to return at will, disrupting every piece of the lift-served skiing experience save the skiing itself. While the industry had time to prepare operating contingencies for the distant start to the next ski season, the pandemic struck in the midst of the essential season pass sales period, during which ski areas take in an enormous portion of their annual revenue. To keep this business from crumbling, it instantly became clear that standard no-refunds-allowed, pay-in-full-up-front season pass plans would not be sufficient. Skiing would have to meet the moment.
It did, at least in the Northeast. Adjustments ranged from Vail's grand and complicated gold-plated Epic Pass overhaul to tiny family-owned Plattekill's promise to "make things right" in the event of another shutdown. The complexity of the various plans and their degree of generosity in some ways act as a proxy for the region's current ski-world power structure, but not exclusively so. Some of the most comprehensive plans came from some of the smallest mountains, and the degree of thoughtfulness or carelessness behind them demonstrate as well as anything which mountains are ascendant and which are lashed to a pre-Vail 2015 business model, barnacled to unrealistic pass prices and declining to offer any sort of financial assurance by modifying their antique refund policies.
Alterra stumbles and Magic sparkles – a scramble to adapt to a changed reality
In the immediate aftermath of the shutdown, several independent Northeast ski areas pushed out their early-bird deadlines and introduced payment plans. The big inflection point, however, arrived on April 14, when alt-Vail hardcore darling Alterra amped up renewal discounts and pushed their early-bird Ikon Pass deadline from April to late May (they would later push it again to mid-June). It was a nice first gesture, but the company made no accommodations for future Covid attacks, sticking to the sorry-all-sales-are-final stance that had been skiing's default for decades. Skiers basically said, "OK, say 'hello' to American Skiing Company when you get to the graveyard." The backlash to the could-do-no-wrong-up-to-this-point company was so severe that Alterra backpedaled just three days later, allowing skiers to defer the value of an unused Ikon Pass to a 2021-22 pass by Dec. 10 (they later pushed this all the way to April 11, 2021 and defined a core season against which pass credits would be determined should mountains again shut down).
Meanwhile, on April 15, mid-sized Magic Mountain rolled out what remains the most comprehensive season pass overhaul in the region, dropping prices, extending deadlines, introducing a payment plan, and, crucially, becoming the first mountain in the Northeast to articulate some kind of deferral guarantee in the event of another government-ordered shutdown of the ski area. The result was record pass sales, both in volume and revenue. If you want to see how small and mid-sized ski areas are going to thrive in the Epik/Ikon era, study Magic. As I've often pointed out, much to the irritation of the Magic hardcore, this is a mountain that is succeeding in spite of itself. If that wasn't true – if the mountain alone were enough to draw a loyal skier base who value rustic charm over sextuple lifts and bonsai-infused coconut truffles – then it would not have sat abandoned for half the 90s. But the mountain (which truly is a terrific skier's mountain), is thriving despite being smaller and less developed than its Southern Vermont neighbors because it has, under Geoff Hatheway, become a place and a community that skiers want to be a part of.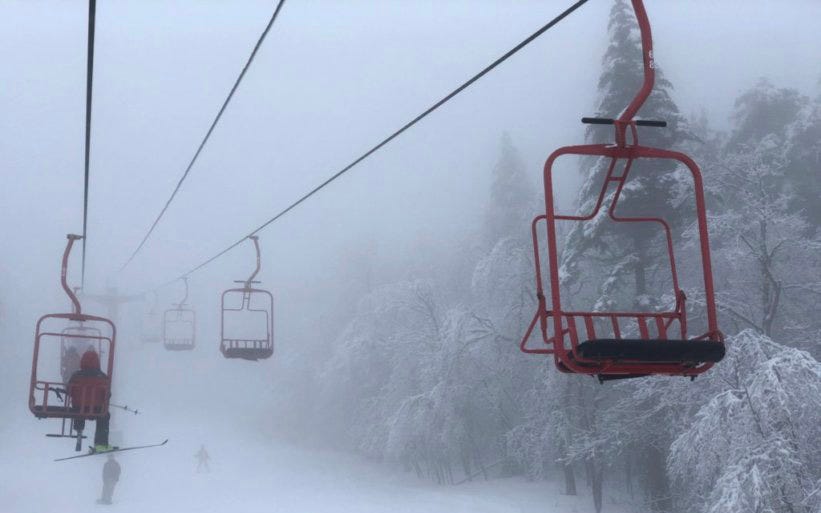 Magic Mountain's Red Chair.
No one – save Smugglers' Notch – followed Magic down on prices (though many of the larger companies and mountains offered renewal discounts to please their most loyal skiers), but almost every ski area of note eventually articulated some kind of season pass guarantee, ranging from no-questions-asked refunds to credits for the following season based on very specific shutdown criteria. By early May, when Boyne announced an amazing 150-day season guarantee for its very expensive New England Pass, most of the largest ski areas and companies, including Vail and Killington, had announced some combination of delayed deadlines, payment plans, renewal discounts, and refund or deferral guarantees.
There have been curious holdouts. Bretton Woods, whose $1,029 season pass is more expensive than an Epic Pass – which provides unlimited access not only to four New Hampshire mountains, but three of Vermont's largest ski areas and over-the-top Western access – is stubbornly maintaining that "passes are non-refundable and non-transferable." For a time, their single-mountain pass was more expensive than the White Mountain Superpass, which offers unlimited access not only to Cannon, Cranmore, and Waterville Valley, but also… Bretton Woods.
The New York Ski 3 Pass – which grants unlimited access to Whiteface, Gore, and Belleayre – is the only other large Northeast ski entity that has yet to modify their pass policy to accommodate refunds or deferrals, though I have reason to believe that may change soon.
Most of the other notable Northeast mountains that have yet to outline any sort of season pass guarantee are those that many skiers in the region would not consider to be in the Northeast at all – the western parts of New York and Pennsylvania, where there is no realistic megapass competition and therefore probably less market incentive to modify their policies, outside of goodwill toward passholders. I'm talking about places like Western New York's Greek Peak and Toggenburg (which share a pass), and Holiday Valley, or southwest Pennsylvania's trio of Seven Springs, Hidden Valley, and Laurel, which share the $630 Highlands Pass.
The future of season passes in the Northeast
My guess is that most of the pass evolution that will happen for the 2020-21 ski season has already happened. What will be interesting to watch, beginning around February of next year, is which elements of these Covid-inspired season pass policy shifts will prove fleeting and which will remain long term. My guess is that most of them – especially the payment plans and more customer-focused deferral and refund options – will survive in some form.
I also believe that single-mountain season pass prices will continue to tick downward as the long-term reality of operating in a region that has been fully immersed in the megapass wars settles in. While many smaller or independent mountains in the Northeast already offer fairly valued passes, many – Windham, Bromley, Jiminy Peak, Waterville Valley, Bretton Woods – remain stubbornly above what I believe the market will support long term. As I've said before, the era of the expensive single-mountain season pass is over in the Northeast – it will just take a while for that reality to settle.
Finally, I think we will see more consolidation in pass participation, if not necessarily in mountain ownership. Sometimes this will take the form of one mountain joining an existing multi-mountain season pass, such as Bousquet's recent decision to join the Berkshire Summit Pass with Catamount and Berkshire East. In other instances, it will be through joining limited-days coalitions such as the Indy Pass. Ski areas that sign on can then offer their passholders the Indy Pass add-on, which grants two days each at 50-plus mountains for an additional $129. I also think there's room for new coalitions to form – why not link the White Mountain Super Pass, the New York Ski 3 Pass, the Jay Peak/Burke Pass, the Berkshire Summit Pass, the Fairbank Group's trio of mountains, and Saddleback into a Northeast Pass with three or five days at each mountain? Such a product could compete with the Epik/Ikon matrix regionally and create a large pool of revenue to share between the mountains.
Whether the Northeast will end up looking like the West, with its cheap passes and jaw-dropping reciprocal lift-ticket agreements, or evolve into something else entirely remains to be seen. But we have interesting times ahead. Here's what's changed since my last season pass update a bit over three weeks ago:
Northeast season pass updates – all changes reflected in

this chart
Recently introduced or modified deferral or refund options
Running list of Northeast mountains offering refunds or deferrals on 2020-21 season passes: Vail/Epic Pass (Stowe, Okemo, Mount Snow, Wildcat, Attitash, Crotched, Mount Sunapee, Hunter, Roundtop, Whitetail, Liberty, Jack Frost, Big Boulder), Alterra/Ikon Pass (Stratton, Sugarbush), Pats Peak, Waterville Valley, Cannon, Cranmore, Ragged, Windham, Mount Peter, Plattekill, Bristol, Jay Peak, Magic, Bolton Valley, Killington-Pico, Smugglers' Notch, Bromley, Boyne 3 (Loon, Sugarloaf, Sunday River), Saddleback, Lost Valley (ME), King Pine (NH), Elk (PA), Blue Mountain (PA), Spring Mountain (PA), Yawgoo (RI), Berkshire East/Catamount, Jiminy Peak, Wachusett, Butternut
Mountains that have committed to some sort of refund/deferral policy, but have not yet provided details (new category based upon my podcast conversation with Mad River Glen GM Matt Lillard): Mad River Glen
Notable holdouts (I have been told off the record that some of these mountains are working on policies): ORDA 3 (Whiteface, Gore, Belleayre), Greek Peak-Toggenburg, Holiday Valley, Bretton Woods, Gunstock, Black N.H., Shawnee Peak (Maine), Mt. Abram, Camelback, Seven Springs-Hidden Valley-Laurel
New Pass releases
Camden Snow Bowl in Maine announced prices for 2020-21 season passes: $429 for adults 18 to 69. Camden residents can get the same pass for $299. Passes go on sale Oct. 1 and the early-bird sale lasts through Oct. 30. On Nov. 1, passes increase to $529 for non-residents and $459 for residents. I don't see any kind of deferral or refund policy attached to the passes.

Oak Mountain, New York's passes are on sale for $349 through July 31.

Shawnee, Pennsylvania introduced 2020-21 season passes for a bargain $349. Considering this is an Indy Pass mountain, you can add one on for $129, granting a hell of a lot of access for $478. Shawnee is also a seven-day operation with night skiing, so this one should be a strong consideration for Poconos skiers. Passes go on sale July 15, and the $349 rate will be valid through Oct. 1.
Price increases
Additional season pass notes
Jay Peak will randomly select one season pass buyer to win a 10-year season pass. Skiers must purchase their pass by Oct. 12 to be eligible. While the guarantee to request a no-questions-asked refund by Oct. 1 no longer appears on the mountain's season pass page, GM Steve Wright confirmed to me that the policy is still active. He added that Jay would issue full refunds if the mountain didn't open, and passholders would receive a pro-rated benefit if operations are interrupted, either in the form of a refund or a deferral to the 2021-22 season.

I don't know why I think it's so funny that Powder Ridge is advertising that "Winter Season Pass discounts are available now through Nov. 31, 2020. Don't miss out!" [emphasis mine] Look, I get that the calendar is just this thing we use because we've used it for centuries and changing it would make Y2K look like Ring Around the Rosie, and the variance in the number of days in each month is just an odd feature of that, but it is still astonishing how many people don't know how many days there are in each month. It's a basic fact of the world we live in, like grass or chipmunks or the concept of time. Look, I have no sense of smell, so I am aware that there is this enormous dimension of the everyday lived experience that I am completely unable to process, but no one is genetically predisposed to being unable to look at a calendar and see that there is no Nov. 31. Unless, of course, they are looking at the 2002 calendar printed, unsurprisingly, by the United States Congress as a gift to select constituents.
Hopelessly outdated sites that make me just insert a shrug emoji and go on with my day
Upcoming Northeast season pass deadlines:
July 15: Killington, Pico, Blue Knob, Jiminy Peak, Bromley

July 31: Black Mountain of Maine, Oak Mountain, Spring Mountain

Aug. 1: McIntyre

Aug. 12: New York Ski 3 Pass (Belleayre, Gore, Whiteface)

Aug. 15: Highlands Pass (Hidden Valley, Seven Springs, Laurel)

Aug. 31: Windham, Berkshire Summit Pass (Berkshire East, Catamount, Bousquet), Butternut, Otis Ridge
Northeast ski areas that have temporarily suspended season pass sales:
New England Pass (Sugarloaf, Sunday River, Loon), Mount Peter (New York)
Northeast ski areas that have yet to announce policies or pricing for 2020-21 season passes:
Connecticut: Mohawk, Mount Southington

Maine:  Big Rock, Big Squaw, New Hermon Mountain, Lonesome Pine Trails, Mt. Abram, Mt. Jefferson (did not operate last season), Titcomb

Massachusetts: Blue Hills, Mt. Greylock Ski Club, Ski Bradford, Ski Ward

New Hampshire: Arrowhead, Dartmouth Skiway, Kanc Recreation Area

New York: Beartown, Brantling, Cockaigne (did not operate last season), Holiday Mountain, McCauley, Peek'n Peak, Royal Mountain, Swain Ski Center, Thunder Ridge, Victor Constant Ski Area

Pennsylvania: Elk, Sawmill

Vermont: Ascutney, Quechee, Suicide Six