California Mountain Resort Company Acquires Bear Valley, Its 4th Ski Area
Bear Valley will immediately join Cali Pass with Mountain High, Dodge Ridge, China Peak; membership in Powder Alliance, Indy to be determined later

The Storm Skiing Journal and Podcast is a reader-supported publication. To receive new posts and to support my work, please consider becoming a free or paid subscriber.
It's one of the strangest ski areas in America. Seven lifts off the main side, one of them a six-pack, another a high-speed quad, the rest a ramshackle collection of Yans and Riblets left over from an antique version of skiing. The ski area's backside, which rises above the base village, has marked trails stretching more than a thousand vertical feet, but no lifts at all. The mountain's stats impress: it rises 1,900 vertical feet, covers 1,680 skiable acres, and averages 359 inches of average annual snowfall. Last year, it scored a record 672 inches. And yet, almost no one outside of California has ever heard of the place.
Welcome to Bear Valley, one of a half-dozen-ish not-Mammoth ski areas perched along the Sierras between Tahoe and SoCal. Like so many Cali ski areas, the mountain bristles with potential. A big-time footprint with big-time snow desperate for the big-time modernization that could deliver a palatable ski alternative to burned-out Epic and Ikon Passholders exhausted by the crowds at Palisades and Heavenly and Mammoth.

The cavalry is coming. Today, California Mountain Resort Company (CMRC) announced that it had acquired Bear Valley. It is the third acquisition in three years for the surging company, which has long owned Southern California's Mountain High, picked up Dodge Ridge in 2021, and added China Peak last year.
"We're really excited what Bear Valley does for our group and for the skiing public," CMRC CEO Karl Kapuscinski said in an interview with The Storm. "Literally this connects the dots from San Diego all the way to Sacramento. We are the closest resorts to the skiing public."
CMRC will immediately add Bear Valley to its multi-mountain Cali Pass, which will deliver unlimited access to all four of the company's properties for the 2023-24 ski season. Bear Valley will not immediately join the Powder Alliance, which Mountain High administers, or the Indy Pass, which the rest of the company's properties have joined.

Bear Valley, Kapuscinski says, complements CMRC's other resorts well. "Bear Valley is a big mountain that skis really big," he says. "It has the most Tahoe feel of any of our resorts, so it will give our Cali Pass holders a totally different experience. And it's not just aspirational – it's really realistic that you'll be able to ski China Peak, Dodge Ridge, and Bear Valley frequently during the season given their locations to each other."
Kapuscinski teased rapid and widespread upgrades for Bear Valley, including a potential lift connecting the village to the ski area, the consolidation and replacement of older chairlifts, and snowmaking and grooming enhancements to guarantee a more consistent product.
"We will start working right away on different options to connect the village to the ski area with lift transportation," Kapuscinski said. "That's been the biggest hurdle that's probably held Bear Valley back for the last 40 years, is not having a connection to the village other than by shuttle or automobile."
The purchase continues the rapid consolidation of California skiing, which accounts for the second-most annual U.S. skier visits of any state after Colorado. Three companies – Vail Resorts, Alterra Mountain Company (both based in Colorado), and CMRC – now operate 14 of the state's 29 active ski areas. Utah-based Powdr Corp owns two more, and JMR Ventures, which also owns Red Lodge, Montana, owns Homewood, meaning 58 percent of the state's ski areas are now owned and/or operated by a multi-mountain ski company: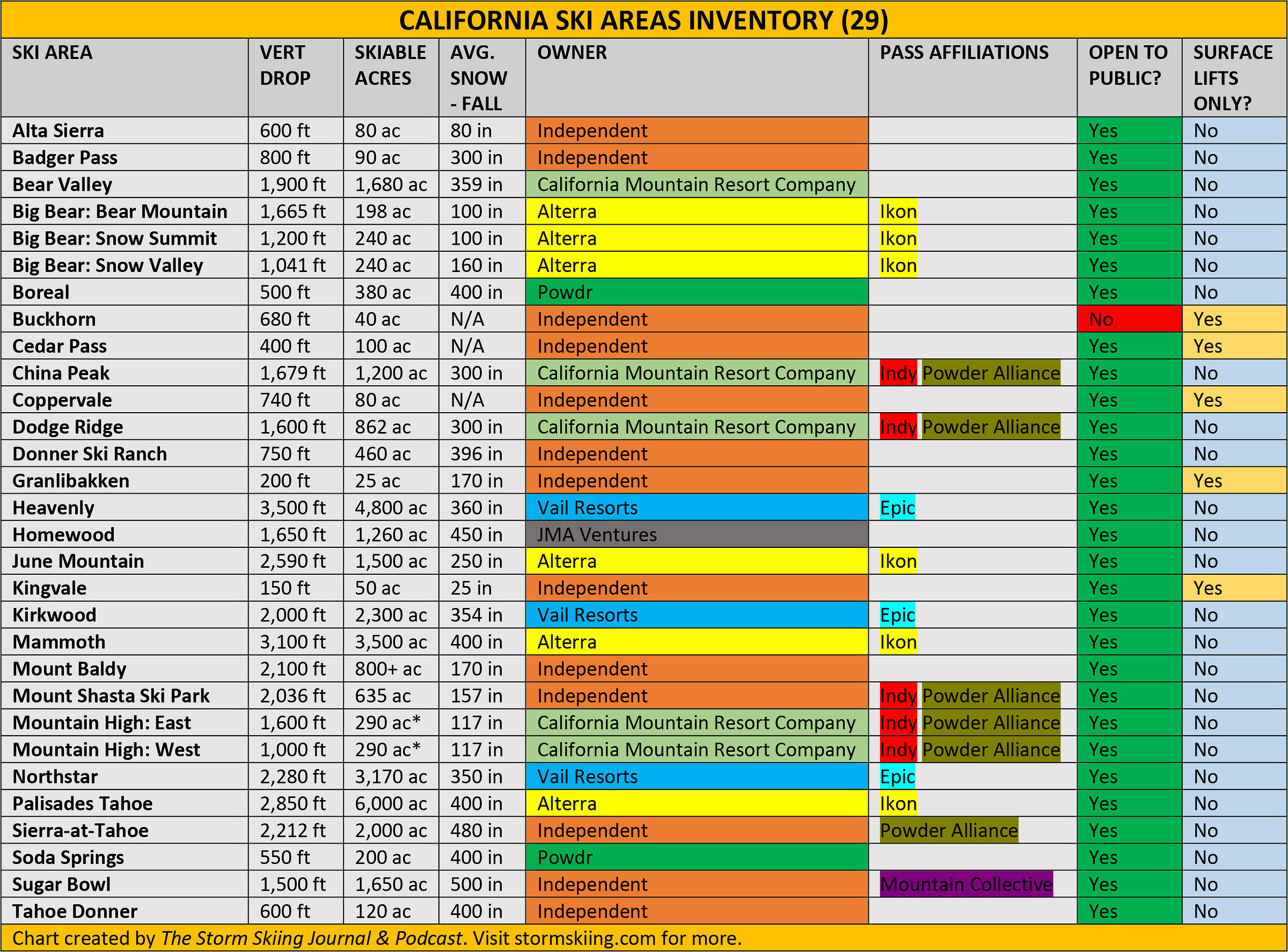 That consolidation may not be finished, Kapuscinski teased, saying CMRC is on the hunt for more resorts to cap off the company's north-south consolidation of West Coast skiing.
Here's a bit more about today's announcement, and what it means for Bear Valley, California skiers, and CMRC:
Below the paid subscriber jump: Bear Valley 101, when we could see a village lift, big improvements inbound for the Grizzly terrain, thoughts on Bear Valley and the Indy Pass, what CMRC could buy next, and much more.
This post is for paid subscribers