Discover more from The Storm Skiing Journal and Podcast
Everyone's searching for skiing's soul. I'm trying to find its brains.
Over 11,000 subscribers
Boyne Guarantees 150-Day New England Season, Offers Renewal Discount and Rollover Option on New England Passes
Will cease sales of New England Passes on June 15
Boyne Resorts announced a substantial overhaul of its three-resort New England Pass this morning, introducing a renewal discount, guaranteeing a 150-day season across its Northeast portfolio, and allowing no-questions-asked rollovers of the value of unused 2020-21 passes to the 2021-22 season by Dec. 10. Likely in anticipation of possible modified operations, Boyne will cease sales of the passes on June 15, and it is unclear whether they will go back on sale at a later date.
The Platinum New England Pass – which are good for unlimited access at Sunday River, Sugarloaf, and Loon – is the most expensive ski season pass of any kind in the Eastern United States (there is an interest-free payment plan available). A concession, therefore, was inevitable in the economic fallout from Covid-19-related shutdowns, which as of Friday had stripped 20.5 million jobs out of the economy and sent unemployment soaring to 14.7 percent.
The announcement of an option-to-defer follows similar concessions by Vail, Alterra, and Powdr Corp's Killington, which, together with Boyne, control the majority of the largest and busiest mountains in New England. Several smaller mountains have introduced similar incentives, including first-to-the-party Magic and top-of-the-country Jay Peak. Pass sales slumped at many mountains this spring, partly because of the economic slowdown, but partly because skiers have made it clear that, with the virus' future spread still uncertain, they are not making such a substantial investment without some safeguard against another shortened season.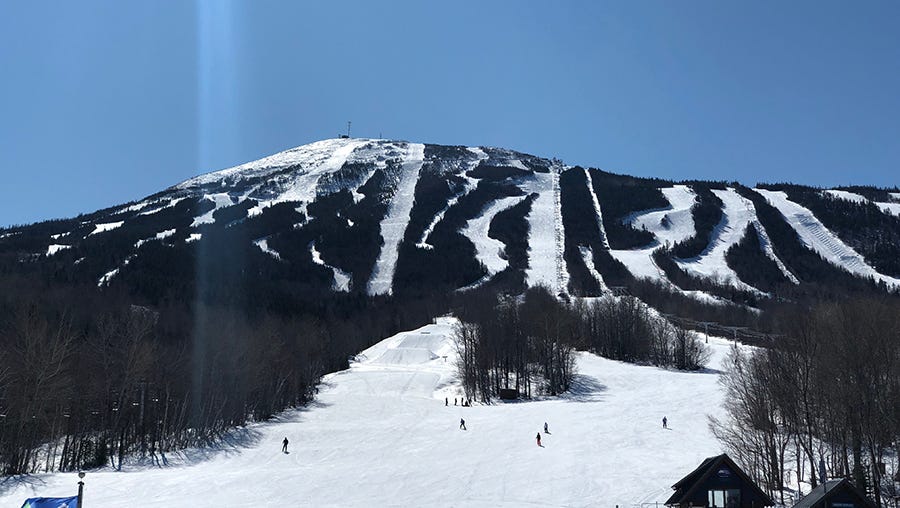 Sugarloaf on a bluebird day in March.
Here is what skiers can expect from the updated New England Pass offerings:
Renewal discounts apply to anyone who bought a New England Pass for either of the past two seasons
Nearly every mountain or ski company that has dropped prices has reserved those discounts for renewing season pass holders, with the exception of those at Magic and Smugglers' Notch. Boyne extends its renewal discount not just to 2019-20 New England or resort-specific passholders, but also those who purchased a pass in 2018-19 but may have opted out last season. Anyone who already purchased a 2020-21 New England or resort-specific pass will be refunded the difference on their credit card.
Considering the price of the pass, Boyne's discounts are modest: $150 for the top-tier Platinum Pass and $125 for the Gold Pass, and lesser discounts for tiers with reduced access or for non-core-adult age groups. That means a returning buyer will be paying $1,399 for a $1,549 Platinum Pass – which comes with the substantial bonus of an Ikon Base Pass – and $1,044 for a $1,169 Gold Pass (all prices are for adult, no-blackout passes; substantially lower prices are available on passes with reduced access and for different age groups).  
Sunday River and Sugarloaf skiers may have been expecting larger incentives, considering they are two of the half dozen New England mountains that typically shoot for May closings and their March 15 shutdown date this year chopped about seven weeks off the probable end of the season. But Killington's well-received concession of similar size ($150) on a similarly priced pass ($1,344 for the Beast 365 Pass, which also includes an Ikon Base Pass; $999 for unlimited Killington/Pico), probably helped inform Boyne's approach here. While the Epic (up to 80 percent), and Ikon ($200 off a full pass), renewal discounts were more generous on both a dollar and percentage basis, those passes aren't necessarily a great comparison to the New England Pass, which has a monopoly on large, built-up, stable, and varied ski areas in Maine and caters to skiers in that very specific region. But Boyne can also justify the more modest renewal discount because…
The 150-day season guarantee is the longest in the region
Vail is guaranteeing a "core season" stretching from Thanksgiving (Nov. 26, 2020) to Easter (April 4, 2021), or 130 days. Magic is prorating credits if the season is cancelled before Feb. 1. Bolton Valley is guaranteeing 11 weeks, and tiny Lost Valley, Maine, is stepping up with a 100-day promise. Neither Alterra nor longest-season-in-the-East Killington are making any kind of guarantee at all.
Boyne just ka-powed all that with a 150-day guarantee. Now, it must be noted here that Sunday River annually shoots to be first-in-the-East to open, and has hit October in five of the past 10 seasons. The mountain has made it to May twice in that span, and Sugarloaf made it to May in nine of the past 10 seasons, including the historically bad 2015-16 cycle. Loon opens and closes somewhere in between all of that, but those past dates suggest an average of somewhere around a 180-day season between all the mountains, making 150 days maybe sound wishy-washy. It isn't. While Boyne unquestionably has the commitment, the snowmaking plant, and the latitude to make 150 days, the Pangea-sized meteor named Covid-19 that just fire-bombed our entire civilization is specializing in making the inevitable unlikely. In case you haven't noticed. So 150 days is, in the current climate, an incredibly bold commitment.
Boyne is not guaranteeing that all three mountains will be open for 150 days – only that at least one of them will be open at some point for each of 150 not-necessarily-consecutive days. The mountains are not exactly next door to each other, but they are not so far apart that this is an unreasonable policy (Loon to Sugarloaf, the longest drive, is roughly three and a half hours; that's not exactly the Iditarod). In the event that the combined resorts don't reach that total number of operating days, Boyne will issue a credit for a 2021-22 New England Pass equal to the percent of the season lost from a 150-day season. So a 120-day season would be 20 percent of the season lost and would give a 2020-21  passholder a 20 percent credit of the price they paid on a 2021-22 New England Pass or resort-specific pass. So if you take advantage of the renewal credit and pick up the $1,549 Platinum Pass for $1,399, your credit is based upon the latter number. There is no limit to this – if 100 percent of the season is lost, the credit is 100 percent of the price paid.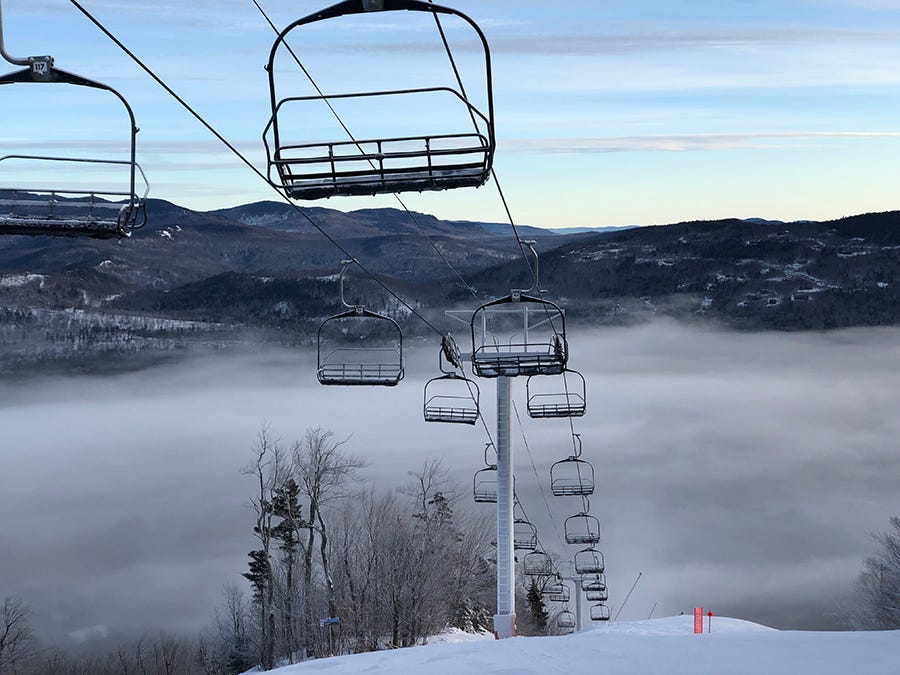 An inversion at Sunday River on a cold December day.
We can infer one thing from a commitment to 150-day season: Boyne plans to blow snow. You may be like, "OK New Guy, that's kind of their thing." Well, yes, but the number one issue we will collectively be turning our attention toward after we sort out this whole season pass protection thing is what the 2020-21 ski season will look like on the hill. And there is a very good chance that the season will not look like anything you've seen outside of haphazard panic adjustments at the conclusion of last season and the Mt. Baldy tee-time experiment last month. If social distancing is still a thing – and it likely will be, whether by custom or by government decree until we build a better fight-Covid medical kit – then that likely translates, in some way, to reduced volume on the mountains. Which will have to mean reduced operating costs for ski areas. And one of the biggest fixed costs of a Northeast ski area is snowmaking.
Once in a while – one winter out of 10, maybe (even that's a high number) – the Northeast gets lucky and their mountains could hammer out something resembling normal operations without snowmaking. But outside of Northern Vermont, no one in the region gets consistent enough volume or frequency of natural snow to hope to operate a ski area for more than a handful of days, let alone 150. So Boyne is basically saying here: "We'll bury Sunday River deep as soon as the temps allow." So, see you in October and fingers-crossed.
To give you some context here as to how substantial a commitment this is: Sunday River was second in the Northeast to open last season, on Nov. 9. They closed on March 15, 127 days later. If I'm remembering correctly, they lost a day or two in there for wind holds or ice storms or marshmallow blizzards or whatever bullshit it is we get out here that adds up to five prime ski days per year. They would have had to have made it to the week of April 6 to hit 150 in this foreshortened season. So this is a fairly bold commitment, given the substantial uncertainty about whether there could be additional shutdowns or social distancing regulations that make operating high-volume, large, complex mountains like all three of Boyne's New England operations untenable.
Which means we can also infer that…
Boyne may be planning for reduced volume at all three mountains
Typically, when the spring New England Pass sale ends, Boyne simply raises the price and keeps selling them through the summer and fall. Come one, come all. Not this year. When the clock strikes midnight on June 15, the New England Pass sales page turns into a pumpkin, and you can try to trade it for a rad skinning setup. Depending on how the food supply chain holds up, we may get there, but, for now, get your down payment together by that date.
Boyne is fairly explicit that this is a very early signal that next year is going to involve some metering of skiers on the slopes, saying in the Q&A provided to The Storm Skiing Journal that the suspension of pass sales is necessary "while the resorts explore new operational protocols for the upcoming winter."
It's a big task. Of the three, Sugarloaf is probably best set up for this, as it is a fairly low-volume mountain anyway, for its size, and its 1,240 acres swallow skiers on the busiest days even now. It's disadvantage here is what is typically one of its greatest strengths as a family mountain – almost all of its lifts funnel back to a single, tight-ish base area. That's going to require some creative thinking for the move-skiers-from-their-cars-to-the-lifts portion of the day. Had this oddness hit in a couple of years, post West Mountain expansion and its new and reoriented parking lots, it would be a far easier puzzle to solve. Once skiers are on the hill, however, Sugarloaf has several upper- and mid-mountain lifts that can help keep them spread out throughout the day. End of day may be another problem here.
Sunday River, while busier, also has some built-in operational advantages in a crowd-control scenario. First, it has multiple base areas. It's easy to envision a pre-ski registration system in which you select not only a day and time of arrival, but also a parking lot, so your day starts at White Cap or South Ridge or Barker. Since Boyne owns all the land that Sunday River sits on, they may also be able to set up some temporary lots on the Jordan end of the resort – though this being New England, extensive permitting would still likely be required to do even something so simple as that, and the mountain is not likely looking to undertake any capital-intensive projects any time soon.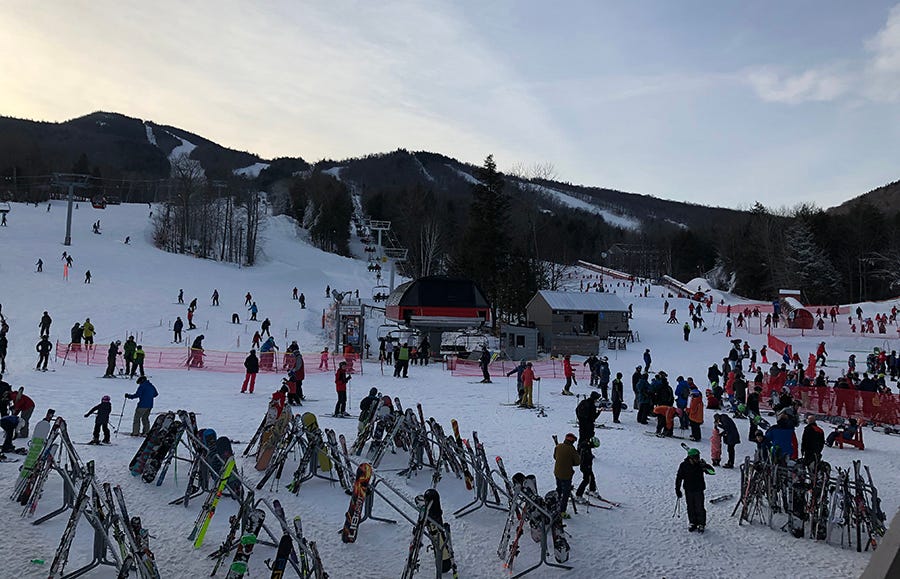 How to manage crowds such as this one bunched at the bottom of Sunday River at the end of a busy day will likely be a huge consideration for Boyne in the run-up to the 2020-21 ski season.
Sunday River also has several interconnected but distinct pods that naturally spread skiers out. Each of its eight peaks is like its own ski area, which, outside of the Barker-North Peak congestion zone, helps keep lift lines under control on most days. The big question with Sunday River then becomes what percentage of the sprawling mountain Boyne will commit to running in a reduced-capacity scenario, particularly if social distancing regulations gut expected revenue from food and beverage, ski school, and other high-profit, high-density moneymakers. Could they mothball the whole Jordan end of the resort? Or run a skeletal lift system to open most but not all peaks? You have to imagine they are considering all scenarios.
Loon is probably the trickiest puzzle to solve here. Sunday River and Sugarloaf are lucky in that neither has a substantial number of enclosed lifts. The Sunday River chondola is the only exception, and that lift could still function effectively even if you parked the gondola cars for the season. But Loon's base areas are often congested right now. Lines at the four-passenger gondola already stretch down the building into a winding queue, and that lift could be out of commission entirely depending on how stringent government-mandated social distancing guidelines are (though New Hampshire, of all the New England states, is likely to take the least restrictive approach to this, Boyne would perhaps want a somewhat unified policy across its system for liability reasons). That leaves two routes to the top of Loon Peak, both requiring two lifts: the Kanc quad or the Seven Brothers Triple to the East Basin Double. That's a hell of a mid-mountain pinch point. That Boyne had to stow the fireworks for the East's first eight-passenger chairlift when it became unclear whether they would be able to finish the work this offseason now seems like a good thing: the bubble would have been a liability, and in a social distancing scenario, they likely would not have been loading any more unrelated skiers onto an eight-person lift than they will be onto the existing Kanc quad.
Loon does of course have additional parking at South Peak, at the base of a nice distinct pod served by a high-speed quad. Whether the mountain could still justify running the Tote Road Quad between the two peaks in a winter of severely reduced volume is hard to predict, but if not, that would substantially impact the experience of skiing at what already feels like a fairly small mountain (in comparison to the Maine resorts).
"These changes [whatever they are] will likely impact the number of season passes available," Boyne says in the abovementioned Q&A. So get ready to expect pretty much anything other than "roll into the parking lot whenever you feel like it and walk straight to the lift."
The New England Pass is the exception proving the rule in the evolving Northeast pass price wars
I wrote yesterday that Northeast ski areas were learning the wrong lessons from the Covid fallout, which, arriving as it did more or less in tandem with Vail's Northeast-specific Epic Passes, masked the very real impact of discounted, broad-access passes on the suddenly antiquated model of the expensive single-mountain season pass. I have been hammering this point since before the Covid bomb dropped, but my essential argument is that your $900 single-mountain season pass that sold like bottled water before a hurricane in 2014 is now going to sit on the shelf like a G.I. Joe Crystal Ball action figure from 1987.
As of March 3, when Vail dropped the Northeast Epic Pass for an astonishing $599 (it is now even cheaper with renewal discounts), that became the new cap that a single-mountain pass could realistically be priced at – and the price probably needs to be 20 to 30 percent below that. That pass, after all, gives unlimited access at four New Hampshire ski areas and holiday blacked-out access to Okemo and Mount Snow, plus 10 non-holiday days at Stowe. Skiers can step up to an Epic Local Pass for just $130 more and erase the blackouts at Mount Snow and Okemo, get almost-unlimited access at Stowe, and add access to Vail's entire western portfolio. $729 for all that. In such a world, Bromley's $925 asking price for a no-blackout pass looks like pure wishful thinking. And it is. In order for any Northeast season pass to be priced higher than $729 – or $979 if you absolutely must have unlimited access to Stowe on the full Epic – your pass has to be super duper special.
Only a select few Northeast mountains can make any version of the super duper special argument. In order to do that, they need, as I outlined yesterday, some combination of an impossible-to-reproduce atmosphere, a commitment to a long season, access to multiple mountains, and exceptional terrain – and preferably a combination of all four. Between the three mountains, Boyne has all four.
The Sugarloafer culture that has grown out of that wild and remote mountain is as much a part of the experience as the terrain itself. This phenomenon of core-to-the-mountain skiers is less pronounced at Sunday River, but it exists. Between Sunday River's October openings and Sugarloaf's May closings, the combined season is about as long as could reasonably be expected. And the top-tier New England Pass not only includes unlimited access to all three mountains and three days at each of Boyne's six mountains outside of the region, but a $699 MSRP Ikon Base Pass, which tacks on season passes to Stratton, Sugarbush, and Tremblant, plus days at Killington and western access (passholders also receive 50 percent off Mountain Collective resorts, but many of those already have days included on the Ikon Base Pass). Two of the three core mountains on the pass are among the largest and most well-balanced in the Northeast, and Sugarloaf, thanks to a terrain matrix that includes the Snowfields and Wild West untamed Brackett Basin and Burnt Mountain, has arguably the best terrain in the Northeast. For that, you can charge the equivalent of an average U.S. monthly mortgage for a ski pass, and substantially more (50 percent more), than the top-tier Epic and Ikon passes.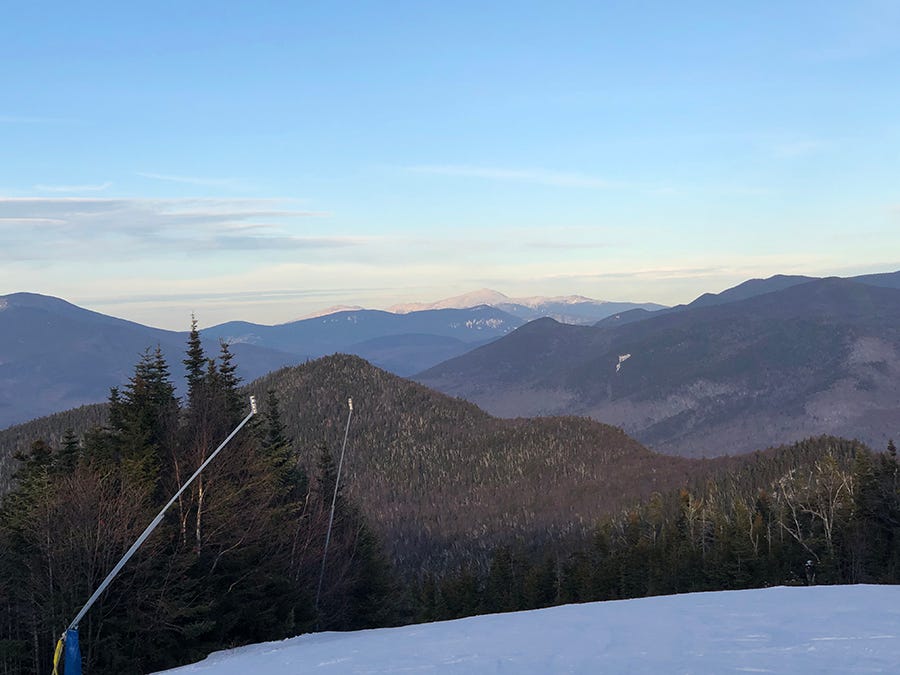 A view from the top of Loon's North Peak, with Mt. Washington in the distance.
Some fine print re: the rollover and the Ikon Pass add-on
Boyne is giving skiers until Dec. 10 to opt-out of the season and push the value of their 2019-20 pass to the 2021-22 season. There are no refunds. This date mirrors Alterra's deadline for pushing Ikon Passes to the next season. However: you cannot have used the pass prior to that date to request a rollover. If you purchase the Ikon-included Platinum New England Pass, you also cannot have used the Ikon Pass (or any other pass benefit) before requesting the credit. And the rollover of a Platinum Pass does not include a rollover of the included Ikon Base Pass necessarily. I wouldn't worry too much about that clause, as it is unlikely Boyne will decouple the Ikon Base Pass from the Platinum New England Pass anytime soon, due to everything outlined above about passes needing to justify their extreme prices with substantial access, but be aware of it.
This should just about do it
With this announcement, the number of skier visits represented by mountains that have committed to deferral or refund policies on 2020-21 season passes in the Northeast has reached critical mass. The complete list is: Vail/Epic Pass (Stowe, Okemo, Mount Snow, Wildcat, Attitash, Crotched, Mount Sunapee, Hunter, Roundtop, Whitetail, Liberty, Jack Frost, Big Boulder); Alterra/Ikon Pass (Stratton, Sugarbush); Pats Peak, Windham, Mount Peter, Plattekill, Blue Mountain, Jay Peak, Burke (confirmed today by GM Kevin Mack), Magic, Bolton Valley, Killington-Pico, Smugglers' Notch, Lost Valley, Elk, Spring Mountain, and Yawgoo.
That still leaves some notable holdouts: ORDA 3 (Whiteface, Gore, Belleayre), Greek Peak-Toggenburg, Holiday Valley, Bristol, Mad River Glen, Burke, Fairbanks Group (Bromley, Jiminy Peak, Cranmore), Wachusett, Berkshire East/Catamount, Waterville Valley, Cannon, Bretton Woods, Gunstock, Black N.H., Ragged, Shawnee Peak, Mt. Abram, Saddleback, Camelback, and Seven Springs-Hidden Valley-Laurel.
I've traded emails with a few in-the-know folks at some of the holdouts and have been told confidentially that they are working on policies, so this list will shrink soon. Some will inevitably hold out, but most will articulate something that makes skiers feel a bit more comfortable with their investment.
---
COVID-19 & Skiing Podcasts: Author and Industry Veteran Chris Diamond | Boyne Resorts CEO Stephen Kircher | Magic Mountain President Geoff Hatheway | NSAA CEO Kelly Pawlak| Berkshire East/Catamount Owner & Goggles for Docs founder Jon Schaefer | Shaggy's Copper Country Skis Cofounder Jeff Thompson | Doppelmayr USA President Katharina Schmitz | Mt. Baldy GM Robby Ellingson| Alterra CEO Rusty Gregory|
The Storm Skiing Podcasts: Killington & Pico GM Mike Solimano | Plattekill owners Danielle and Laszlo Vajtay | New England Lost Ski Areas Project Founder Jeremy Davis | Magic Mountain President Geoff Hatheway | Lift Blog Founder Peter Landsman | Boyne Resorts CEO Stephen Kircher | Burke Mountain GM Kevin Mack | Liftopia CEO Evan Reece | Berkshire East & Catamount Owner & GM Jon Schaefer| Vermont Ski + Ride and Vermont Sports Co-Publisher & Editor Lisa Lynn| Sugarbush President & COO Win Smith| Loon President & GM Jay Scambio| Sunday River President & GM Dana Bullen| Big Snow & Mountain Creek VP of Sales & Marketing Hugh Reynolds |