Discover more from The Storm Skiing Journal and Podcast
Everyone's searching for skiing's soul. I'm trying to find its brains.
Over 11,000 subscribers
Arapahoe Basin and the Less-Is-More Far Future of Megapass Skiing in the East
How ditching the Epic Pass made everyone friends again
Overcorrection, corrected
When the yeah-we-still-care-about-antitrust Justice Department ruled in 1997 that Vail Resorts couldn't own Keystone and Breckenridge and Arapahoe Basin in addition to its namesake mountain and Beaver Creek, the then-burgeoning resort operator agreed to sell off the smallest and least busy of them to get its acquisition of the Summit County trio from Ralston-Purina done.
"Without selling off the Arapahoe Basin resort, this deal would have resulted in fewer and smaller discounts on lift tickets," Acting Assistant U.S. Attorney General Joel Klein said at the time.
He sure showed them. While Vail LOL'd all the way to its current $9,000-a-day or whatever lift tickets, it also proceeded to team up with A-Basin for the next two decades on various passes, eventually folding the top-of-the-world independent in as an unlimited partner when the Epic Pass launched in 2008.
Like the dude who grew up next door to the top NBA draft pick, A-Basin was happy to ride along. Until it wasn't. Revenue from the partnership was largely behind the ski area's $40 million capital investments, including a huge terrain expansion, over the past decade. But the place was overwhelmed. Most versions of the Epic Pass granted unlimited access to A-Basin, and the mountain – which has limited parking and services and sits at the craggy base of the Continental Divide without much room to expand - began to feel like this:
Last February, with season pass announcements looming, the mountain unceremoniously ended its Epic Pass partnership, citing all of the reasons above. A few months later, they announced more limited partnerships with the Ikon Pass and Mountain Collective, granting those passholders seven, five, or two days at the mountain, depending upon which pass they bought. A standalone A-Basin season pass, which includes three days at Taos and nearby Monarch, is now $449 (cheaper if you're renewing). The goal was to reduce crowding while establishing new, reliable revenue streams.
It worked. Skier visits plunged 39 percent year-over-year through the end of January, and 35 percent through the end of February. Combined Ikon and Mountain Collective redemptions are 69 percent below Epic Pass redemptions at the same time last season.
In a victory for more-is-not-always-more rationality, A-Basin couldn't be happier.
"By every measure, we have improved the guest experience," COO Alan Henceroth wrote in a blog post last week. "Both face-to-face interaction and survey data tell us that people clearly are having a better time this season."
As I wrote on Monday, we are at the very beginning of the season pass wars maturity curve here in the Northeast. In a region with a lot of skiers and a lot of ski areas that have for decades relied on ever-more-expensive season passes as a basic business model, many people are getting access to affordable multi-mountain passes for the first time. The $599 Epic Northeast Value Pass, in particular, is a jaw-dropping good deal compared to the $1,500-plus single-mountain season passes of just four or five seasons ago.
Hell, it's a good deal compared to just about anything, especially with many independent mountains in the region caught in the tarpits of 2015 pricing. While they haven't released pass pricing for the 2020-21 season yet, Windham's $1,499 adult season pass for 2019-20, which offers no reciprocal ticket benefits at any other mountains, is absurd, especially for a mountain that is often the first in the Catskills to close. Windham's price is the most outrageous, but there are plenty of other examples of small Northeast mountains charging far more than can be justified in the Epic/Ikon era.
All of which has the potential to create a gigantic, A-Basin-sized mess for the next few seasons as we sort this whole thing out as a region. How many skiers in, say, New Hampshire, are going to opt for a $519 Pats Peak season pass with no reciprocal free tickets at any partner resorts over a $599 Epic Northeast Pass that gets them unlimited access to Crotched, Sunapee, Attitash, and Wildcat, plus season passes with a few blackouts at Okemo and Mount Snow and 10 days at Stowe?
Probably not many. The crowds could get amazing at former ghost towns like Wildcat. At that point, the skiers who didn't discover White Mountain skiing when Vail told them about it may be looking for an alternative – but not a single-mountain expensive pass kind of alternative.
Most of these independents will not be so fortunate as Arapahoe Basin, which by dint of a unique location and history got to play with and profit from partnerships with far larger mountains for a couple of decades. They won't, in other words, have the luxury of leaving. But the East Coast indies can learn from A-Basin's hard-earned example – there is a core base of frequent skiers who will pivot from bargain megapasses focused on megaresorts if you provide a value alternative with at least some multi-resort access and a toned-down, ski-focused experience.
Colorado ski areas in general and A-Basin in particular have had two decades of mistakes and experiments with different pass models to learn from - it may be a good time to learn by example rather than experience, so we can bypass the worst of the growing pains as the pass wars arrive in the Northeast in force.
Tremblant follows expansion with another expansion as the Alterra cash machine continues to flow
Nobody has much insight into Alterra's financial picture, but they are apparently doing well enough to pump $223 million into their 15 mountains next season, after committing $181 million for 2019-20.
Highlights include a big terrain expansion off of Steamboat's exquisite Pony Express chair, lift upgrades at Mammoth, and snowmaking upgrades at Winter Park.
From an East Coast point of view, the only item of immediate interest is a terrain expansion at Tremblant that will include a new beginner area next season and a high-speed quad with eight new trails leading to Versant Soleil and the North Side. This follows the addition of five glades and a chairlift upgrade from a fixed-grip triple to a high-speed quad last season.
I can only guess that Alterra is still assessing the long-term needs at recently acquired Sugarbush, and Stratton just replaced a fixed-grip quad with a high-speed model in Snow Bowl this season and is overall in terrific shape. The other Ikon Pass mountains in the region are owned by Boyne or Powdr, each of which has committed to significant investments in their respective resorts over the coming year.
The watered-down Ikon Pass for some reason still exists
Sugarloaf joined Sugarbush as just the second Northeast mountain on the Mountain Collective Pass yesterday. Panorama (British Columbia), Grand Targhee, and Chamonix (France) also joined the pass. Passholders get two days at each of 22 destinations for $469, and half off window rates after that.
I don't talk about this pass much, mostly because I don't see the point of it. Almost all of its U.S. and Canadian mountains are on the Ikon Pass, which offers far more days (five, for the base pass), at not that much more money - $230 in the case of the Ikon Base. Even half off U.S. window ticket rates – which push or exceed $200 at most of the partner mountains – is no great deal, and it only takes a couple days of this window gouging to add up to or surpass what a skier would have paid for an Ikon Pass.
The mountains outside of North America don't act as any kind of incentive either, as lift tickets are generally not expensive in other regions. A two-day lift ticket at Chamonix, for example, is currently around $120 U.S. The deciding factor in making that trip is access to reasonable airfare, ground transportation, and accomodations – the lift tickets are the least of it. And after traveling all that distance, two days is hardly sufficient. The five/seven day Ikon schedule syncs far better with the length of a typical destination ski trip.
I'm amazed this pass still exists, to be honest. I thought it would wilt and die in the monster Ikon-shaped shadow that's been stealing its sunlight for the past two years. But here it is, not only surviving, but expanding. Some folks are clearly seeing the value here – if you are one of them, please tell me what it is.
Elsewhere
New England Ski Journal with a ton of good reads: a profile of the Northeast-based brothers behind Kulkea; an ode to spring skiing; a Q&A with Mount Sunapee GM Tracy Bartels, who discusses the West Bowl expansion and replacing the North Peak triple, among other things; a look at the upcoming (snow) Corn Festival at Black Mountain, New Hampshire; and a New England Ski Journal TV profile of North Conway and Cranmore:
Ski profiles Cannon. Powder with a terrific write-up of the glades being cut by volunteer associations on public lands in New Hampshire. New York Ski Blog on why out-of-the-way Snow Ridge, New York isn't a bad choice for a pow day. The crew also revisited neighboring McCauley, following our surreal day there in January. Ice Coast Magazine visits Big Snow American Dream (The Storm Skiing Podcast last week featured a Big Snow/Mountain Creek executive). Wintry Mix Podcast at the Sugarbush climate panel.
A mechanical issue with their double chair forces Whaleback to close for the season. Gunstock is under scrutiny from the U.S. Labor Department over 14- and 15-year-old ski instructors. You can sign this petition to get New York's ORDA – which manages Belleayre, Gore, and Whiteface – to take over currently defunct Big Tupper ski area. Why the Shaefers are killing it at Catamount. Wall Street doesn't like Vail's latest earnings report.
Vermont Ski + Ride with a gripping account of the search and rescue operation of the two brothers who got lost in the backcountry between Stowe and Smugglers' Notch:
At 6:30 p.m. a 911 call came in from one of the brothers.

Stowe Search and Rescue responded, driving up the Route 108, Notch Road, and located the skiers at around 8:30 pm. Alexander was in contact with them by phone, stranded at the top of a 220-foot cliff.

They found Andrew's body near the base of the cliff.

According to a release by Vermont State Police, the brothers traveled an estimated 1.5 to 2 miles from Sensation Quad lift at Spruce Peak through the woods before coming to the top an ice climbing route known as Doug's Route, located across the Notch from the Hellbrook Trail.  It appears that Andrew lost his footing while trying to look over the edge of the approximately 220-foot cliff and fell.

"This was one of the most difficult rescue operations I've experienced," said Van Dyke. "Stowe Mountain Rescue started to go up to one of the cliff bands where Andrew had fallen but made the decision early on that it was too risky," Van Dyke said.

In the growing darkness Van Dyke put in a call to the Army Mountain Warfare School, the national mountain warfare training arm for the U.S. Army, which is based at Camp Ethan Allen in Jericho, Vermont and trains regularly in the cliff bands and rugged terrain of Smuggler's Notch. Temperatures dropped below 20 degrees in Stowe at 6 pm and continued dropping down to around 12 degrees.
This week in skiing
Sunday, March 1 – Mountain Creek
Caught first chair up the South Peak Express and made fast jumpy laps while the Jersey crowds were still brewing their coffee. It was the kind of day where I didn't have long to ski and so I made eight laps and headed back to Brooklyn, but what could not have otherwise been a ski day was one and that is the point of Mountain Creek for me.
Tuesday, March 3 – Stowe
Stowe brought in March with a 41-inch snow freight train barreling off Lake Champlain and plastering the mountain. This was melting off fast by the time I pulled into the parking lot last Tuesday morning, a bluebird rapidly warming day of monster soft bumps and sticky-near-the-base runouts. I skied the Front Four first and then mixed the lines up a bit and snagged all the blacks off the Fourrunner Quad and bounced around a bit over to Spruce and up the gondy. The base was good in the trees but the pow was manky and not easy to ski, and so I just rode the massive bump lines all day.
Wednesday and Thursday, March 4 and 5 – Sugarloaf
I've never in all my years skiing gotten totally skunked but it happened last Wednesday at Sugarloaf, 100-mile-an-hour winds freezing the place solid. I watched the Super Quad chairs swing mournfully empty from my hotel room window. There was nothing the mountain could do, and so I just wrote a little and wandered around the village and had a bunch of beers at lunch and took a nap and hell it wasn't the worst way to spend a day. By the time the mountain cracked open in the bluebird dawn of Thursday morning it had been groomed out and made skiable after a refreeze bound Tuesday's slushy nirvana into concrete. By late morning the mountain had loosened under the sunshine and I skied fast arcing runs from the top of Super Quad and Skyline. Timberline was closed so I did not ski anything off the true summit, but Brackett Basin was open and so I dodged in there and survival skied down that still-frozen but spectacular hunk of terrain.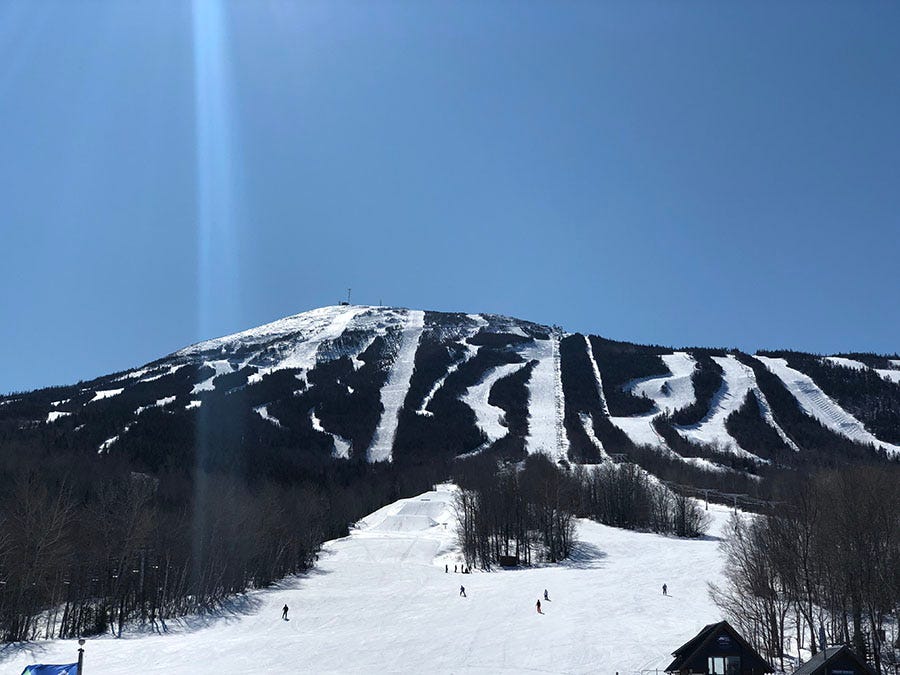 Sunday, March 8 – Mountain Creek
Daylight Savings Spring Forward day is a great day to ski because everyone acts as though we've just been collectively transported to the surface of Mars and are being forced to adapt to this inhospitable semblance of life, but hell it's just an hour time change and if you get up early, you'll have the mountain to yourself. The snow was freshly groomed and fast and South Peak was empty and I skied faster than usual down the empty open trails, tucking long down Gorge Run which I rarely ski over and over again. Man Creek has done a hell of a job this year with almost no natural snow at all, but the coverage is thin as notebook paper in some places, and unless they get some kind of miracle storm or cold snap, they may have to call it a season soon. I hope not, but I'm prepared for it if it does happen.
---
The Storm Skiing Podcast is on iTunes, Google Podcasts, Stitcher, TuneIn, and Pocket Casts. The Storm Skiing Journal publishes podcasts and other editorial content throughout the ski season. To receive new posts as soon as they are published, sign up for The Storm Skiing Journal Newsletter at skiing.substack.com. Follow The Storm Skiing Journal on Facebook and Twitter.
Previous podcasts: Killington & Pico GM Mike Solimano | Plattekill owners Danielle and Laszlo Vajtay | New England Lost Ski Areas Project Founder Jeremy Davis | Magic Mountain President Geoff Hatheway | Lift Blog Founder Peter Landsman | Boyne Resorts CEO Stephen Kircher | Burke Mountain GM Kevin Mack | Liftopia CEO Evan Reece | Berkshire East & Catamount Owner & GM Jon Schaefer| Vermont Ski + Ride and Vermont Sports Co-Publisher & Editor Lisa Lynn| Sugarbush President & COO Win Smith| Loon President & GM Jay Scambio| Sunday River President & GM Dana Bullen| Big Snow & Mountain Creek VP of Sales & Marketing Hugh Reynolds |