Discover more from The Storm Skiing Journal and Podcast
Everyone's searching for skiing's soul. I'm trying to find its brains.
Over 13,000 subscribers
Alterra Extends Ikon Pass Deferral Date to April 11, Introduces Covid-19 Shutdown Protections
Skiers will be able to choose a home mountain for shutdown protections
Skiers will have until April 11 to defer the value of an unused 2020-21 Ikon Pass to the 2021-22 season and will be protected from Covid-19 shutdowns under an updated pass plan that Alterra released this afternoon.
The updates are fairly straightforward. There is a lot of fine print. It's not as complicated as Vail's Epic Pass plan, but in some ways not as complete either. Here's what you need to know and how Alterra's Ikon Pass updates compare to the Epic Pass plans:
New April 11 deferral deadline effectively eliminates the financial risk of buying an Ikon Pass
Alterra initially gave skiers until Dec. 10 to opt out of the 2020-21 season and push the full value of their pass to 2021-22. Considering how weird next ski season may get, that was a big ask. Resort skiing, particularly on weekends, can already be logistically complicated, stressful, expensive, and frustrating. Add in social distancing mandates, reduced services, and guests split into political factions that dictate how willing they are to play along with all of this, and you might decide it's more fun to stay home and winterize your lawnmower.
Dec. 10 is awfully early in the season to make that call. The new date gives skiers plenty of time to peak their heads around the corner and decide if they want to join the party. I'm personally more in favor of a Waterville Valley-style plan, which allows season passholders to ski one day and then say, "no thanks." Once you use your Ikon Pass, you forfeit any voluntary claim to a 2021-22 pass credit, though you are still eligible for credits related to a Covid-19 shutdown (see below).
But if you don't your Ikon Pass at all – for any reason – you can defer the full value of the pass (meaning, what you paid for it) to a 2020-21 pass by April 11. Note that you have to proactively do this. If you just don't use your pass and forget about it and never request a deferral, you're SOL.
Note here to Tahoe Ski Bro social media protesting that "there's still months left in the season on April 11!!!": We get it, Bro. You ski 900 days a year and this is your way of letting everyone know that. Put it away. Your Ikon Pass is about half the price of the $1,500 non-refundable Squaw-only pass of a decade ago, so I think you're good.
Vail, for its part, does not offer any voluntary deferral options. Epic Pass credits are entirely based upon qualifying resort closures and personal events like injury.
Shutdown protections are limited to Covid-19 events
When Vail released its Epic Pass updates at the end of April, it rolled crazy-event shutdown coverage into its traditional I-broke-my-leg insurance plan, included an expansive definition of a shutdown to include almost anything outside of bad weather, and dropped the upcharge altogether.
Alterra is limiting credits to shutdowns caused specifically by Covid-19, and is keeping such events separate from its pass insurance plan, which still carries a modest cost. Shutdown-related coverage, bucketed under "Adventure Assurance" along with the deferral option, is free.
"But Brah does it cover, like, a shutdown for an alien invasion?"
"Oh, I didn't see you there, Scatterbrained Ski Bro. No, shutdowns due to alien invasion are not covered by Alterra's Adventure Assurance™."
"Bummer Dude. What about if a mad scientist steals my cat and makes 10 million clones of it and there's so many cats that they can't run the lifts because they're covered with cats?"
"No, Alterra's Adventure Assurance™ only covers shutdowns directly related to Covid-19, and does not offer skiers discounts or credits for rampant feline clone armies spun out of a mad scientist's lab."
"Yeah, OK, but what if we run out of Pop-Tarts?"
"I don't understand what that has to do with the Ikon Pass and Alterra's Adventure Assurance™, Scatterbrained Ski Bro."
"I know Man, but it would really suck."
Yes, I agree.
What doesn't suck is that Alterra is addressing the possibilities of further shutdowns, which was the biggest gap in its revision of its revision of its 2020-21 Ikon Pass offerings.
I think Vail made the better move though in allowing for more general circumstances behind a closure – they name disease, war, terrorism, and natural disaster as possible triggers for a pass credit. I get the desire to limit your liability here, but how often do mountains actually close down for any reason, historically speaking? Limiting closure specifically to Covid-19 may end up causing more problems for you than it solves. Like what if the mountain closes down for some Covid-20 that spirals out of the ether? We all know Alterra's going to cover this, but they may point to the policy and say, "only Covid-19" for like five days before the tomato storm overwhelms them. And what if war breaks out between Colorado and Utah? And what about those aliens, Man? Just loosening this up a bit may save some frustration down the line.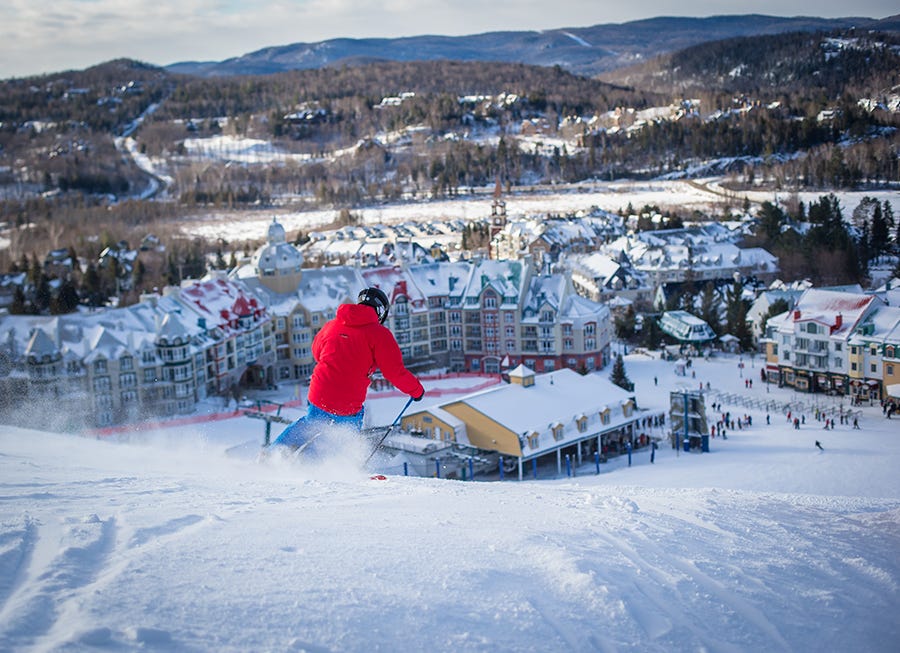 Mont Tremblant - photo courtesy of Alterra Mountain Company.
Skiers can designate home mountains or choose all mountains to determine pass protections
Alterra is setting the 123-day period between Dec. 10 and April 11 as the Covid-19 shutdown protection period (Vail's "core season" is Nov. 26 to April 4, or 130 days). Whether a shutdown would make a skier eligible for a credit would depend upon whether they chose to apply the protection to "All Destinations" or "One Eligible Destination." It's worth looking at each instance separately:
"All Destinations" is defined as everything on the Ikon Pass, other than CMH heliskiing and something called "Summer Adventures." If any mountain is closed for one full day specifically due to Covid-19, that triggers a proportional credit for a 2021-22 pass. These credits are likely to be extremely modest. From their website:
The actual credit a pass holder will receive for their used 20/21 Ikon Pass will be calculated based on the number of days any North American Ikon Pass destinations are closed due to COVID-19 during that 123 day period (between December 10, 2020 and April 11, 2021) divided by the total number of possible days at all North American Ikon Pass destinations during that 123 day period (between December 10, 2020 and April 11, 2021).
So if only Sugarbush is closed, but the other 42 Ikon destinations are open, my interpretation of this policy is that passholders would receive a credit based upon your pass price divided by 123 (defined days in the season), divided by 42 (the number of "possible ski days" on the Ikon Pass that day less Sugarbush). So say you buy an Ikon Base Pass with a renewal discount for $599 – run through the above formula, that yields a credit of 12 cents to compensate you for that one-day closure. But if we were to see a repeat of the 2019-20 shutdown of just about every Ikon destination (Revelstoke stayed open for several days after, and others may have as well) on March 14, that would add up to a 28-day shutdown, or a credit of approximately $136, which is just a touch more than the $100 renewal credit Alterra is offering now.
The "one eligible destination" choice is limited to the mountains that are unlimited on the full Ikon Pass, which includes 13 of Alterra's 14 mountains plus Powdr-owned Copper and Eldora. Deer Valley – which is not an eligible destination – and other Alterra-owned mountains with their own passes have separate assurance programs, which I'm not going to parse. If a skier designates one home mountain, then a Covid-19 closure would have to stretch for seven consecutive full days or 21 full days between Dec. 10 and April 11. The credit would then equal a percentage of days lost out of 123. So if Stratton is your home mountain and it closes for 30 days and you purchased a full Ikon Pass for $799, you would receive a credit of approximately $195 ($799 divided by 123 multiplied by 30).
You may as well read Alterra's full overview here. Vail also allows skiers to choose between "all mountains" and one specific home mountain, although "all mountains" in their case actually only means a select group of headline destinations, and they all must be closed to activate a credit. You can read all about it here, and my dumbed-down version here.
Alterra may not be done tooling around with this thing yet
Buried at the bottom of Ikon's Adventure Assurance program overview page, which describes everything I say above in a way that was written by someone who went to law school, is a note to "Stay tuned to this page in the coming weeks for more information on the Adventure Assurance program." Whether that was left over from the last update or if there are truly more adjustments coming is unclear, but further refinement would not surprise me. This is Alterra's third tweak to its Ikon Pass program since the Covid asteroid nuked our ski season, after dropping larger renewal discounts in April and introducing the Dec. 10 deferral date later that week. They've also pushed the early-bird deadline twice, from April 22 to May 26 to June 16. Vail's deadline is Labor Day, and pushing the early-bird date out is I think the most likely next adjustment from Alterra.
What I don't think we'll see is an attempt to match Vail's enormous renewal credits – up to 80 percent – for skiers who scanned their Epic Passes four or fewer days. That's probably OK for most people. There are certain Ikon Passes are substantially less expensive than Epic Passes, especially kids passes.
But we could see just about anything. As Alterra CEO Rusty Gregory told me on the podcast last month, the company will continue to "strengthen" its offerings. America just added a mass protest movement on top of a pandemic, a noble and inspiring response to a tragedy that could nonetheless complicate our Covid recovery curves in unpredictable ways. The only thing that's certain is that it's a long way to ski season yet, and there is plenty of time to adapt and adjust still to this rapidly changing world.
---
The Storm Skiing Podcast is on iTunes, Google Podcasts, Stitcher, TuneIn, and Pocket Casts. The Storm Skiing Journal publishes podcasts and other editorial content throughout the ski season. To receive new posts as soon as they are published, sign up for The Storm Skiing Journal Newsletter at skiing.substack.com. Follow The Storm Skiing Journal on Facebook and Twitter.
COVID-19 & Skiing Podcasts: Author and Industry Veteran Chris Diamond | Boyne Resorts CEO Stephen Kircher | Magic Mountain President Geoff Hatheway | NSAA CEO Kelly Pawlak | Berkshire East/Catamount Owner & Goggles for Docs founder Jon Schaefer | Shaggy's Copper Country Skis Cofounder Jeff Thompson | Doppelmayr USA President Katharina Schmitz | Mt. Baldy GM Robby Ellingson | Alterra CEO Rusty Gregory |
The Storm Skiing Podcasts: Killington & Pico GM Mike Solimano | Plattekill owners Danielle and Laszlo Vajtay | New England Lost Ski Areas Project Founder Jeremy Davis | Magic Mountain President Geoff Hatheway | Lift Blog Founder Peter Landsman | Boyne Resorts CEO Stephen Kircher | Burke Mountain GM Kevin Mack | Liftopia CEO Evan Reece | Berkshire East & Catamount Owner & GM Jon Schaefer| Vermont Ski + Ride and Vermont Sports Co-Publisher & Editor Lisa Lynn | Sugarbush President & COO Win Smith | Loon President & GM Jay Scambio | Sunday River President & GM Dana Bullen | Big Snow & Mountain Creek VP of Sales & Marketing Hugh Reynolds | Mad River Glen GM Matt Lillard | Indy Pass Founder Doug Fish