Discover more from The Storm Skiing Journal and Podcast
Everyone's searching for skiing's soul. I'm trying to find its brains.
Over 13,000 subscribers
Accepting Liftopia's Revised Debt Calculations, Ski Companies Push Forward With Involuntary Bankruptcy Petition
"Trying to understand what happened to our revenues, which to be clear, were never yours to begin with"
A very brief timeline of Liftopia's yardsale
In late April, an independent ski operator forwarded me a note sent from Liftopia to its partners, outlining mass furloughs at the company and warning of a slowdown in service. Unmentioned in the memo but underscored by this operator was that Liftopia had not paid many of its partners for March sales.
On June 2, Aspen (on behalf of Mountain Collective), Alterra, Arapahoe Basin, and Boyne's Cypress Mountain filed a petition for involuntary Chapter 11 bankruptcy against Liftopia in the Northern District of California U.S. Bankruptcy Court, claiming to be owed more than $3 million.
On June 24, Liftopia answered with a motion to dismiss the case, claiming that the companies had, collectively, overstated the amounts owed by more than $86,000. This disparity, Liftopia said, should be sufficient to dismiss the case.
On July 16, the ski companies answered, filing documents opposing the motion to dismiss and agreeing with the revised debts Liftopia had claimed. In declarations from representatives of all four ski companies, each acknowledged that they had reviewed the data that Liftopia had used to calculate the corrected amounts and agreed that the amended amounts were accurate.
Calculating the debts
The original debts claimed by the four ski companies had been based upon Liftopia's own calculations. In all four cases, Liftopia maintained "sole control of the transactional data" related to ticket sales, and the ski companies relied on Liftopia "to calculate and make accurate monthly payments." None had ever had a "meaningful dispute" with Liftopia prior to this past spring.
An email chain between the opposing parties' lawyers that accompanied the other documents underscored this point. In an email from Joshua D. Morse, counsel for the ski companies, and Liftopia outside counsel Robert Eisenbach, Morse said:
As explained during our call last week, the Petitioning Creditors' [the ski companies] claims were calculated utilizing the financial reporting provided by Liftopia. They have, as you know, no independent source of information to perform such calculations. Thus, the precision of the Petitioning Creditors' claim calculations can only be as accurate and complete as the financial information made available by Liftopia.

Based on [Liftopia CEO Evan] Reece's Declaration, it appears that, as of June 2, 2020, the information made available to the Petitioning Creditors by Liftopia failed to include certain "adjustments" leading to alleged overstatements of approximately $86,000 in the aggregate.
Following that email, Eisenbach forwarded Morse spreadsheets outlining Liftopia's adjustments, which were then distributed to the various ski companies for review. Ultimately, each of the four companies agreed that the revised amounts were accurate, and filed court documents stating as much.
The mystery of the missing money
The four ski companies are trying to force an involuntary bankruptcy to, as one source told me, "use the court process to get their books to understand what they have actually been doing."
An April 20 email chain between Aspen Chief Financial Officer Matt Jones and Liftopia CEO Evan Reece that was filed along with the other documents echoed these concerns, that money Liftopia collected from consumers on behalf of the ski companies could not be accounted for and may have been used for other purposes. The email chain read, in part:
"We are trying to understand how much of Mountain Collective funds, if any, you have held back at this point?" Jones wrote.
"Currently it is about $2 [million]," Reece replied.
"We will need some visibility on when you expect to make these payments, and what the triggers are that allows you to release them," Jones replied. "When can you provide this to us?"
"As I get a clearer picture of our financing, I'll share, but the timeline is imprecise for now," Reece replied, adding that the company's payment processor was withholding some funds out of concern that skiers would demand refunds should the 2020-21 season face disruptions.
"OK but what can you tell me about where you are in the process?" Jones asked.
Reece replied that he was focused on securing financing to repay partners, but noted that, "I anticipate pain for my existing cap table but that partners get paid."
"Are you saying that (to the best of your knowledge) our funds won't be released until some partner (equity or debt) gives you fresh cash?" Jones asked.
"That's my conservative assumption at this point," Reece replied. "There is potential for interim payments sooner."
Jones replied the next day. "OK. So have you spent our money on other things like rent and payroll and therefore it's gone? Or is it stuck in a bank account frozen by your lender? Trying to understand what happened to our revenues, which to be clear, were never yours to begin with."
No follow-up by Reece was included with the email chain. A hearing is set for Aug. 6 in San Francisco.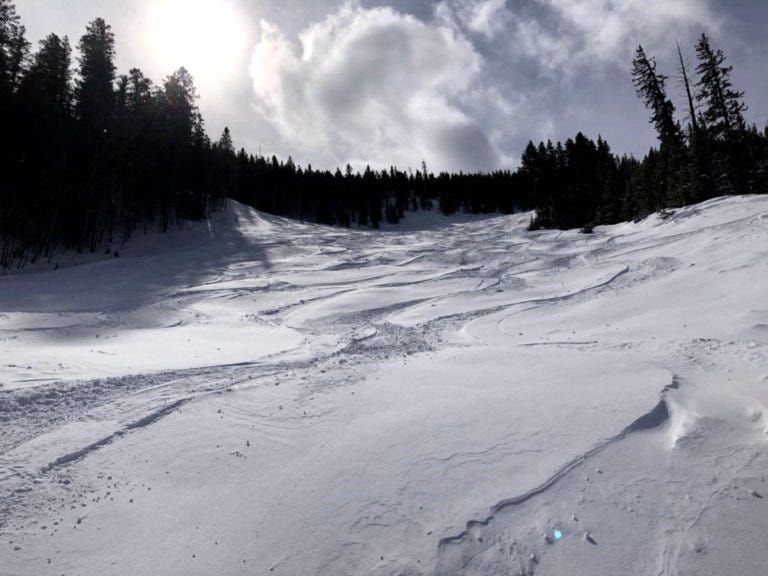 Keystone on a pow day. This pic has nothing to do with anything in this newsletter, and Keystone is not a Liftopia partner, but damn isn't that something to look at right about now?
Welcome to Vermont, Mr. Fancy Pants
Ski season is still a long ways off and it is impossible to predict which direction Covid's wrecking ball will swing in the coming months, but it seems likely that we could witness shifting travel patterns that could reorient where vacationing skiers ski. We are already seeing this in New Zealand, where huge crowds shocked mountain operators who had expected empty slopes with travel from Australia currently prohibited:
The resorts which normally rely on visitors from across the Tasman [Sea between Australia and New Zealand] to supply 30-40 per cent of their business, were "pleasantly surprised" to find daily numbers similar or better than last year.

The interest in a season where New Zealanders would have the slopes to themselves has led to a situation where the Remarkables and Coronet Peak have "more or less replaced every lost Australian skier with a Kiwi".

"We don't have data on where the extra Kiwi skiers are coming from but you can infer that these 30-40 per cent are North Islanders or those who wouldn't normally take a Queenstown ski holiday."
That Kiwis, strongly discouraged from traveling overseas, are exploring options in their own small nation may foretell a similar phenomenon within the United States, where travelers are already vacationing closer to home. With Covid infection rates varying wildly between U.S. regions, many skiers who normally fly to the snowy West may opt to ski locally this coming winter. From New York Magazine:
All that said, to the extent resorts are open, it is possible to conceive of what a responsible ski trip during COVID-19 would look like: going to a resort that doesn't require a trip on an airplane. Driving to the mountain in your own car, or staying walking distance from the lifts. Riding chairlifts together with a small, consistent group, such as your family. Keeping your face covered with your neck warmer or balaclava when in close contact with people outside your party. Eating outdoors, or at your own condo. In fact, quite a lot of people's ski trips were already more or less like this before the pandemic — not everybody is looking to play mouth beer pong on their ski vacations — and since ski resorts will likely need to operate at significantly reduced capacity in order to maintain social distancing, it's for the best that resorts primarily be serving people who live within driving distance.
This is strictly anecdotal, but I travel out west every year with a New York City-based ski club. Based on my conversations with club members over the years, I estimate that 90 percent of them ski exclusively out West, and those who do ski the Northeast mostly do so only rarely. Most of them outright dismiss the region as entirely unworthy of skiing. However, if the Northeast continues to lead the nation in Covid containment, Vermont and New Hampshire may end up looking like palatable alternatives to Colorado and Utah. Some skiing is always better than no skiing.
While the club has yet to release its 2020-21 trip schedule, I would not be shocked to see provide-your-own-transportation trips to Stowe and Sugarbush and Sugarloaf and Killington replace the normal roster of Western fantasyland destinations like Whistler and Jackson Hole and Telluride.  
All of which is a long way of saying that the Northeast could conceivably be managing a whole lot more skier visits than the already-crowded region is accustomed to. While that could be both a short- and long-term win, as increased visits help offset last year's losses and pleasantly surprised cityfolk question why they're dropping 20 grand on an annual family trip to Vail when they can ski Stowe for a week at a quarter the price, it could also be one hell of a mess if social-distancing mandates considerably reduce capacity, causing a Thredbo, Australia-style run on lift tickets that leaves a lot of season pass holders unable to ski.
Elsewhere:
Ariel Quiros, the accused evil genius behind the investor fraud scheme that sent Jay Peak and Burke into receivership, will plead guilty. Also, this tidbit from receiver Michael Goldberg in his request for additional fees and expenses, which now top $8 million:
In the filing, Goldberg said the coronavirus is affecting other matters related to the receivership, delaying the sale of Jay Peak resort and continuing to keep the sale of Burke Mountain on hold as he seeks to use the proceeds from those eventual transactions to pay back defrauded investors.
Mid-mountain lodge and beginner chair construction is on schedule at Whiteface.
I haven't watched it yet, but this Warren Miller documentary is getting some good buzz:
This week in not skiing:
As I wrote last week there are no tourists in New York right now, and that has changed the character of the city in remarkable ways. On Friday after a half day of work I set off on my bike for Manhattan and rode far up the west side, past the George Washington Bridge and bouncing off the tippy top of the island and riding down the east side to the once-abandoned-now-restored-pedestrian-only High Bridge, a remarkable structure connecting The Bronx and Manhattan that I have been meaning to get to since it reopened in 2015. So busy has my life forever been though and so focused was I always on leaving New York for some manic adventure elsewhere that I have often failed to properly explore my own city. With no visitors in the city I have become one, at last rolling, slowly, across the expanse of the High Bridge and marveling both that it exists at all and that it sat crumbling for so many decades before its resurrection.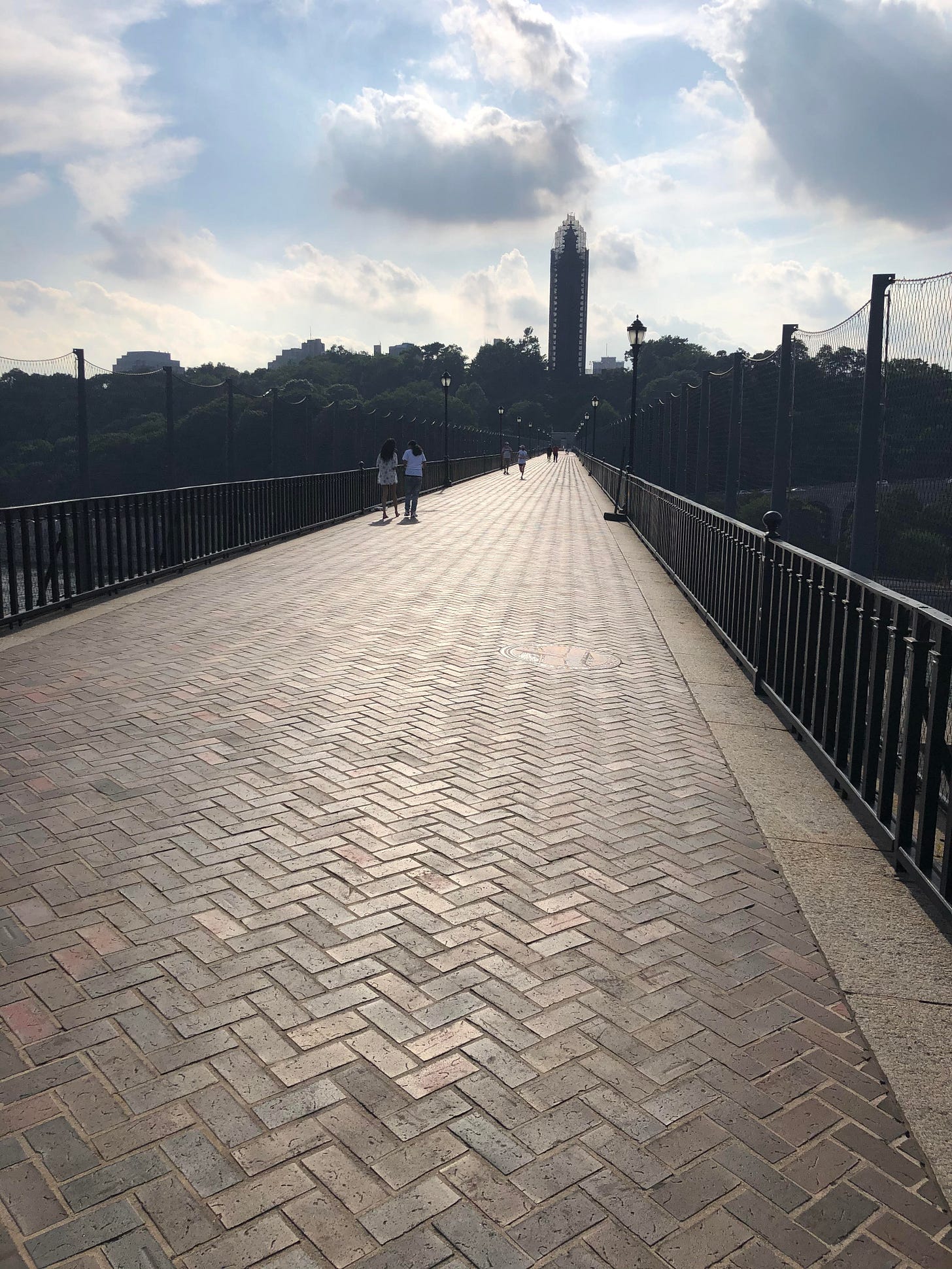 The High Bridge, facing Manhattan
Also last week I received official word, long expected, that my beloved University of Michigan Wolverines will offer no season football tickets this year, voiding my automatic access to their 115,000-person stadium. This is, I believe, one more incremental step toward the inevitable cancellation of college football altogether, an absence that deeply pains me, as these autumn gatherings have long acted as my primary connection to the state I grew up in and the people I grew up around, with long raucous tailgates starting in the freezing predawn and barreling on through the drunken afternoon. With the absence of this and so many other things I may as well commit to more thoroughly exploring the complex and enormous city that rises all around me, something that I can maybe make sense of in a bewildering and unpredictable world.
The Storm Skiing Podcast is on iTunes, Google Podcasts, Stitcher, TuneIn, and Pocket Casts. The Storm Skiing Journal publishes podcasts and other editorial content throughout the ski season. To receive new posts as soon as they are published, sign up for The Storm Skiing Journal Newsletter at skiing.substack.com. Follow The Storm Skiing Journal on Facebook and Twitter.
COVID-19 & Skiing Podcasts: Author and Industry Veteran Chris Diamond | Boyne Resorts CEO Stephen Kircher | Magic Mountain President Geoff Hatheway | NSAA CEO Kelly Pawlak | Berkshire East/Catamount Owner & Goggles for Docs founder Jon Schaefer | Shaggy's Copper Country Skis Cofounder Jeff Thompson | Doppelmayr USA President Katharina Schmitz | Mt. Baldy GM Robby Ellingson | Alterra CEO Rusty Gregory | NSAA Director of Risk & Regulatory Affairs Dave Byrd
The Storm Skiing Podcasts: Killington & Pico GM Mike Solimano | Plattekill owners Danielle and Laszlo Vajtay | New England Lost Ski Areas Project Founder Jeremy Davis | Magic Mountain President Geoff Hatheway | Lift Blog Founder Peter Landsman | Boyne Resorts CEO Stephen Kircher | Burke Mountain GM Kevin Mack | Liftopia CEO Evan Reece | Berkshire East & Catamount Owner & GM Jon Schaefer | Vermont Ski + Ride and Vermont Sports Co-Publisher & Editor Lisa Lynn | Sugarbush President & COO Win Smith | Loon President & GM Jay Scambio | Sunday River President & GM Dana Bullen | Big Snow & Mountain Creek VP of Sales & Marketing Hugh Reynolds | Mad River Glen GM Matt Lillard| Indy Pass Founder Doug Fish | National Brotherhood of Skiers President Henri Rivers | Winter 4 Kids & National Winter Activity Center President & CEO Schone Malliet | Vail Veterans Program Founder & President Cheryl Jensen