Discover more from The Storm Skiing Journal and Podcast
Everyone's searching for skiing's soul. I'm trying to find its brains.
Over 13,000 subscribers
58 Northeast Ski Areas Now Offer Some Form of Season Pass Protection
71 do not yet, but the vast majority of skiers are covered
Where we are isn't where we want to be, but here we are, so let's take a look around
Five-and-a-half-ish months after Covid pulled the biggest train robbery of a ski season since the end of the Little Ice Age, the Northeast season pass landscape continues to evolve to acknowledge skiers' concerns about another truncated or cancelled season. Since Vermont's Magic Mountain unveiled the region's first overhauled season pass suite in April, I've been tracking this evolution like a hunter following a bobcat's tracks through snow. Just kidding. If it was snowing, I'd most likely be smashing glades somewhere in southern Vermont, not following some stupid bobcat around. But I have been paying attention. Here's a by-the-numbers look at where the 132 ski areas in New England, New York, New Jersey, and Pennsylvania have landed as summer winds down:
58 - number of Northeast mountains whose passes now offer some form of refund or deferral policy: [Epic Pass] Stowe, Okemo, Mount Snow, Wildcat, Attitash, Crotched, Mount Sunapee, Hunter, Roundtop, Whitetail, Liberty, Jack Frost, Big Boulder; [Ikon Pass] Stratton, Sugarbush; [NY SKI3 Pass] Whiteface, Gore, Belleayre; [New England Pass and Maine Pass] different combinations of Loon, Sugarloaf, Sunday River; [CT] Mohawk; [ME] Saddleback, Lost Valley; [MA] Berkshire East/Catamount, Bousquet (as part of the Berkshire Summit Pass), Jiminy Peak, Wachusett, Butternut; [NH] King Pine, Pats Peak, Waterville Valley, Cannon, Cranmore, Ragged; [NJ] Campgaw; [NY] Windham, Mount Peter, Plattekill, Labrador/Song, Holiday Valley, Bristol, Oak Mountain; [PA] Elk, Blue Mountain, Spring Mountain; [RI] Yawgoo; [VT] Jay Peak, Burke, Magic, Bolton Valley, Killington/Pico, Smugglers' Notch, Bromley, Mad River Glen

42 - number of Northeast mountains that have put passes on sale but have not articulated any sort of pass protection: [CT] Powder Ridge, Ski Sundown; [ME] Black Mountain of Maine, Camden Snow Bowl, Shawnee Peak; [MA] Otis Ridge, Ski Ward; [NH] Abenaki, Black Mountain, Bretton Woods, Campton Mountain, Granite Gorge, Gunstock, McIntyre, Tenney; [NJ] Mountain Creek; [NY] Cazenovia Ski Club, Four Seasons, Greek Peak, Kissing Bridge, Maple Ski Ridge, Snow Ridge, Swain Ski Center, Titus, Toggenburg, West Mountain, Willard, Woods Valley; [PA] Bear Creek, Boyce Park, Camelback, Hidden Valley/Laurel/Seven Springs, Montage, Mount Pleasant, Ski Big Bear, Tussey; [VT] Brattleboro Ski Hill, Cochran's, Middlebury Snow Bowl, Northeast Slopes

29 - number of Northeast mountains that have not yet offered 2020-21 season passes for sale: [CT] Mount Southington; [ME] Big Rock, Big Squaw, New Hermon Mountain, Lonesome Pine Trails, Mt. Abram, Mt Jefferson, Titcomb; [MA] Blue Hills, Mt. Greylock Ski Club, Nashoba Valley, Ski Bradford; [NH] Arrowhead, Dartmouth Skiway, Kanc Recreation Area, Whaleback; [NY] Beartown, Brantling, Cockaigne, Holiday Mountain, McCauley, Peek'n Peak, Royal Mountain, Thunder Ridge, Victor Constant Ski Area; [PA] Elk, Sawmill; [VT] Ascutney, Quechee

4 - number of Northeast mountains that offered season passes since the season ended but have since suspended sales: [NH] Tenney, Loon; [NJ] Mountain Creek; [NY] Mount Peter

44 – percent of Northeast ski areas that are offering some sort of 2020-21 season pass protection. What really matters, however, are the number of skier visits that those 44 percent of ski areas represent. I don't have any way to calculate this accurately, but the number is likely over 90 percent. With the exceptions of New Hampshire giant Bretton Woods and many of the larger ski areas in western New York and Pennsylvania, the vast majority of the mountains that are not offering pass protection are community operations with spare infrastructure, small (often volunteer) staffs, and extremely low-priced passes.
Here's what else has been happening around the Northeast since my last pass update on July 14. You can view current prices for unrestricted adult passes at all ski areas in nine Northeast states in this chart. I've also noted on the chart whether the mountain offers a payment plan, any form of pass protection, or reciprocal days at partner mountains.
Recently introduced or modified season pass protection plans
New Pass releases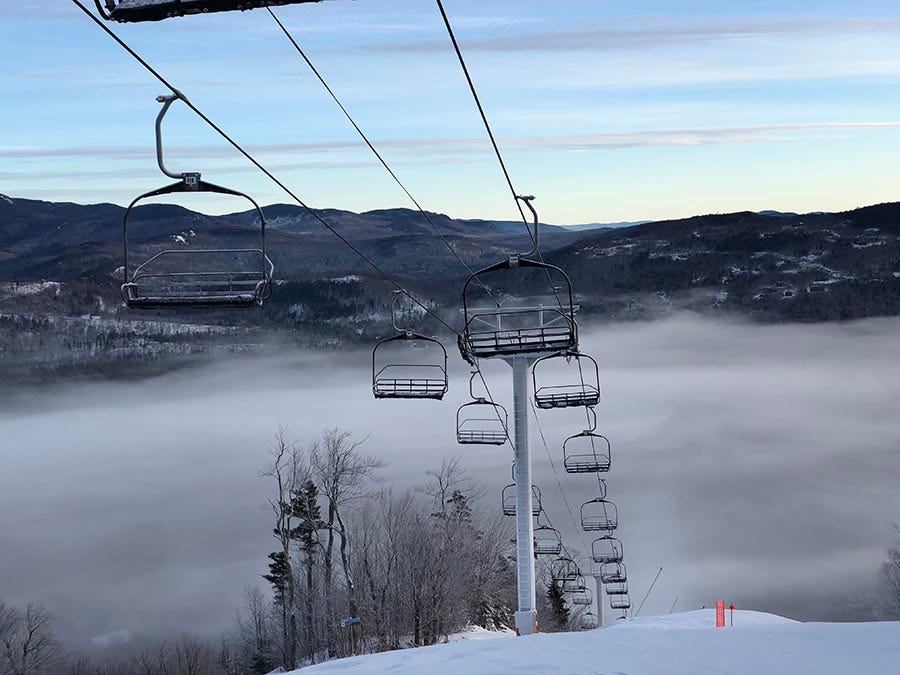 Sunday River will join Sugarloaf on Boyne's new Maine Pass.
Price increases
Extended deadlines
Shawnee Peak, Maine, extended their early-bird deadline from Sept. 9 to Sept. 16. At $725, this is one of the most expensive passes in the Northeast that has declined to offer any kind of deferral or refund concessions on 2020-21 season passes.
Additional season pass notes
Upcoming Northeast season pass deadlines:
Aug. 31: Berkshire Summit Pass (Berkshire East, Catamount, Bousquet), Butternut, Otis Ridge, Ski Ward, Swain, Windham

Sept. 2: NY SKI3 Pass (Belleayre, Gore, Whiteface)

Sept. 7: Epic Pass (Stowe, Okemo, Mount Snow, Wildcat, Attitash, Mount Sunapee, Crotched, Hunter, Jack Frost, Big Boulder, Liberty, Roundtop, Whitetail), Gunstock, Ragged

Sept. 8: Pats Peak, Bolton Valley

Sept. 15: Bristol, Holiday Valley

Sept. 16: Shawnee Peak, Maine
The next season pass update will be in September, some time after Vail posts new Epic Pass prices, and I will continue these updates monthly through November.
COVID-19 & Skiing Podcasts: Author and Industry Veteran Chris Diamond | Boyne Resorts CEO Stephen Kircher | Magic Mountain President Geoff Hatheway | NSAA CEO Kelly Pawlak | Berkshire East/Catamount Owner & Goggles for Docs founder Jon Schaefer | Shaggy's Copper Country Skis Cofounder Jeff Thompson | Doppelmayr USA President Katharina Schmitz | Mt. Baldy GM Robby Ellingson | Alterra CEO Rusty Gregory | NSAA Director of Risk & Regulatory Affairs Dave Byrd
The Storm Skiing Podcasts: Killington & Pico GM Mike Solimano | Plattekill owners Danielle and Laszlo Vajtay | New England Lost Ski Areas Project Founder Jeremy Davis | Magic Mountain President Geoff Hatheway | Lift Blog Founder Peter Landsman | Boyne Resorts CEO Stephen Kircher | Burke Mountain GM Kevin Mack | Liftopia CEO Evan Reece | Berkshire East & Catamount Owner & GM Jon Schaefer | Vermont Ski + Ride and Vermont Sports Co-Publisher & Editor Lisa Lynn | Sugarbush President & COO Win Smith | Loon President & GM Jay Scambio | Sunday River President & GM Dana Bullen | Big Snow & Mountain Creek VP of Sales & Marketing Hugh Reynolds | Mad River Glen GM Matt Lillard | Indy Pass Founder Doug Fish | National Brotherhood of Skiers President Henri Rivers | Winter 4 Kids & National Winter Activity Center President & CEO Schone Malliet | Vail Veterans Program Founder & President Cheryl Jensen | Mountain Gazette Owner and Editor Mike Rogge