2023-24 Ski Season Preview, Part II: an Inventory of Multi-Mountain Operators - and What They Should Buy Next
24 companies own two or more U.S. ski areas

The Storm Skiing Journal and Podcast is a reader-supported publication. To receive new posts and to support my work, please consider becoming a free or paid subscriber.
The storyline is pretty loud and pretty insistent: CORPORATE CONSOLIDATION IS TAKING OVER SKIING. It's scary and distracting, but it's also untrue. An actual inventory and analysis reveals that the vast majority of ski areas are, in fact, still independently owned and operated as we head into the 2023-24 ski season.
And while there is no question that, each year, more and more ski areas are owned by fewer and fewer companies, the number of multi-mountain operators is still quite large: 24 entities own or operate two or more U.S. ski areas.
So, to what extend has consolidation penetrated skiing? We'll start where we usually do: with the highlights and then the chart.
The companies
24 U.S.-based companies own and/or operate 2 or more ski areas

8 of these companies own 5 or more ski areas; 2 own 4; 6 own 3; and 8 own just 2
The ski areas
These 24 companies own and/or operate a combined 152 ski areas, 140 of which are in the United States

136 of the 140 conglomerate-owned U.S. ski areas are active

The 136 conglomerate-owned active U.S. ski areas represent 27% of America's 505 total active ski areas and 29.6% of America's 460 public ski areas

That means that 369, or 73%, of America's ski areas are still privately or municipally owned

The 4 inactive ski areas owned by multi-mountain operators are Mountain High North, California; Elk Ridge, Arizona; Ski Blandford, Massachusetts; and Toggenburg, New York
The passes
Just 4 of these 24 companies (KSL Resorts, the Murdock Family, Snow Partners, and the Drake family), do not offer any sort of joint pass and/or intra-resort reciprocity for season passholders
The states
11 of 37 U.S. ski states (30%), have zero conglomerate-owned mountains

5 of 37 U.S. ski states (13%), mostly small, have more conglomerate ownership than independent ownership. Of these, California, with 17 of 29 ski areas sitting in a conglomerate portfolio, is the only major ski state (one with 10 or more ski areas)

3 of 37 U.S. ski states (8%), have conglomerate ownership of 100% of their ski areas (this is a total of just five ski areas between Indiana, Missouri, and Maryland)

3 of 27 U.S. ski states (New Jersey, West Virginia, and, crucially, Utah), feature a 50% split between independent and conglomerate ownership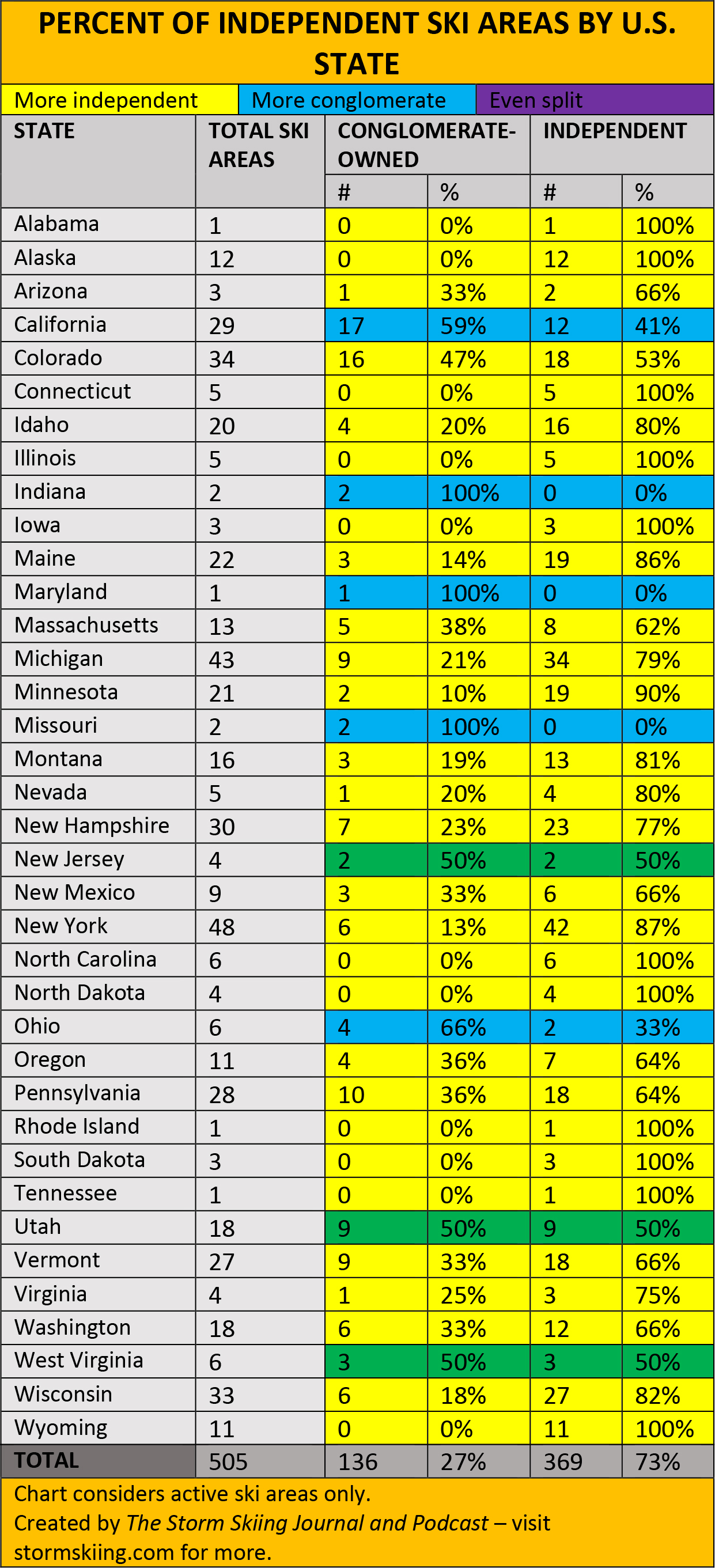 Before I get to the headline chart, a few notes:
I'm being loose with the term "ownership" here. Yes, the City of Denver, not Alterra Mountain Company, owns Winter Park, and, yes, the State of New Hampshire, not Vail Resorts, owns Mount Sunapee. But start drilling into this too deeply, and you will quickly fall into LLC quicksand hell. An outfit called EPR Properties, for example, owns nine Vail resorts, including Northstar, Hunter, and Mount Snow. Does anyone care? No. So the owner, as listed here, is understood to be the operator, which will not stop some half-literate yuckahoo from emailing to inform me that one of the properties below is actually owned by Squid Games Baller C-Corp LLC and registered in the Cayman Islands.

We already covered how I count ski areas. So before firing off an email informing me that Summit at Snoqualmie is, in fact, just one ski area, please read this (I know you won't).

I've organized the ski areas by company, and in order of acquisition year, which is information that I'm constantly looking up. Sometimes, however, the ownership history is not exactly clear, as companies consolidate or change names. Karl Kapuscinski has been involved at Mountain High since the 1990s, for example, but he only took full ownership in 2017. Other acquisitions happened at unclear points, and I'm unable to determine the consolidation timeline for Wisconsin Resorts, which, despite its name, owns four ski areas in Michigan and just one in Wisco.
Anyway, here's the chart inventorying U.S.-based ski conglomerates:

OK, so now what? Consolidation is almost certain to continue, with these companies ingesting independents and one another. What would make sense for each of them, and for skiers, as Ski Legos continues? Here are my thoughts:
Below the paid subscriber jump: a company-by-company breakdown of what each ski conglomerate is doing well, where they make us SMDH, and what they could buy next.
This post is for paid subscribers