Discover more from The Storm Skiing Journal and Podcast
Everyone's searching for skiing's soul. I'm trying to find its brains.
Over 13,000 subscribers
2020-21 Northeast Ski Season Preview: 10 Things I'll Be Watching In This Very Strange Winter
In a year where everything fell apart, we're watching it all come back together. Hopefully.
It's coming. Skiing. The world it's coming back to is different than the world it left in March and it's different than any version of the world that any of us probably wants, but at least it's a world in which skiing can still exist. It's a world Covid-ravaged and socially traumatized and environmentally scorched and politically impossible, a place that increasingly resembles a caricature of itself, a place where a gigafire is not some farcical "bajillion"-type word drawn up by a comic strip artist but an actual thing that's happening as our most populous state is incinerated.
We could all use some turns right about now. So long as the presidential election, looming on the horizon like the largest shitstorm since Watergate, doesn't leave an impact crater where our civilization used to reign, we should get them in about six weeks. Here are a 10 things I'm watching as we move toward a very unusual ski season:
1) Will socially distant lift-served skiing prevent another shutdown?
When the Covid bully showed up to rearrange the ski industry's collective face in March, it drove a panicked and abrupt shutdown that resembled an evacuation. Seven months later, the ski areas of the Northeast, many of which manage substantial summer operations, have had a long while to think over the best way to manage a ski season even as Covid continues to sicken tens of thousands of Americans per day and kill several hundred.
What this socially distant, limited-capacity ski world looks like will vary from mountain to mountain and state to state. Vail will require reservations for all of its mountains every day, at least to start. Skiers won't need reservations to hit Alterra's owned resorts on their Ikon Passes, but they will at some of their partner mountains, including Windham and Loon. Killington plans to open later than usual and require reservations for, um, parking. None of them are selling walk-up lift tickets, but snowy Jay Peak, far to the north and dependent upon sealed-border Canada for half its business, will. Some things are near universal: capacity limits on chairlifts and in base lodges, expectations or requirements to boot up at your car, and changes to ski schools, rental programs, and daycare. Everything is changing all the time, so check the ski area's website early and often.
While the specifics of operating plans at the region's 130 or so ski areas are too tedious to itemize, this whole reset may, over the long term, end up being the best thing to happen to lift-served skiing since the invention of the detachable chairlift. Many parts of the resort experience are broken and have been for a long time. Overrun lodges commandeered by asshats who reserve tables for life by piling their bags atop them. Rental sheds, ski schools, and lift queues that make prison riots look organized by comparison. The endless crowds everywhere. By forcing the re-examination of every aspect of operations to accommodate social distancing, Covid is forcing a sort of Skiing Year Zero, in which well-we've-done-it-this-way-since-Amos-McNugent-ran-the-first-tow-rope-up-this-hill-from-the-engine-of-his-Model-T-in-19-aught-12 isn't good enough anymore. It's time to find better ways. While many of these changes – especially the capacity restrictions and reservation systems - will likely evaporate whenever Covid does, expect at least some of these operational efficiencies - online ticketing and perhaps better crowd management - to become permanent.
Short term, whether any of this will be enough to keep ski areas running if a Covid outbreak nukes a resort or the virus spirals out of control again or we enter some version of reality in which organized activities are no longer permitted under Order 419 of the United States government's Voting Reorganization and Re-education Act of 2021 is impossible to predict.
2) How will Covid redefine the season pass?
When the trapdoor opened on the 2019-20 ski season in mid-March, stunned skiers turned to resort operators asking for some kind of make-good, or at least a guarantee that their purchase would be protected in the event of another shutdown. The industry, as it has done for decades, basically said, "yeah go fuck yourselves." And skiers were like, "Not this time, Chief." Unrolled in real time, it looked like this: Alterra released an Ikon Pass update on April 14 that doubled renewal discounts and extended its early-bird deadline, but maintained that "all Ikon Pass … purchases are non-refundable." Saddam Hussein would have gotten a warmer welcome at the Bush White House than former golden child Alterra received from the social media mobs. Three days later, Alterra announced that it would grant skiers until Dec. 10 to defer the full value of their unused pass to the 2021-22 ski season. It later extended that date to April 11 and outlined a plan to issue pro-rated credits in the event of another mid-season shutdown.
Magic, though, was the first mountain in the Northeast – and possibly in the nation - to overhaul its season pass suite in response to Covid-19, outlining protections against another government shutdown, introducing a payment plan, and, importantly, dropping prices. It was a risky move, and the only other mountain to follow was Smugglers' Notch (the four largest ski companies – Vail, Alterra, Boyne, and Powdr – ended up offering or upping their renewal discounts). Ultimately, it appeared to have been the right decision: at the conclusion of their early-bird sales period, Magic reported record sales by revenue and number of passes sold.
In the weeks following Magic's announcement, nearly every operator of substantial size in the Northeast followed, including Vail, Alterra, Boyne, Killington, ORDA and on and on. Every large mountain in the Northeast with the exception of Bretton Woods has now articulated some sort of season pass protection plan. These guarantees ranged from Vail's dizzylingly complex Epic Coverage to Jiminy Peak's 100-day-season guarantee to family-owned Plattekill's promise to "make things right" if the season ended in another crash-landing.
It will be interesting to see which, if any, elements of these pass overhauls become permanent. While deadlines will likely snap back to their earlier dates to front-load revenue into the spring, it is easy to imagine payment plans remaining in place for most passes. My guess is that some version of the new refund or deferral will also become permanent. Vail, for instance, formerly charged extra for its Epic Coverage plan, which guarantees a refund if you lose your job or get decapitated by a falling icicle, but the plan is free this year with all Epic Passes. Where Vail goes, the industry tends to follow, and I imagine that will happen here as well.
3) How will the season pass wars evolve?
For decades, Northeast ski areas have operated on a model of expensive season passes valid at a single mountain. Over the past three seasons, that model has disintegrated in reaction to the following events:
Vail introduces Northeast-specific Epic Passes: While the Epic Pass has been valid in the East since Vail bought Stowe in 2017 and later added Okemo, Mount Sunapee, and all of Peak Resorts, this is the first season the Colorado behemoth has offered Northeast-specific passes: the $629 Northeast Value Pass and $469 Northeast Midweek pass. While Vail did not break down Northeast-specific sales when the company announced that it had sold 850,000 Epic Passes through Sept. 18, it pointed to the region as an area of strength, suggesting that these cheap, multi-mountain passes were a reality other mountain operators would have to deal with indefinitely.

Alterra dramatically increases value of the Ikon Pass in the Northeast: After Vail dropped unlimited Okemo and Mount Snow access onto the $749 Epic Local Pass last year, Alterra responded by making Stratton and recently purchased Sugarbush unlimited with just 12 holiday blackouts on the $749 Ikon Base Pass (both are unlimited on the $1,049 Ikon Pass). Alterra also matched Vail's move into the day-trippable-from-NYC Catskills by partnering with Windham, which, while not in the same league terrain-wise as Ikon's other seven Northeast offerings, is strategically a very smart move.

Indy Pass provides a pathway for independent operators to take advantage of the scale and marketing power of a multi-mountain coalition: Indy Pass announced a huge Northeast win in May, adding New Hampshire badass Cannon to its lineup, bolstering an already compelling roster of area mountains that included Magic, the underrated and under-utilized Berkshire East and Catamount, Black Mountain New Hampshire, and more. Most intriguing: an Indy Pass add-on is just $129 for any season passholder at any partner mountain, essentially transforming any season pass into a multipass with access to 55 other ski areas across the continent. This is a great deal both for passholders and for ski areas, which get revenue for each Indy Pass visit. This seems to have disrupted momentum of the withering Freedom Pass (more on this below).
Vail and Alterra's bargain passes, which provide unlimited or near-unlimited access to multiple mountains not only in the region, but out West, have completely reset customer expectations for what a ski season pass means in the Northeast, both access- and cost-wise. As skiers grow more accustomed to these cheap, expansive passes, it is going to make it increasingly difficult for, say, Bretton Woods to continue charging $1,029 for a single-mountain pass that does not even provide reciprocal days to any other ski areas. I expect more mountains to follow Magic south in pricing when 2021-22 passes go on sale in spring.
4) Is the Freedom Pass dead?
The Freedom Pass deal was simple: buy a season pass at any of 19 independent U.S. ski areas, get three free anytime lift tickets at the other 18 partner mountains. It was an immediate obvious value-add for passholders, but it worked for ski areas as well, a way to add value to single-mountain season passes that faced increasing competition from cheap and ubiquitous Epic and Ikon Passes. In the East, this meant passholders at rugged, rarely-busy ski areas such as Magic, Bolton Valley, Plattekill, and Black Mountain (N.H.) could add some flexibility to their wintertime ramblings.
Then the whole thing fell apart. Sort of. I think. The Freedom Pass website recently went dark, "Please come back later" typed across a blank screen. Magic Mountain president Geoff Hatheway confirmed to me that the mountain had withdrawn from the Freedom Pass. Bolton Valley appears to have done so as well. Both have joined the Indy Pass, and the pay-per-visit model is likely more favorable to their bottom lines than handing out comp tickets. Dartmouth Skiway states on their site that they will not be participating this year, blaming it on Covid. Plattekill, Lost Valley, McIntyre, and Black no longer list the coalition on their website.
And yet, Yawgoo still lists itself as a Freedom Pass partner. So does Whaleback (whose site also lists Vermont's Middlebury Snowbowl – not previously part of the coalition - as a member). Despite these conflicting messages, I have been unable to clarify the state of the pass, as the individual at McIntyre who is by all accounts now managing the coalition has not responded to several requests for clarification.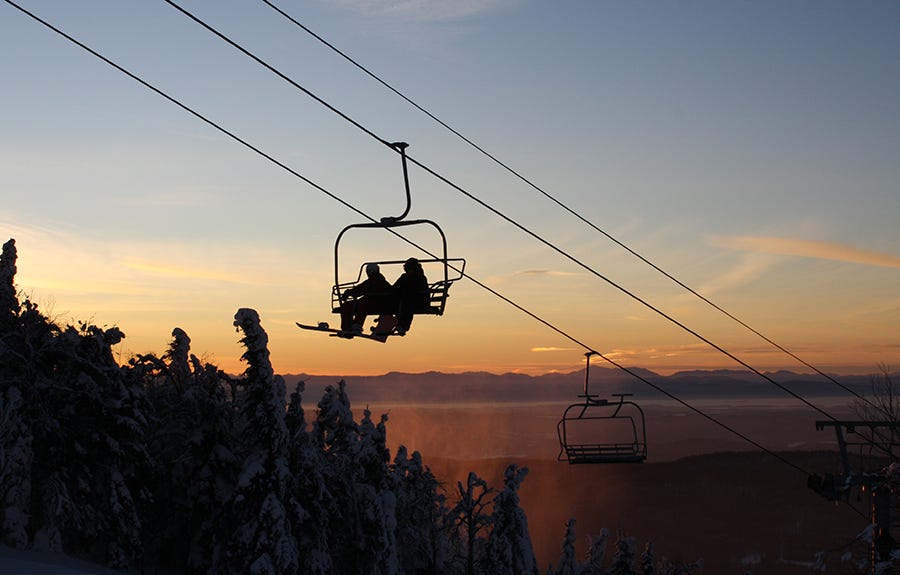 Bolton Valley at dusk. Photo courtesy of Indy Pass.
5) Will these endangered ski areas make a comeback?
Shortly after the Covid shutdown, Massachusetts' Ski Blandford – run by Butternut and Otis Ridge owner Jef Murdock - announced it was closing forever. I had hoped that maybe the Schaefers, who have built a little Berkshires Kingdom, would resurrect the place, but that is not going to happen. Unless some kind of Friends of Blandford group emerges to bring it back as a non-profit, I expect that it's done.
An all-natural-snow ski area is not something you want to be in 2020, particularly in seasons like this last one, when the snow line moved ever-farther north. But that's what Mt. Jefferson, Maine was, and the mountain failed to open last year. It's website is dead, and the ski area probably is too.
Cockaigne shut down following a lodge fire in 2011. The Western New York mountain was poised for a comeback for the 2019-20 ski season under new ownership, but I cannot find any evidence that the mountain operated last season. It did put up this confusingly worded post about lift upgrades that shows a picture of what look to be freshly repainted double chairs and mowed slopes. "Cockaigne fully anticipates the lifts being certified in August … for the coming ski season," it says.  
6) Can new owners reinvigorate these 3 mountains?
Saddleback is the sleeping giant of Northeast skiing, and its resurrection by Arctaris Impact Fund is the most important non-Covid story in East Coast skiing this year. Hobbled by antique chairlifts and overwhelmed former owners who invested millions into the mountain but never found a sustainable operating model, Saddleback has been closed since the end of the 2014-15 ski season. In December, it will emerge from the gutter of lost ski areas, a glorious slice of fall line cut into the top of New England and shimmering beneath a brand-new high-speed detachable quad. Saddleback GM Andy Shepard, will appear on The Storm Skiing Podcast in November.
Hermitage Club, once a public ski area known as Haystack situated down the road from sprawling Mount Snow, looked like the biggest bust since Google Glass after the State of Vermont shuttered the place in 2018 after just six seasons. As recently as March, its six-pack Barnstormer heated bubble sat on the auction block. Then, as the world stood still in the frantic early days of March Covid shutdowns, a group of 182 former members materialized with an $8 million-plus bid for the whole operation. Despite an appeal from club founder Jim Barnes, the operation is moving toward a 2020-21 opening, shedding non-core assets and refocusing on skiing. While the $50,000 membership fee and $15,000 annual dues are about as achievable for the average skier as hucking a switch backflip off the Paradise waterfall at Mad River Glen, there are plenty of East Coast monied types who just have to forego one diamond dog collar to set up shop here for the winter. Covid-19 has inadvertently created the perfect market for attracting new Hermitage Club members, as its high cost of entry will likely deliver empty slopes and facilities in a time of Crowds Are Bad. General Manager Bill Benneyan will join me on The Storm Skiing Podcast after Thanksgiving.
Bousquet doesn't have the heft of Saddleback or the cache of the glimmering Hermitage Club, but as an 88-year-old ski area seated in the heart of the Berkshires, it is arguably more important than either of them. It is the prototypical community ski area, with the affordable lift tickets, night skiing, and solid race program that lock kids into the lifelong habit of skiing before they know any better. After huffing along on fumes for years, the place is getting an adrenaline shot in the form of new owners Mill Town, an investment fund that, like Arctaris, specializes in community development projects. Anyone who loves this place should feel very good about the fact that the Schaefer family – longtime stewards of Berkshire East and, more recently, Catamount – are coming on to help run the place. The family not only has an unquestioned dedication to Berkshires skiing, they have dumped cash into their mountains, upgrading snowmaking and lifts, adding trails, and improving facilities. The best part of the whole arrangement is the inclusion of Bousquet on the Berkshires Summit Pass, a mini megapass that grants unlimited skiing at Berkshire East and Catamount. It's the sort of regional coalition that skiing needs far more of to battle the megapasses. Mill Town CEO Tim Burke will join me on The Storm Skiing Podcast in November.  
7)
Will these resorts change under new General Managers?
While a new general manager does not generally change the atmosphere and attitude of a mountain in the same way that a new ownership group does, it's worth noting that a number of high-profile Northeast mountains will have a new top leader this winter:
Brian Heon arrives at Sunday River after several years at Wildcat. Dana Bullen, who held the GM roll for many years, remains on as resort president.

Vail Resorts named new general managers at three of its Northeastern resorts: Vail Resorts hospitality veteran Josh Klevans takes over at Wildcat, former Mount Sunapee GM Tracy Bartels moves to Mount Snow, and Peter Disch – who previously ran Vail's Wilmot Mountain in Wisconsin – replaces her at Sunapee. Tracy is scheduled to appear on the podcast in November.

John Hammond, who has spent nearly 30 years at Sugarbush, takes over for longtime president and CEO Win Smith. John is scheduled to appear on the podcast later this month.
8) Will Liftopia survive – and will ski areas use it if it does?
Once a bustling online snow bazaar peddling lift tickets, snow-tubing sessions, rentals, and more, Liftopia yardsaled hard in the Covid shutdown, abruptly ceasing payment to scores of its partners in March. Six months later, it's still digging around for its skis. In June, Aspen, Alterra, Boyne, and A-Basin, claiming that Liftopia owed them a combined $3 million-plus, tried forcing the company into Chapter 11 bankruptcy. Liftopia managed to have the petition dismissed, but the coalition is appealing the ruling. In August, Liftopia announced that it had signed a deal with a yet-to-be-named buyer, allowing the company to settle (in full, I'm told by someone with knowledge of the company's operations) with its partners. As of late September however, repayment had yet to begin.
This is an unfortunate development. I've used Liftopia for years. As an online aggregator of the diffuse and complicated ski area ecosystem, it was a beautiful experience. Multiple ski area operators have told me the technology is unmatched. It's easy to use and, as one ski area owner told me, "it just works."
Even if the company recovers, the reputational damage may be impossible to undo. One high-ranking ski resort executive told me that it would be hard to imagine anyone wanting to do business with Liftopia after this debacle. And in this season in which many ski areas have eliminated walk-up lift tickets altogether and curtailed discounts in an effort to thin the volume of skiers on the hill, the incentive to flood the system with discounted advanced lift tickets has been sharply reduced.
9) Will a Jay Peak buyer emerge, will Burke go up for sale?
When the lid blew off former Jay Peak and Burke owner Ariel Quiros' EB-5 investment fraud a few years back, the resorts went to the care of court-appointed receiver Michael Goldberg. Instead of mothballing the ski areas until buyers emerged, Goldberg put general managers Steve Wright and Kevin Mack, respectively, in charge.
Skiers, local communities, and the Northeast ski industry at large owe him eternally for this. But the court drama has dragged on for years. Jay is currently for sale and, after soliciting lower-than-expected offers of interest from potential buyers, is trying to argue down its assessment before the town of Jay. Burke, meanwhile, still needs to meet the jobs-creation requirements of the EB-5 program before it can even open itself up for bidding.
At some point, however, these mountains will have new, permanent owners. Who could they be? The answer to the question of who would want Jay should be "everyone." It is a crown jewel of Northeast skiing, a snowy wonderland that posts Colorado snow totals from an unlikely Vermont perch, a ready-made resort, and unquestionably one of the top five ski areas in the region.
Both Vail and Alterra already own multiple Vermont ski areas, including the close and Jay-caliber Stowe and Sugarbush, respectively. Proximity, however, has never stopped Vail before, as their bunched resorts along I-70 in Colorado and around Tahoe demonstrate, and Jay would add a nice jolt of caffeine to an otherwise sleepy Northeast Epic Pass roster punctuated by Stowe and Wildcat and not much else for the expert skier. Alterra's Northeast coalition is already impossibly strong, with four of the region's top skier's mountains in Killington, Sugarbush, Sugarloaf, and Sunday River. Tossing Jay on top of that all-star roster may make the pass an unstoppable must-have in the region. Neither Boyne nor Powdr seem to be in acquisition mode, though either would make a capable owner.
I would rather see Jay remain independent. It's important to have large ski areas that can act as a counterbalance to Epic or Ikon. There are plenty of potential buyers, five of which Jay Peak Director of Mountain Planning and Development Walter Elander revealed at a zoning board meeting last year. The most intriguing of those besides Alterra (Vail is reportedly "not interested," but who knows?) was forward-thinking Snow Operating, owner of Mountain Creek and Big Snow.
Then there's Burke, the black sheep of Vermont skiing, the forgotten NEK gladester situated far off the Vermont ski clusters of The Spine and the state's southern third. It's a spectacular little mountain with a fabulous hotel that looks like it just landed from the Beaver Creek base village. Because of its faux remoteness (it's far north but just a few miles of I-91), and its relative small size, I can't see Vail or Alterra taking any interest in it. The ski area is attempting to argue its assessment with the town of Burke down to just $11.2 million, and it's not unreasonable to imagine an independent buyer rolling in and scooping the place up.
10) Will skiing continue to be a white-out?
Following the national reckoning with systemic racism that followed the murder of George Floyd in May, Vail Resorts CEO Rob Katz put out a statement owning the lack of representation both at the company he has led for 14 years and on the slopes of his 37-resort empire. "I see this as a personal failing," Katz said. Alterra's Rusty Gregory followed with a statement of his own, as did several independent operators.
While Vail has held several internal town halls to discuss the issue, so far nothing substantive has materialized that would begin fixing the overwhelming whiteness of skiing. They must find a way. The population of the United States is rapidly diversifying, and the ski industry must, as a long-term business imperative, evolve the sport's image to appeal beyond its white base. The first ski area to actually do something here was, unsurprisingly, Magic Mountain, which just hired what may be the first Black ski school director in the United States.
To hear some insight into what ski area operators could do to better diversify skiing, listen to my podcast conversations with National Brotherhood of Skiers President Henri Rivers and Winter 4 Kids President and CEO Schone Malliet.
But wait, there's more…
This may be the most interesting ski season of our lifetimes. Additional questions include: will Vermont continue to require 14-day quarantines for most out-of-state residents? Will any ski areas buckle financially under Covid capacity restrictions? Who will be acquired or join a multi-pass? Will Northeasterners forgoing traditional Western trips overwhelm their local ski areas? Will skiers flood the backcountry? And, perhaps most important, will it snow? How much and where? And when?